It's hardly a secret that I'm a bird nerd. In fact, I hold a locally-esteemed title, "Master Birder," obtained after a year of study and classes with Seattle Audubon where I learned such things as the paritization habits of the female Redhead duck and how to definitively tell a Lesser Yellowlegs from a Greater Yellowlegs. And yet, I haven't been "birding," save for seeing the occasional chickadee or Steller's Jay in my backyard, for a good long while.
Maybe, then, I should head over to the Washington state coast this weekend for the Grays Harbor Shorebird Festival. If I do, it is almost guaranteed I'll have the chance to try out my ID skills on some Greater Yellowlegs!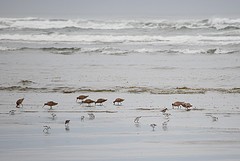 Truth be told, you don't have to be a Master Birder, or anything close to it, to thoroughly enjoy the hundreds of thousands of northbound migrating shorebirds that make a pitstop in the Grays Harbor estuary each Spring. You will, however, need a pair of binoculars, a spotting scope, and a map that will get you to such bird-rich locales as Bowerman Basin and the Sandpiper Trail. A good field guide is an essential, too; I recommend the National Geographic guide to the birds of North America. No spotting scope? You will likely meet other birdwatchers along the way, often with their scopes already perfectly focused on a Ruddy Turnstone or Semipalmated Plover, and it's always okay to politely ask to take a peak through a fellow birdwatcher's scope.
For a day or two of coastal birdwatching, plan for varied weather. It may be warm and sunny, but it could be chilly and rainy. You will most certainly want to dress warmly, preferably in layers that you can shed as the day warms up. Having good rain gear on hand is essential. Wear sturdy boots, like hiking boots, over wool socks to keep your feet dry. Most birders carry their field guides and a notebook to take field notes in a waterproof satchel or backpack. Bring plenty of water to drink and snacks to munch on, and pack a thermos filled with a warm beverage like coffee or cocoa to warm up with between stops.
When to go see shorebirds? As The Olympian's outdoors writer Chester Allen so aptly pointed out, the shorebirds stick around for several weeks after the Grays Harbor Shorebird Festival, so for the best shot at seeing the greatest numbers and varieties of migrating shorebirds in and around Gray's Harbor County, plan your trip for sometime between now and mid-May.
Where to stay? The Glennacres Historic Inn in Westport is a terrific comfy choice on this part of the coast for the choosy cheap sleeper. Lovingly-decorated rooms range from $50 – $75 a night and include a generous dose of warm hospitality. Call 1-800-996-3048 or click here for reservations.
Shorebirds on the Washington Coast by Steve Voght.