Got some snow-filled aspirations for outdoor adventures this winter? The flakes will be falling before you know it, so the time to get prepped for winter fun is right now.
Here's how to get in gear, plan some outings, know which permits you need, and stay safe in the snow.
Take a Free, Virtual Avalanche Awareness Class
Even casual snowshoers should have some basic know-how about avoiding avalanches in the backcountry. And when REI coordinates with Northwest Avalanche Center to give us free classes we can take from home via Zoom, there's no excuse.
Here's what you'll learn in a single avalanche awareness course: Whether you ski, snowshoe or snowboard, the ability to recognize avalanche danger is an essential and potentially lifesaving skill. Northwest Avalanche Center instructors will explain how to access avalanche and mountain weather forecasts, as well as how to recognize basic "red flags" of avalanche danger.
If your winter goals include some serious backcountry adventure, sign up for an
Avalanche Safety Course
with The Mountaineers, a 24-hour course that teaches decision-making based on avalanche hazard evaluation, travel and avoidance in avalanche-prone terrain, how to use transceivers, and avalanche rescue technique.
Winterize your Guidebook Library
Need some season-specific guidebooks to gain some technical know-how and help plan your snowshoe or ski outings? Here are some to get you started.
Snowshoeing Books
Two guidebooks published by Mountaineers Books,
Snowshoe Routes, Washington
and
Snowshoe Routes, Oregon
, help you strap on some snowshoes and stomp your way through the powder on some beautiful trails.  Each book also covers gear, technique, clothing and some basic winter safety information. The Oregon book is a bit outdated so double check the route info online, but it will still give you solid ideas on which trails are ideal for snowshoeing.
Skiing and Snowboarding Books
Although
100 Best Cross-Country Ski Trails in Washington
and
Best Groomed Cross-Country Ski Trails in Oregon
could both use an update (they were published 20 years ago by Mountaineers Books, find them used for very cheap at the links above) they're still the best guidebooks to cross-country ski areas there is, highlighting dozens of trails to ski (groomed and ungroomed) as well as advice on gear, technique, sno-parks and huts, and winter outdoor safety. Trail descriptions include types of uses, surface descriptions, difficulty ratings, mileage and skiing time, and elevation gain. Double check driving directions and permit fees online for the latest information.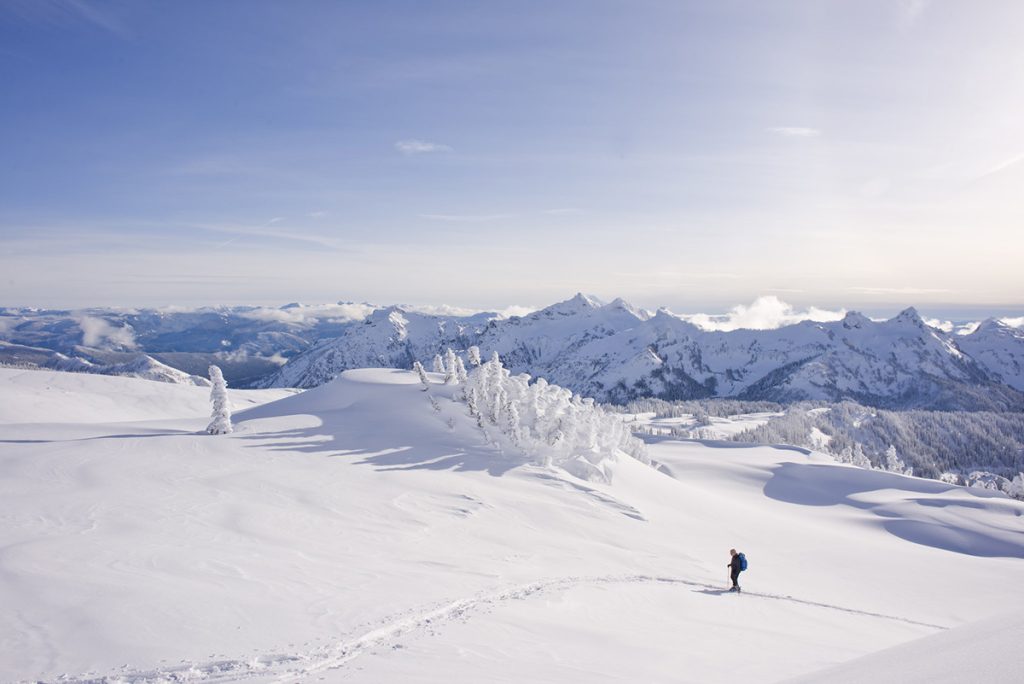 If you're new to snowshoeing, start with a ranger-guided snowshoe hike (free, though donations are suggested). Several national forests offer them on low-risk trails throughout Washington and Oregon on weekends from January – March, snow depending. Rangers provide snowshoes and poles, and combine your hike on snowshoes with a winter ecology lesson. You'll find available dates and how to make reservations at
discovernw.org
. Note that the Covid-19 pandemic may impact the schedule of guided snowshoe hikes this winter.
Ready to strep on some skis for the first time? Most ski areas in the Pacific Northwest offer gear rentals and lessons on-site. The
Summit at Snoqualmie
has downhill skiing, snowboarding and Nordic ski lessons packaged with gear and lift tickets.
Mt. Hood Meadows
hosts specialty clinics and multi-day camps.
It may seem like winter recreation requires a new gear closet, but there are ways to trim costs. You can rent most snow gear (cross-country skis, snowshoes, etc.) by the day or weekend. This lets you sample a new snow sport before you commit. Find rentals at
REI
. In the Seattle region you'll also find rentable gear at
Ascent Outdoors
and
Mountain to Sound Outfitters
, and in Portland at
Next Adventure
.
Winter Trail Passes and Permits
Trail permits for winter are the same as summer in most cases. To park at a National Forest trailhead you'll need a Northwest Forest Pass. To enter a National Park for snowshoeing or sledding, you'll need a National Park Pass or will pay an entrance fee per vehicle.
Washington State Parks manage dozens of
Sno-Parks
with both groomed and ungroomed cross-country ski trails. Your vehicle needs a one-day ($20) or seasonal ($40) Sno-Park Permit which is good all winter long. Eight Sno-Parks require an additional Groomed Permit ($40) which is also good for the whole winter: Cabin Creek, Chiwawa, Crystal Springs, Hyak, Lake Easton, Lake Wenatchee, Mount Spokane, and Nason Ridge. Buy these permits online starting 
here
or call 360-902-8684 for vendors. 
Get Your Car Winter-Worthy
Driving in winter requires extra precautions. If you're headed into the mountains or over passes, always carry tire chains that fit your vehicle (and know how to put them on your tires). You can get chains at a car store like Auto Zone or O'Reilly's Auto Parts. 
Stock your vehicle with a
folding snow shovel
to dig your car out of snow,
ice and snow scraper
, a first aid kit, blankets or warm sleeping bags, and extra clothes, food and water. Gas up your car before you leave for your trip.