Grab your rubber boots and low tide field guide–there are some fantastic minus tides in Puget Sound this summer!
There are a few things in life that you can rely on with absolute certainty. One of those is the rhythm of the sea. Twice a day, the tide will come in (high tide!) and twice a day, the tide goes out (low tide!).
A few times per year, usually in the months around the summer solstice, we get super low minus tides at midday, say anywhere from -2 to -4. This pattern lasts for a few days each month. (A "minus tide" is any tide below zero, and zero is defined as the local mean lower low tide.) The minus tides are when you'll get exposed tidepools for exploring the cool critters that live in them, and when you want to go digging for clams and oysters. (By the way, in the months around the winter solstice we also get low minus tides, but those low tides occur in the middle of the night, hence why winter razor clamming on the coast is often done by headlamp!)
When the tide goes out, it leaves behind small saltwater pools in the depressions and crevices of rocks and sand, resulting in a diverse, albeit temporary, aquatic ecosystem. Tidepooling is when you head out to a beach during a low tide and poke around the rocks, nooks and crannies to spot exposed aquatic life. It's easy, fun, and free! Anyone can go tidepooling with just a little bit of knowledge and some basic gear you probably already have. And at many beaches throughout Puget Sound, experienced marine naturalists are on hand during low tides to help you discover cool critters.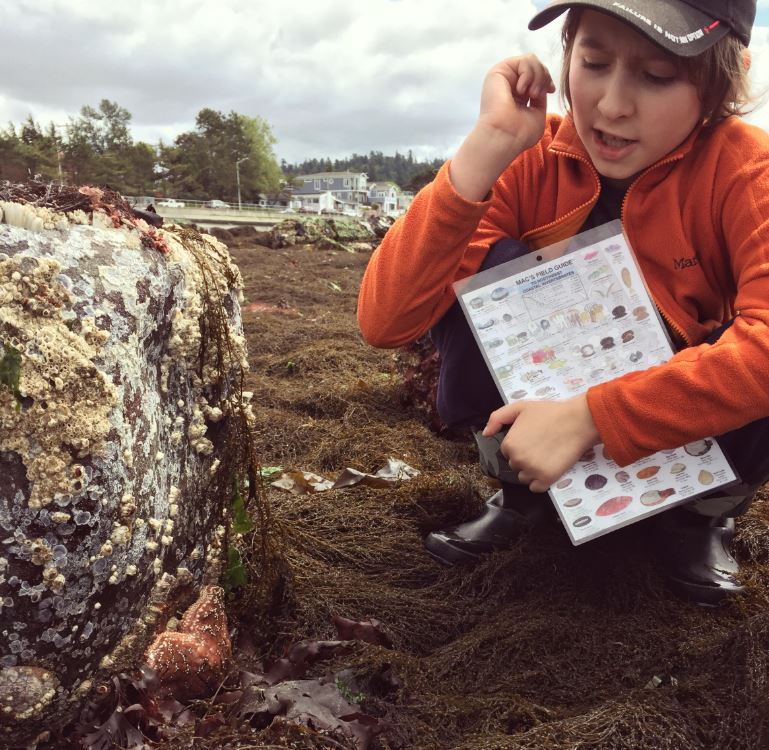 You really just need three things to go tidepooling:
A tide chart. You can pick this up for a few bucks at any hardware store, or find a tide chart free as an app or online.
Some waterproof boots. The best rain boots for tidepooling are high (up to your knees ) and have great traction on the bottom to keep you steady on wobbly rocks. For me, these tall Kamik rain boots are perfect. My kiddo really likes his Bogs which are a few inches taller than the average kids' rain boots. If you wear ankle rain boots you risk flooding them if you misjudge the water depth when taking a step (yes, this has happened to me!) Personally, I find our Salish Sea waters to be too chilly for wading around in sandals unless it's a scorching hot day.
A field guide to help you identify marine critters. The most basic guide is the waterproof Mac's Field Guide to Northwest Coastal Invertebrates. This is the guide my son uses (see the photo); he's very into marine biology and still it's sufficient for him. For a more comprehensive guidebook, check out the Beachcomber's Guide to Seashore Life in the Pacific Northwest.
Ready to spot some vibrant sea stars and scurrying crabs? Here's how you can make the most of our awesome minus tides this summer!
When to Go Tidepooling
You'll find lots of resources for viewing current and future tide times. On my phone I use a free app called Tide Alert. Online I use tides.net, then click on the state and city/region to get a tide chart for the current month. I like how it is displayed in calendar form and can easily see where the minus tides are. Get more detailed info by hovering over a particular day.
The lowest tide in April 2021 is Thursday, April 29 at 1:19pm. This minus tide will be -2'11". There will be good minus tides in the afternoon the following two days as well. In May, there will be midday minus tides from May 12th-16th and even lower minus tides from May 25th-31st. There's a similar pattern in June, July and even a few days in August. The lowest tide of the summer (-4′) will be June 25 at 11:54am.
When there are super low minus tides during the day, beach naturalists from the Seattle Aquarium and the Seattle Parks Department are stationed at popular tide pool beaches throughout Puget Sound to help you find cool critters.  
Arrive on the beach at least one hour before the low tide time. (We usually arrive about two hours before low tide because my son really loves tidepooling and likes to see as much as possible!) Follow the waters' edge as it recedes, exploring tidepools as they are revealed. After the low tide time has passed, you should move toward shore and maintain a safe distance from the water's edge as incoming tides can be swift and unpredictable. Never turn your back on the ocean.
Fun Fact: The lowest tide ever recorded on a Seattle beach was -5 ft in 1916.
Tips and Etiquette for Exploring TidePools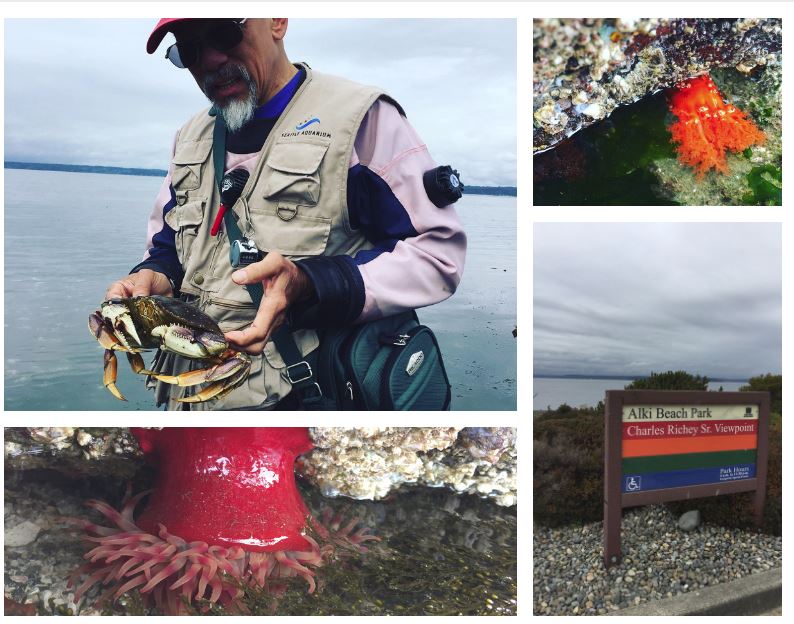 The intertidal zone is an incredibly fragile habitat. While the critters here are adapted to pounding surf and frigid temperatures, they aren't used to stomping boots and prodding fingers. Follow these basic tips to help you explore safely and without harming the aquatic wildlife.
Step with care. Avoid crushing anemones and tiny crabs by stepping instead on bare rock or sand. Walk very slowly on seaweed which can be hazardously slippery.
Don't move animals from one place to another. Don't pry critters off of rocks or overhandle crabs. You will see naturalists take great care when picking up critters to show them to you, and they've been trained how to do this with minimal impact to the animals. Watch and learn.
Touch very gently, and use wet fingers. If you wish to touch a sea star or feel the fringe on an anemone, a soft touch with a wet finger is the least disturbing to them.
Beware of things that hurt. The bite of the red octopus really hurts. The sting of a jellyfish does, too. Don't touch these critters.
Where to Go TidePooling Near Seattle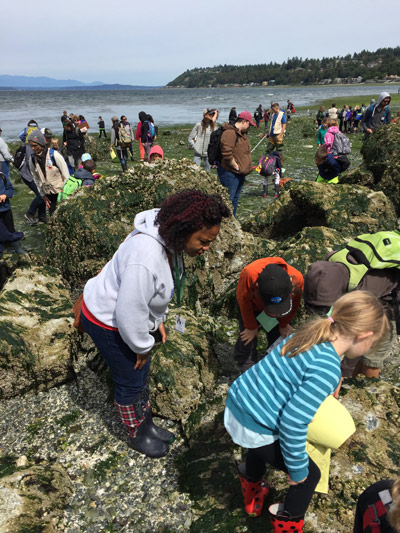 During a minus tide, any public beach is going to have depressions in the sand or small pools that host a variety of marine life. But some specific beaches are particularly great for tidepooling because they have large rocks that create sizable tidepools with lots of crevices and nooks for critters to hide in. My family's favorite place at low tide is the Charles Richey Sr Viewpoint portion of Alki Beach Park (also known as Constellation Point) in West Seattle. Here are some more great free spots for low tide beachcombing and tidepooling in and around Seattle.
Owen Beach at Point Defiance Park. Location: 5400 N Pearl St. in Tacoma.
Titlow Beach Park. Location: 8425 6th Ave in Tacoma.
Seahurst Park. Location: 1600 SW Seahurst Park Rd in Burien.
Charles Richey Sr Viewpoint at Alki Beach Park. Location: 3521 Beach Dr. SW in West Seattle.
Discovery Park. Location: 3801 W. Government Way, Magnolia neighborhood of Seattle.
Golden Gardens Park. Location: 8498 Seaview Pl NW in Ballard, North Seattle.
Carkeek Park. Location: 950 NW Carkeek Park Rd in North Seattle
Richmond Beach Saltwater Park. Location: NW 190th St in Shoreline.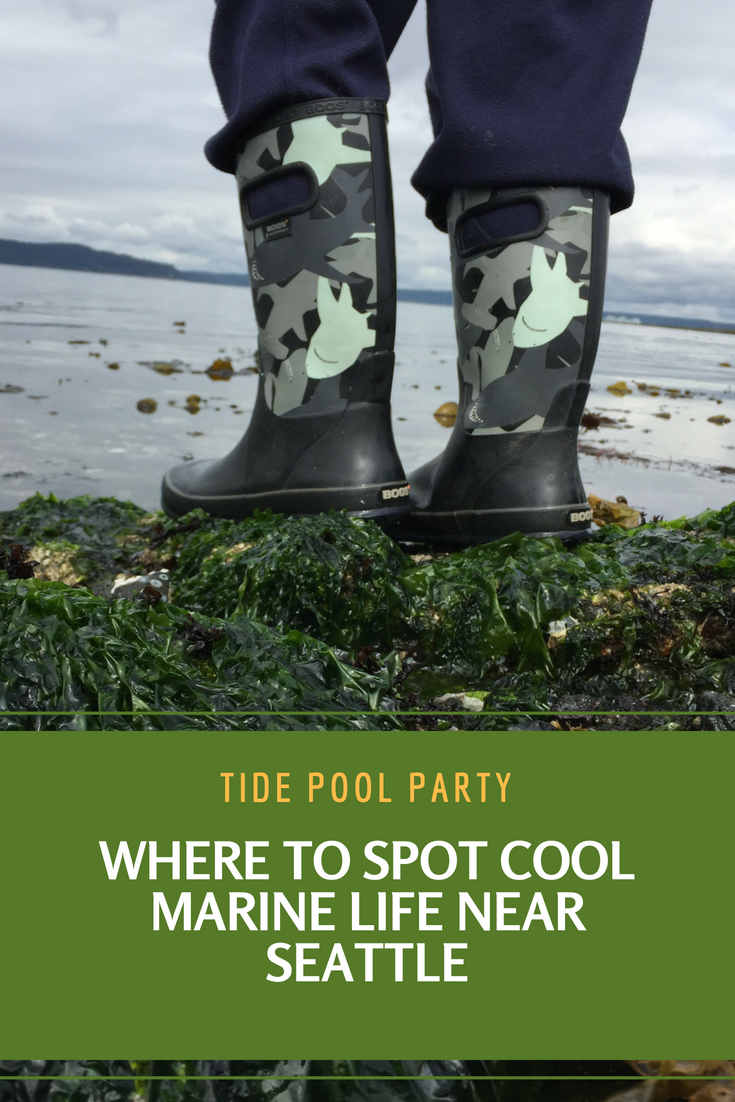 NOTE: this article was originally published in 2018 and is updated with current minus tide information every year.