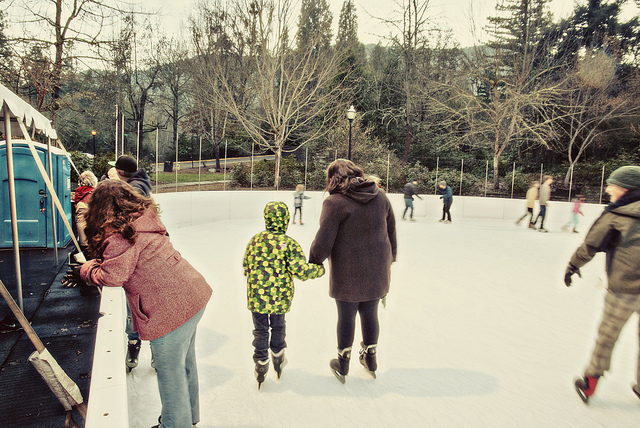 Imagine skating in circles with your sweetie among gently-falling snow, a chill in the air and a mug of hot cocoa on your mind. Winter at its best.
Got ice skates? If you don't have a pair of your own, you'll be able to rent them for the whole family at most of these outdoor rinks throughout the Northwest. Some offer rentals packaged with the price of admission.
Here's where to skate on ice in the open air this winter:
Grouse Mountain Ice Rink (6400 Nancy Greene Way, North Vancouver, BC) Board the tram up to Grouse Mountain pond, taking breaks in between laps at the adjacent firepit. On a clear day, the views are phenomenal of snow-capped peaks of the coast range and down to the city lights of Vancouver. Finish your afternoon with a basket of poutine at Lupins Cafe. Open daily in winter, 9am-10pm. Admission is included in your Skyride ticket: $56 for adults, $29 for kids and free for children 5 and under (check for family discounts). Skates are available to rent. grousemountain.com
Bellevue Downtown Ice Rink (one block south of Bellevue Square at NE 1st Street and 100th Avenue NE, by Inspiration Playground, in Bellevue, WA) I am already smitten with Bellevue's beautiful Downtown Park, and now I have another reason to go – it hosts the Seattle area's largest open-air ice-skating rink, Nov 23, 2018 – Jan 13, 2019. Bring cash for concessions. Admission is $15 and includes skate rental, or pay $11 if you bring your own skates; Kids 8 and under are $10 and that includes skates. See info.
Winthrop Ice Rink (208 White Ave, Winthrop, WA) If ever you tire of the primo cross-country ski trails in the Methow Valley, don a pair of skates and take to beautiful outdoors ice rink. Open skate sessions are offered six days a week in winter, weather depending. Admission is $6-$9 and you can rent skates for $4.  winthropicerink.com
Seventh Mountain Resort Ice Rink (18575 SW Century Drive in Bend, OR) This beautiful rink is set in the mountains of Central Oregon, and you can twirl and spin yourself or take lessons from a professional instructor. There are public skate hours nearly every day in winter. Adult admission is $7, skate rental is $7 (kids are $5 for admission, same for skate rental). seventhmountain.com
Ashland Rotary Centennial Ice Rink (95 Winburn Way in Ashland, OR) Bring the whole family; their skate rentals accommodate toddler size 9 up to Men's size 15. There's an open skate session every day through February 18, 2019. Admission is totally affordable at $4 and under, and you can rent skates for $2.50. More info.
This article was first published in 2012, and has been updated.
Photo: Ashland Ice Rink by Daniel Aberle