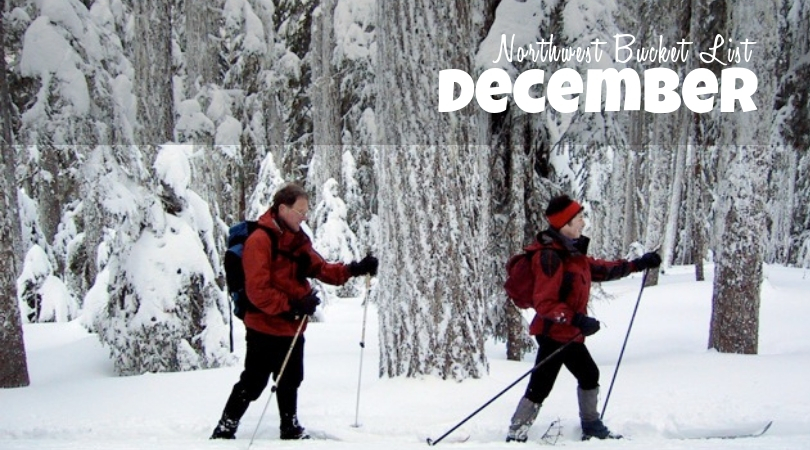 Last Christmas, many lowland areas of the Pacific Northwest woke up to a very rare sight–snow was falling gently from the sky, enough to stick around for a few hours and build some elf-sized snowmen in our Seattle backyard. It was our first White Christmas in a nearly a decade, but alas it was not enough for sledding at Gas Works, or skiing down Queen Anne Hill, or snowshoing through the woods at Lincoln Park. Snow that good in the city is very rare. Which is why the chionophiles among us must have a game plan to get our snow fix.
Do you know where to go for a snow fix? Check out the Get Into Winter section below for some snowy adventures near you.
Here's a little bucket list of cool Northwesty stuff to get into in December.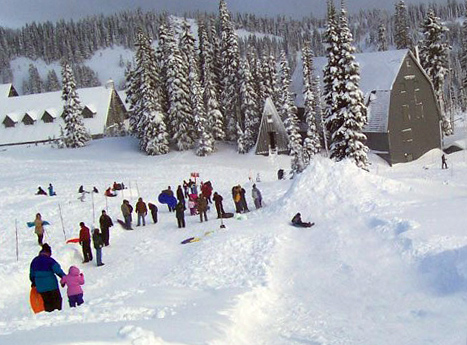 Go sledding. This classic winter adventure has come a long way from the days when all you needed was a flattened cardboard box and a steep hill, so far that many kids think "sledding" is just what Grandpa calls tubing. For an old-school sledding day, head to Mt. Rainier National Park. Instead of tow rope lines and paid time limits, you just pay one entrance fee per vehicle (currently $30, or $55 for an annual pass). Then, you can sled to your heart's content at the Paradise snow play area near the Jackson Visitor Center, a large, ungroomed sledding hill supervised by park rangers. Bring your own flexible sleds, inner tubes, saucers or cardboard boxes, but not wooden toboggans or sleds with metal runners. Depending on snow conditions, the play area is open for sledding weekends and daily during school breaks usually from late December to mid-March, snowpack depending.
Go cross-country skiing. For easy and flat groomed trails around a beautiful mountain lake and a cozy lodge to retreat to afterwards, go to Lake Wenatchee. Experienced Nordic skiers will find their winter paradise in the Methow Valley. If it's many days of skiing you're after and plenty of trails to choose from, head to Bend.
Go snowshoeing. If you can walk, you can snowshoe. Once you master a few awkward maneuvers (pro tip: you can't walk backwards in snowshoes), you're rewarded with the winter wonderland of Northwest mountain trails. Gear is affordable, too. A great pair of snowshoes to try if you're on a budget are MSR Evo Ascent Snowshoes at $139. (Check out our guide on what to wear snowshoeing to stay warm and dry). If you don't have avalanche safety know-how (you can get that here) you should start with ranger-guided snowshoe hikes offered for free on low-risk trails throughout the Northwest (most provide snowshoes and poles, too!). Here's a round-up of ranger-guided snowshoe offerings: Snoqualmie Pass, Stevens Pass, the Mountain Loop and Mt. Baker, Olympic National Park, Mt. Rainier National Park,  Mt. Bachelor, Crater Lake National Park.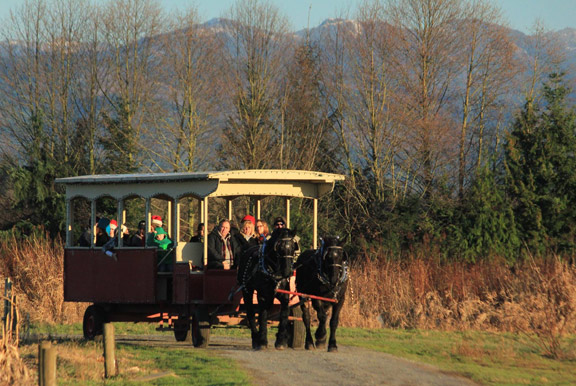 Bellewood Acres Horse-drawn "Sleigh" and Holiday Celebration. Bellewood Acres north of Bellingham hosts Santa Claus and horse-drawn trolley rides the weekends of December 15-16 and 22-23 from 1-4pm. The festivities include live caroling, fresh cut trees and wreaths, s'mores by the bonfire, and cookie crafting for kids. Their cute Country Store is packed with unique holiday decorations and gifts. Bellewood's distillery will spotlight their own Reserve Brandy.
Christmas Light Festival in Leavenworth. Deck the halls with boughs of kitsch! This Bavarian-themed village's streets transform for the winter holidays with its annual Christmas Lighting Festival in December, when half a million twinkling white lights are strung up along the steep roofs of its half-timbered buildings and festive tunes like "O Tannenbaum" ring out. (The Lighting Festival takes place on weekends throughout December but lights are on display from Thanksgiving through mid-February.)
It snows every night in Bellevue. Every night through December 24 at 7pm, it snows! Downtown Bellevue's Snowflake Lane hosts a free holiday parade every night on the sidewalks between Bellevue Square and Lincoln Square from NE 4th to NE 8th Streets. Snow machines fill the air with the white stuff, while holiday lights twinkle and drummers and dancers entertain to holiday tunes. While you're in the neighborhood, stop by the Bellevue Botanical Garden for Garden d'Lights through December 30, 4-9pm nightly, where half a million sparkling lights are formed into the whimsical shapes of plants, flowers, birds, animals, and cascading waterfalls. Tickets are $5 per person, kids 10 and under are free.
Christmas Market Downtown Vancouver. This German-style outdoor market at downtown Vancouver BC's Jack Poole Plaza runs daily through December 24, 11:30am-9:30pm (closes earlier on Christmas Eve). Based on the centuries-old tradition of Christkindlmarkts in Germany, the Vancouver Christmas Market features 80 artisan huts full of sweets and crafty treasures to peruse with a glass of Glühwein in hand.
Portland Parade of Christmas Ships. Since 1954, the Christmas Ship Parade along the Willamette and Columbia Rivers is near the top of Portland's most beloved holiday traditions. This year, the nightly parade of ships continues through December 20. The best locations for viewing the ships each night may vary depending on weather and water conditions, so check the website for the latest recommendations before staking out your spot wrapped in blankets with a thermos of hot cocoa.
Top photo of skiing at Teacup Lake, Mt Hood National Forest courtesy of the National Forest Service.