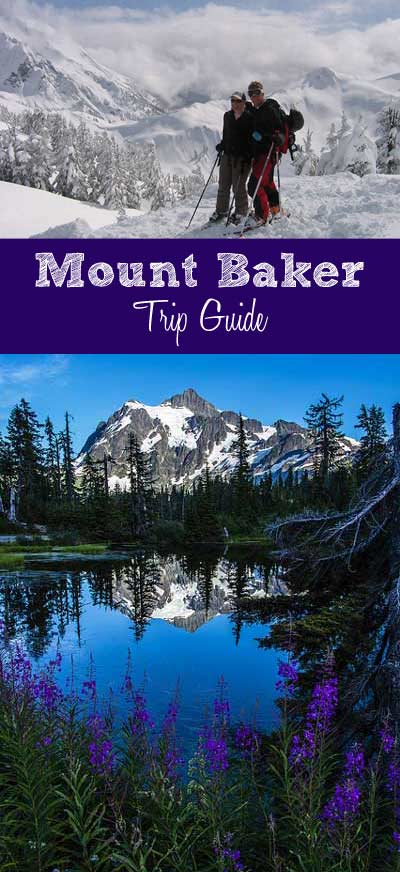 There are two kinds of Northwesterners – those who know about the awesomeness of Mount Baker, and those who don't (yet). I'm about to put you in the first camp, and once you visit Baker for the first time you will go back, again and again.
The Mount Baker Highway (Hwy 542) is a spur route that winds for 62 miles east of Bellingham up to beautiful Mount Baker. Along the scenic route are some of Washington's coolest mountain towns and most awesome hikes.
Mount Baker is a 4-season destination, with plenty of snow to play in all winter and spring, replaced by carpets of wildflowers in summer and stunning fall color in autumn.
One of the indigenous names for Mount Baker is Koma Kulshan, which loosely translates into white mountain with a puncture wound on top (the crater). Baker is the second-most thermally active volcano in the Cascade range after Mount St. Helens. You won't see steam pluming from Baker's top (at least let's hope not!) but you will see plenty of white snow in winter months.
Make the tiny town of Maple Falls or the tinier town of Glacier your home base for a day of skiing the slopes or exploring the terrain in hiking boots.
Getting There
The Mount Baker Highway is State Hwy 542, and runs to the east from Bellingham into the heart of the North Cascades, ending after 62 miles on Mount Baker, ending at Kulshan Ridge / Artist Point. Remember to check conditions before your trip, as this region experiences a late-season melt-out.

Larger Map and Driving Directions
Things to Do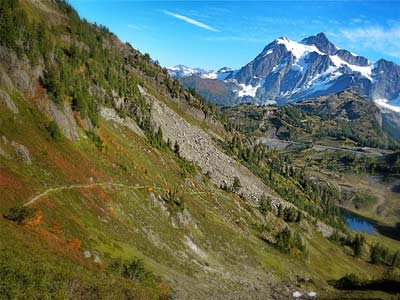 Take a Hike. From July – September, the Mount Baker Highway hosts trailheads to some of Washington's most scenic trails. The higher you get, the later these trails melt out so check snow conditions before you go.
An easy option for all ages is Bagley Lakes Loop (2 miles round trip, 150 feet elevation) – it packs in a seasonal wildflower display, a gushing creek, two lakes and lovely views of craggy, jaggy peaks.
Do your legs want a climb? Head to Hannegan Peak (10.4 miles round trip, 3,100 feet elevation) where your eyes will be rewarded with supreme views of snow and ice.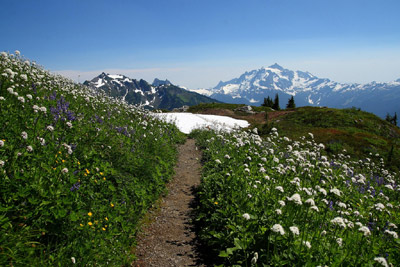 A wonderful hike for alpine wildflowers in August and fall color in September is Yellow Aster Butte (7.5 miles round trip, 2,550 feet elevation). The carpets of vibrant flowers have plenty of competition for your attention; the views of Mount Shuksan and Baker are stunning.
Want more trails? I highly recommend this great guide to hiking in the Mount Baker region: Day Hiking North Cascades by Craig Romano.
Go downhill skiing at the Mount Baker Ski Area, great for skiers at every level. They offer kid and youth ski lessons and feature learner-friendly ski runs. Equipment rentals are available. Mount Baker has snow right into springtime. Its long snow season coupled with affordable lift tickets help make Baker a magnet for powder-loving travelers well into April most years.
One of the state's premiere snowshoe routes, Artist Point, is just beyond the ski area. The route is best left to experienced snowshoers, and checks in at 5.5 miles round-trip.
Where to Eat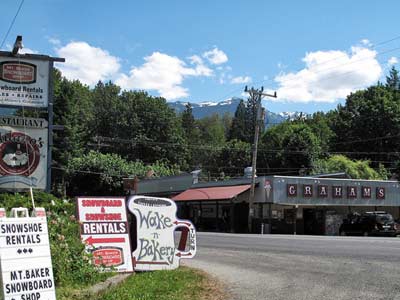 Stop at Everybody's Store just south of Deming on your way up to Mt. Baker for dinner supplies like cocoa, wine, cheeses and custom-made sausages. They also make delicious deli sandwiches to order.
Milano's Restaurant and Deli in Glacier is a favorite hangout after a day on the slopes—try their homemade pasta dishes, Caesar salad and tiramisu for dessert.
Tucked behind Milano's a block off the main highway in Glacier is the Wake n Bakery, makers of a reliably great cup of coffee alongside a selection of pastries, quiche and more.
Graham's Restaurant in Glacier serves up post-hike grub like burgers and fish & chips.
If you just want a pizza and craft beer (or barleywine!), head to North Fork Brewery for a post-hike hand-tossed pie.
Where to Sleep
The Logs at Canyon Creek have five rustic log cabins for rent nestled in pretty woods near the N. Fork of the Nooksack, each with two bedrooms, a living room with rock fireplace (wood provided), and a stocked kitchen and bathroom. Rates are $135 a night.
The most common lodging option in the area are vacation cabins and condo rentals (check mtbakerlodging.com.)
CAMP: Our favorite place to pitch a tent is Silver Fir Campground (open May – September), a forest service campground with 21 campsites set on the North Fork Nooksack River 14 miles beyond the town of Glacier.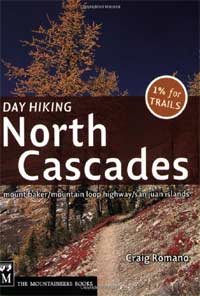 Day Hiking North Cascades: Mount Baker, Mountain Loop Highway, San Juan Islands, by Craig Romano
Discover the stunning scenery that abounds in the North Cascades region, where hikers indulge in the drama of steep peaks, deep valleys, and everything in between. From the San Juan Islands to Rainy Pass, guidebook author Craig Romano hiked every step of the trails featured in this essential guidebook. For each hike you'll get all the info you need (elevation, round trip mileage, driving directions) as well as Romano's personal take on what makes the trail worth your time. Buy this one and it will never leave your car! (also available for Kindle)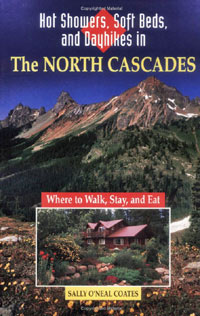 Hot Showers, Soft Beds, and Dayhikes in the North Cascades, by Sally O'Neal Coates
It's too bad this book is out of print currently, but you can pick up a used copy via Amazon or try your local library.
Hate camping? This is the ideal book for hikers who prefer to start the day with a good breakfast and end the day with a hot shower. Sally O'Neal Coates shows you where to trek in this land of waterfalls and snowcapped peaks and where to slumber and feast in rustic cabins or charmed B & Bs.
Photos: Skiing at Mount Baker by Simon Wex. The trail above Bagley Lakes by Nordique. Yellow Aster Butte by Judd Hall.  Downtown Glacier by mwkelley, Mount Shuskan reflected in one of the Reflection Ponds in the Mount Baker Ski Area by ideld,