Have you pondered why Washington is known for full-bodied Merlot while Oregon is famous for its fruity Pinot Noir? Location, location, location. The topography and climate of the Pacific Northwest is incredibly diverse, and this diversity is reflected in our wines.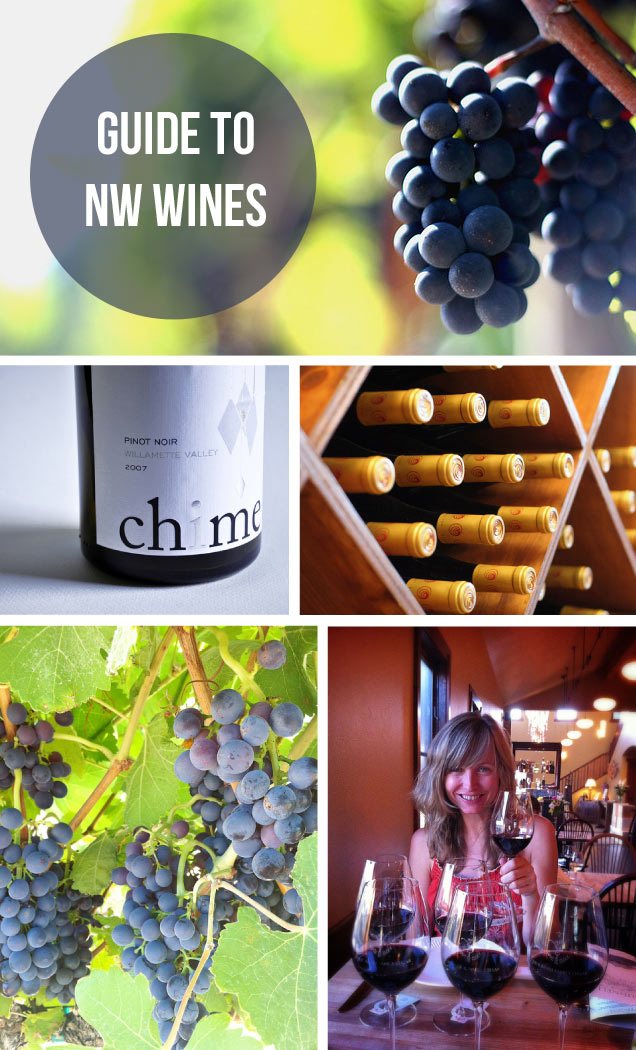 When you visit a particular wine region, you'll encounter some of the same wine varietals again and again. For example, Oregon's most famous AVA is the Willamette Valley south of Portland and this region is best known for its Pinot Noir and Pinot Gris because those types of grapes thrive in its moist, cool climate. Washington's Yakima Valley has an arid climate and long days of sunshine, conditions well-suited to Riesling, Merlot and Cabernet Sauvignon.
Hold up, what's an AVA? In the US, designated wine grape-growing regions are called American Viticultural Areas, or AVA's, distinguishable by geographic features, topography, climate and official boundaries. 
Headed out on a wine tasting trip? Brush up on your varietal knowledge. Read on for the most common types of wines crafted in the Pacific Northwest:

Merlot: the star varietal of Washington state
Why drink it: Merlot is accessible to softer palettes, and more luscious than its red cousins. Washington Merlots stand out from the crowd with voluptuous flavors of currant, licorice, and dark cherry. Whatever the movie Sideways did to elevate Pinot Noir, it did the same to crush Merlot (no pun intended), though it's debatable if Merlot production actually suffered as a result. California cultivates more Merlot grapes than Washington, but many wine lovers believe Washington crafts superior Merlot wine, probably due to a combination of unique factors like dry desert climate through harvest time and basalt-rich soils.
Where to taste it: Throughout Eastern Washington, specifically in Walla Walla, Red Mountain and the Yakima Valley.
Cabernet Sauvignon: the spontaneous hybrid grape that went on to rule the wine world
Why drink it: Is your palette ready to graduate to a powerful red with tannic architecture, dominated by black fruit with notes of tobacco and cedar? Or maybe you just love grilled red meats and want a wine that stands up to your manly palette. This wine ages well and bottle aging is often necessary for a Cab to reach it's full potential.
Where to taste it: With more than 10,000 acres planted, Eastern Washington grows a lot of Cabernet Sauvignon grapes, and this wine is produced at wineries all over the state.
Pinot Noir: the noble red grape of Burgundy
Why drink it: It's a fruit-forward, light to medium-bodied red wine that is less likely to give you a headache thanks to its lower tannins. Oh, and it pairs exceptionally well with grilled Northwest wild salmon! Pinot Noir is known for its layered complexity, and is one of the most exciting wines to compare as you go from winery to winery.
Where to taste it: This is the granddaddy of Oregon grapes, and the first wine grape to be widely grown in the Willamette Valley where the topography and climate is perfect for it. If you want to taste Pinot, go to the Willamette Valley.
Chardonnay: making a comeback, without the oak
Why drink it: Put aside your memories of oak-clobbered California Chardonnay from the 90's. Northwest Chardonnay grapes are grown in our cooler climate and the emphasis is on balanced, fruit-forward wines with crisp acidity that pairs well with food. If oak is used at all, it is used with restraint and the flavors it imparts are more nuanced. While the Chardonnay grape doesn't have a very distinctive flavor on its own (in my opinion) it excels at expressing terroir (see our Vino Vocab lesson).
Where to taste it: All over the Northwest, from the hotter, longer growing season of Walla Walla to the cool, moist Willamette Valley.
Pinot Gris: crisp, bright and citrusy
Why drink it: While mass-produced Pinot Grigio (that's the Italian name for the grape) is anything but exciting, Oregon's Willamette Valley produces some wonderful Pinot Gris that pair well with classic Northwest fare like oysters or grilled salmon. Many Willamette Valley Pinot Gris wines are laden with fruit flavors from melon to lemon zest. When tasting, seek out wineries that craft Alsatian-Style Pinot Gris and ask about the differences in the style.
Where to taste it: Oregon's Willamette Valley. Washington produces plenty of Pinot Gris grapes as well, some for white blends and some for single varietal wines, but you will still come upon it more in Oregon.
Riesling: residual sugar at its finest
Why drink it: First off, drop your preconceived notions about this wine and second, don't knock it 'til you've tried it. Washington has become known for producing great Riesling, and it's actually one of the first grape varieties grown in the state so they've had a long time to get it right. Most Washington Rieslings these days are vinted in an off-dry style, making it a versatile wine to pair with food. We love to drink dry Riesling when we make Indian food at home.
Where to taste it: All over Eastern Washington; the state has more than 6,000 acres planted with this grape.
Sauvignon Blanc: delightfully dry and refreshing
Why drink it: If you like an herby dry white wine with lively acidity, try Sauvignon Blanc. Take a sniff when you swirl to see if you catch a note of freshly-cut grass. In fact, drink it on freshly-cut grass! Sauvignon Blanc makes a great picnic wine on a hot summer day.
Where to taste it: These grapes are widely planted throughout the Northwest from Southern Oregon's Umpqua Valley to Lake Chelan, so you'll find this wine at tasting rooms all over.
Semillon: beautifully balanced and aromatic
Why drink it: When these white Bordeaux grapes are grown in the ideal conditions (hint: not too hot), Semillon is subtly complex and fruity with notes of melon, fig and pineapple. This is one of our favorite wines and the main white wine we served at our tapas-style wedding dinner.
Where to taste it: Throughout Washington and Oregon, but not in huge quantities yet. You'll occasionally come across Semillon in the Yakima and Columbia Valleys.
Chenin Blanc: poised for a comeback
Why drink it: Although Chenin Blanc isn't a particularly fashionable varietal for the masses these days (less than 300 acres are planted with Chenin Blanc in Washington), its  vivacious acidity makes it a unique and usually winning choice with food. Like Reisling, it pairs well with spicy dishes like Thai or Indian curries.
Where to taste it: If Washington had such a thing as "old-growth vines" they would be Chenin Blanc; some of the Yakima Valley vines still in production date back many decades. You'll also come upon Chenin Blanc when tasting in Walla Walla.