There's nothing quite like a glass of good rosé on a warm spring day. Especially if it's been kept nice and cool by the thick walls of an oak barrel.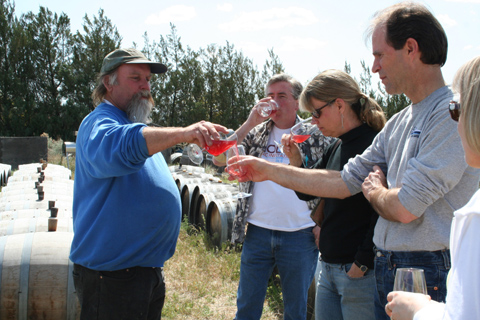 Blackwood Canyon is a unique winery on Red Mountain, near Washington's Tri-Cities. (This winery has now closed.) By the way, a visit there is like no other tasting room experience you'll ever have, but more on that another time (I promise!). That's the winemaker, M. Taylor Moore, pouring a taste for some nice folks from Olympia. We pretty much spent the day together (yes, a tasting at Blackwood Canyon takes the better part of a perfect afternoon). The wine enjoyed in the photo is Rincon Point Rosé, which had not even finished fermenting, siphoned straight out of the barrel. Delightful.
See comment below, this winery has now closed.