The deepest lake in the United States is a pool of sapphire water ringed by sheer cliffs piled with snow. Beautiful in summer months, the lake is stunning beyond words in winter. The only catch is timing – to get the most stunning views you must hit it on a clear day.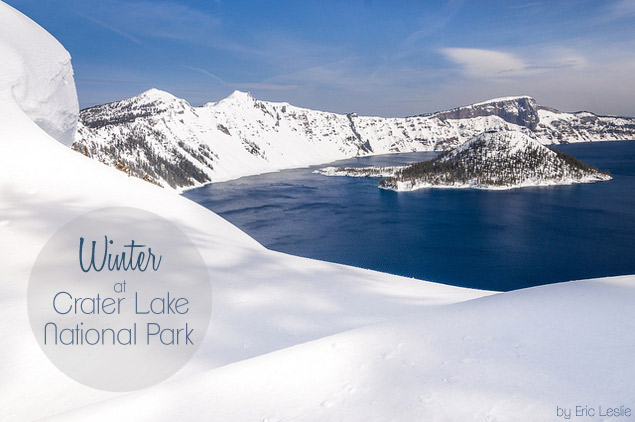 This is Oregon's Crater Lake, formed in the aftermath of Mount Mazama's volcanic eruption circa 5670 BC. It's the centerpiece of Oregon's Crater Lake National Park, and I'm told it's not actually a volcanic crater at all, but a volcanic caldera. (Truly, I don't know the difference, as I'll bet this topic was covered on one of the many days I skipped geology class to go birdwatching in the Wisconsin prairie. Birds trump rocks.)
Visiting Crater Lake in Winter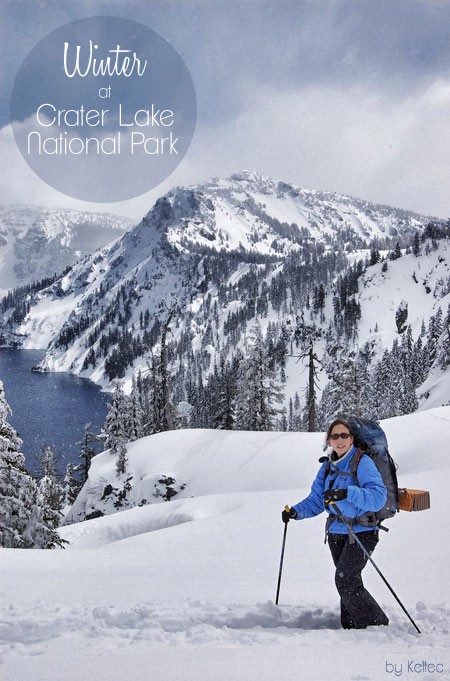 Compared to the throngs of people at Crater Lake National Park in summer, the park is lightly visited in winter. Though it's always open, some of the roads and facilities close seasonally (October – May) like the Rim Visitor Center and the historic Crater Lake Lodge. The Steel Visitor Center remains open 10am-4pm daily (except December 25). In winter, only the park's south entrance is open, so travelers from Seattle or Portland must drive south to the Medford/Jacksonville area, then approach the park from the south. The entrance fee to visit the park is $15 per vehicle, and it's good for the next seven days.
To get there, take I-5 to Medford, Oregon, then Oregon Highway 62 about 75 miles north to Crater Lake National Park. Highway 62 and the road to Rim Village (Munson Valley Road) are plowed and open all year. However, snowy and icy road conditions can occur and may result in temporary road closures. Carry tire chains. Always check out the park's current conditions before your visit.
About that scenery: The lake is completely invisible about 50% of the time in the winter and early spring. Check the weather forecast or call the Crater Lake dispatch at (541) 594-3000 the morning of your planned winter day trip into the park. To find out if Crater Lake is currently visible, you can also view the webcam at Rim Village.
What to do: Once you're there, you'll want to get out of your car and explore. Cross-country skis or snowshoes (we use these high-quality yet affordable Atlas snowshoes) are recommended for exploring on trails beyond the park's plowed roads. Don't miss the free ranger-led snowshoe walks offered by the park (see below). For self-guided recreation, consult the park's Winter Visitor Guide (PDF) for trail details, maps, pet regulations and more. You should always call the park visitor center at (541) 594-3100 for the latest conditions, including avalanche danger.
Where to Stay: Sadly, the historic Crater Lake Lodge is shuttered up and closed in winter. West of Crater Lake is the Union Creek Resort, where simple cabins set in the Rogue River National Forest provide a cozy, rustic backdrop to your getaway. Some cabins have full kitchens, or eat at the cafe at the lodge. You can also make the greater Medford area your base. My top recommendation is to make yourself home at the Magnolia Inn in the nearby town of Jacksonville. Take a day trip to Crater Lake National Park from here, then spend some time strolling through this historic town, trying a few restaurants and shopping at the local boutiques. The city of Medford has several chain hotels and a few B&Bs. Another cool place to stay in the general area is the Weasku Inn near Grants Pass, a fishing lodge on the banks of the Rogue River.
FREE Ranger-Guided Snowshoe Walks at Crater Lake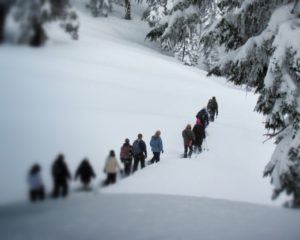 Are you new to snowshoeing? Reserve a spot on a ranger-guided snowshoe hike at Crater Lake National Park.
Ranger-guided snowshoe walks are a fun and safe way to experience the winter wonderland of Crater Lake National Park. Free guided snowshoe walks are offered on weekends and holidays from December 8, 2018 through April 28, 2019 and every day from December 15 through January 6. They start at 1:00 pm, last two hours, and cover 1 to 2 miles of moderate-to-strenuous terrain.
Participants must wear snowshoes on this guided hike because of the deep snow along the route. Snowshoes are provided for free, and no previous snowshoeing experience is necessary.
Each walk is limited to 30 people, ages 8 and older only. Sign up in advance by calling (541) 594-3100. No reservations? A few spots might be open on the day of the walk, so stop by the Steel Visitor Center at Park Headquarters when you arrive. The walks last 2 hours and cover about 1 mile of moderately strenuous terrain. Ranger guides will share their knowledge of winter ecology and local volcanic history with participants.
What to Wear on a Snowshoe Hike
Having the right clothing on can make all the difference between a miserable, cold day or a warm, comfortable day in the snowy backcountry. Read our full article on what to wear on a snowshoe hike.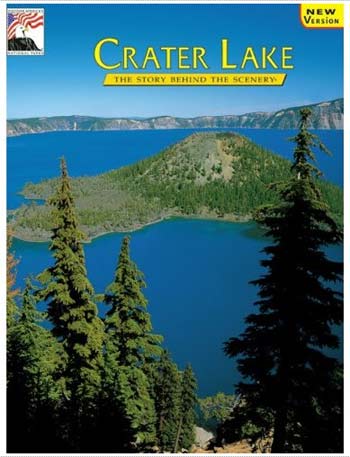 Crater Lake: The Story Behind the Scenery
Crater Lake National Park, located in south central Oregon, was established in 1902 to preserve this deep blue lake encircled by multicolored lava walls. Each book in The Story Behind the Scenery series tells a compelling story through the eyes of an experienced interpreter whose writing reflects true enthusiasm for the park. Complete with running text and interpretive captions, accompanied by abundant full-color photographs, these books will be welcome in any home library.
by Shea Andersen, published by The Mountaineers Books
This well-researched guidebook offers snowshoe trails throughout the state for every experience level, with detailed descriptions of routes and safety information.

Get avalanche-savvy! It can save your life. 
Enroll in an avalanche awareness/safety class. Learn as much as you can before heading out into the mountains in winter conditions.
The Northwest Avalanche Center promotes avalanche safety by helping with current information on snow pack structure, avalanche danger and forecasts of mountain weather conditions. Visit the Northwest Avalanche Center website at www.nwac.us
This article was first published in December 2012, and has been updated.
Photo credits: snowshoer at Crater Lake by Kellec, landscape of Crater Lake by Eric Leslie.