When I had a baby last year, there were a few revelations that went through my head about how our life as a carefree traveling couple had suddenly changed. For example, those lazy days of tasting our way through wine country were probably over.
Not so! Meet Jodie and James, an Australian couple living in Seattle, who inspire me to no end with their enthusiasm for travel and recreation–even with their adorable 7-month old baby in tow. (In fact, they just returned from a family holiday in the Southwest!) Jodie guest posts below on her recent family trip to the Yakima wine country. -Lauren

One thing I love about living in Seattle is the number of diverse places to explore just a short drive away. This year for our anniversary trip, our first with a child, we wanted to find out what lay beyond the Cascade mountains. We headed to Yakima and Ellensburg to see the wineries, hops and even some Chimpanzees.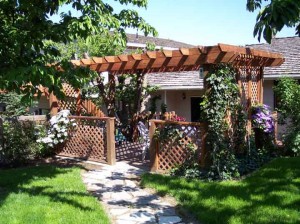 Our search for a family-friendly B&B accommodation in wine country was a rocky road paved with many terse responses. Apparently, "family-friendly" and "B&B" are not often joined in the same sentence! We finally came upon the Orchard Inn B&B set in a charming cherry orchard in Yakima. At $129 for the very spacious and private family room (the other rooms are only $109 for a double if you are sans children) we could enjoy some comfort for our anniversary without breaking the bank. We certainly weren't disappointed. Our gracious hosts greeted us warmly and gave us plenty of useful information about local places to eat and  things to see. Our gourmet breakfasts were served in a sunny room overlooking the orchard, and were divine. (My favourite one was the baked French toast stuffed with apricots from a tree right outside!) Our only regret was our timing was a little off. If we had waited another month and gone in April, we could have experienced the brilliant display of cherry blossoms in the orchard surrounding the B&B.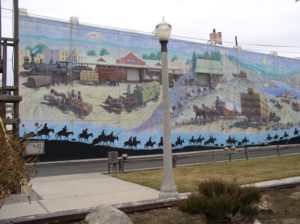 Yakima has long been a place of intrigue for me; when I underwent brewing training for my job at one of Australia's largest breweries, I learned all about the hop growing regions around the world. More recently, I discovered the variety of hops used to brew one of my favourite Australian beers, James Squire Golden Ale, grows only in the Yakima valley. Naturally, the first stop for Saturday morning was the American Hop Museum in Toppenish. Unfortunately we didn't read the fine print and found the museum closed for another few months. However, our visit to Toppenish was not in vain; the 72 murals that adorn the "wild west" town are a sight to behold.
From Toppenish, we circled back to Yakima through the Rattlesnake Hills wine region. While the region is not as famous as some there are some really nice wines to be found and the search is always fun. For us our favourite of the day was a black Muscat from Piety Flats winery. This winery is worth a visit for the old mercantile building and vast array of condiments, jams and other treats. Another notable stop was the Wineglass Cellars.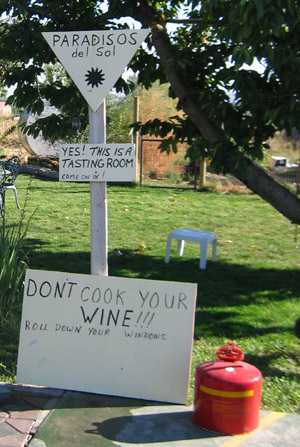 We awoke Sunday morning to the soothing sound of rain in the desert. While we were reluctant to leave the friendly atmosphere of the B&B, there was more to explore along the way back to Seattle. The mist swirled around the snow-covered sage bush hills as we headed west; Spring was slow to come to the Yakima Valley this year. We enjoyed a coffee in old town Ellensburg as we watched the snow, which lent an air of romanticism to the morning as we strolled the streets enjoying the pretty historic buildings.
Ellensburg is home to the Chimpanzee and Human Communication Institute at Central Washington University, which hosts the highly informative "Chimposium" sessions. During the one hour session you can interact in sign language with their resident Chimpanzees. Walking into the Chimpanzee viewing area slightly hunched and trying not to show my top teeth felt a little silly. However this is how you behave to be a good guest in the home of the Chimpanzees. The Chimpanzees put on a territory-defending display while we signed to them that we were friends. For the next twenty minutes we enjoyed interacting in basic sign language to the two chimpanzees. It sure was an amazing experience and much better than any zoo.
As we headed  slowly back over the pass in a heavy snow storm, we had plenty of time to reflect on our trip and ponder why it had taken us two years of living in Seattle to finally visit such a beautiful region. We vowed to return in the summer for the bountiful cherry harvest. And we think you should, too.
Photos: Orchard Inn B&B, a mural in Toppenish, and a sign outside the Paradisos Del Sol tasting room near Yakima.