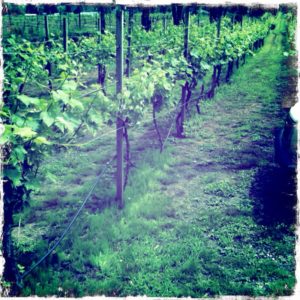 Down in the valley, where the green grass grows, there are over a dozen small, family-owned wineries whose creations range from spicy Syrahs to deep-noted Pinot Noirs.

Oregon's Umpqua Valley wine region is not just one valley, but comprises several small valleys and undulating hills. It's drier than the Willamette to the north, and cooler than the Rogue to the south.We spent a few hours exploring the Umpqua just north of Roseburg this past week, and stopped at a couple of tasting rooms to sample the region.
Our first stop was the Henry Estate Winery. Scott Henry was out in the vineyards when we arrived, probably tinkering with his world-famous trellis system. It's his own invention (Henry is a retired engineer) and has been widely-adopted because it allows for twice as much vine per square foot of soil as a traditional trellis system.
In the tasting room we were met by Dan, who kindly acquainted us with the wines of the region. I learned from Dan that the Umpqua straddles the same latitude as France's Burgundy region, which often results in more complex Pinot Noir than what one might find in the Willamette. I tasted five of their wines, and all were excellent, though I enjoyed their Syrah most of all.
Our next stop was Palotai, where we were greeted by the winery's dog, a friendly chocolate lab named Bella. Again, we were the only visitors. Michelle, whose uncle purchased the winery three years ago, was working in the tasting room boxing up cases of wine for shipments. Their vineyards contain a few Hungarian varieties of grapes and many of their top wines are blends, like the Bull's Blood red. We sampled just a few before we had to hit the road and bid farewell to the charming Umpqua Valley.