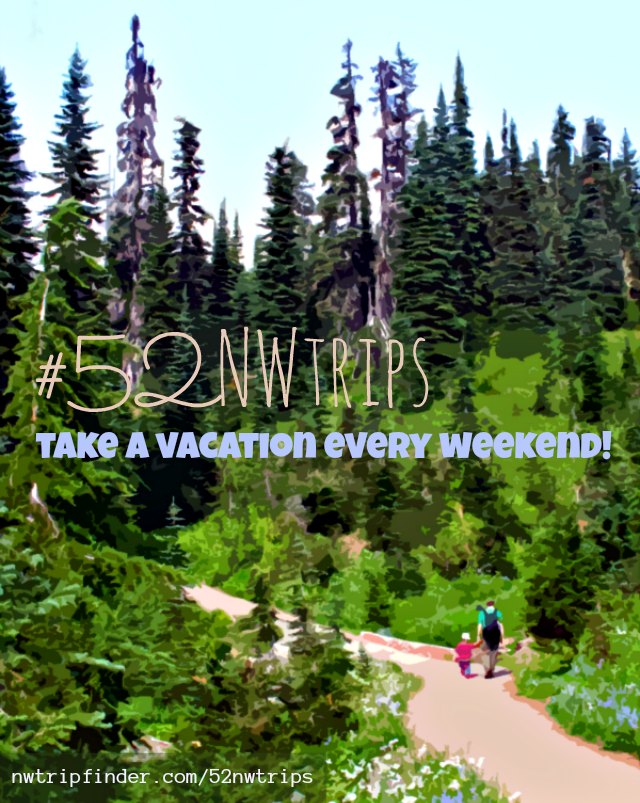 What if you took a vacation every weekend? If you live in the Pacific Northwest, you can!
Did you forget to make weekends plans again? Our new weekly trip guides feature everything you need to take last minute getaways all year long, save for your packed suitcase and half tank of gas!
We're turning ten this year, and in celebration of Northwest TripFinder's tenth anniversary we're bringing you 52 Northwest Trips, featuring a hand-picked, seasonal adventure, road trip or cool destination for every weekend of the year. You can follow along with the hashtag #52NWTrips on facebook, twitter and instagram, and be sure you subscribe to our e-newsletter to get each and every trip in your email inbox. We'll also keep track of all the trips below, adding to the list every week.
Want a sneak peak into some of the weekly-highlighted trips coming up? Look for a farm-fresh locavore tour of Salt Spring Island, crabbing on the Oregon Coast, two days packed with scenic day hikes on lovely Lopez Island, and many more! See some of the trips featured so far below.
#52NWTrips:
Spring Trips
John Day Fossil Beds National Monument
Summer Trips
Hiking in Paradise at Mt. Rainier
Autumn Trips
Wine Tasting in the northern Willamette Valley
Winter Trips

Northwest TripFinder Turns Ten!
When I started Northwest TripFinder as a hobby travel blog in April 2008, the aim was to share my favorite places for weekend getaways in the Pacific Northwest. As my family hiked mountain trails, camped in the woods, sipped wine in tasting rooms and slept in funky B&B's, I blogged about it all to bring my readers useful tips when planning unique trips of their own, from lovely Gahr Farm near McMinnville to the yurts at Cape Disappointment. I'm so grateful to all of our readers who have found Northwest TripFinder to be a place for local travel inspiration over the years, especially those of you who have been traveling along with us since the very beginning! Here's to ten more years of offbeat, affordable adventures in our Pacific Northwest!