Forget sandy beaches: This wild stretch of the Oregon coast is all about frothy waves crashing into basalt headlands.
Depoe Bay straddles Highway 101 along a dramatic stretch of Oregon's central coast. The larger beach towns of Newport and Lincoln City sit to the south and north, respectively. Perhaps because of its proximity to these more populous beach retreats, Depoe Bay gets skipped by most overnight travelers to this part of the coast. We'll give you some great reasons not to skip it.
The town faces a rocky outer bay that shares its name, flanked by rocky headlands to the north and south. In the middle of town, a narrow channel connects the ocean to a tiny harbor, the world's smallest navigable harbor if the road signs are to be believed, which is lined with charter fishing and whale watching boats. This town is the "Whale Watching Capital" of the Oregon Coast.
Depoe Bay is an old fishing village with many charms, including seafood shacks and a quarter-mile seawall promenade (a great place from which to spot whales). Even if you don't see whales, you will see waves; the winter storm watching here is phenomenal.
It's All About the Whales
It's because of this stretch of central coastline's rough topography that massive gray whales can be spotted so near the shore here — as close as 30 feet away, especially during the winter and spring migrations when these massive mammals are en route to or from the Bering Sea. The best months for spotting whales are December, January and March/April. That said, whales can be seen other months of the year; they're just not as numerous or reliable. I've personally spotted gray whales from nearby bluff lookouts in July and September. It is estimated that a few hundred gray whales spend their summers off of the coast of Oregon.
Any rocky outcropping in the area will do as a vantage point. Try Rocky Creek State Wayside, Otter Crest Viewpoint, or Devils Punch Bowl. Bring binoculars and a spotting scope if you have one. First, scan the surface of the ocean without binoculars until you see a puff of white. That's likely a breaching whale. Keeping your eyes planted in the same general area that you saw the puff of white, raise your binoculars to your eyes and focus them. Scan the same area using the binoculars until you see the whale come up again for air (about 10-20 seconds after its last breath). If the whale doesn't surface again, it is probably diving and will be underwater for a few minutes before surfacing for another breathing cycle.
Dress in lots of warm layers for your whale watching excursion. The cold wind up on those headlands can be brutal. See our storm-watching essentials for ideas of dressing for the area.
Stop in at the Whale Watching Center (an Oregon state park) where knowledgeable rangers will help you spot grays as they blow, spy hop and breach. To book a whale watching boat trip, check out Whale Research EcoExcursions.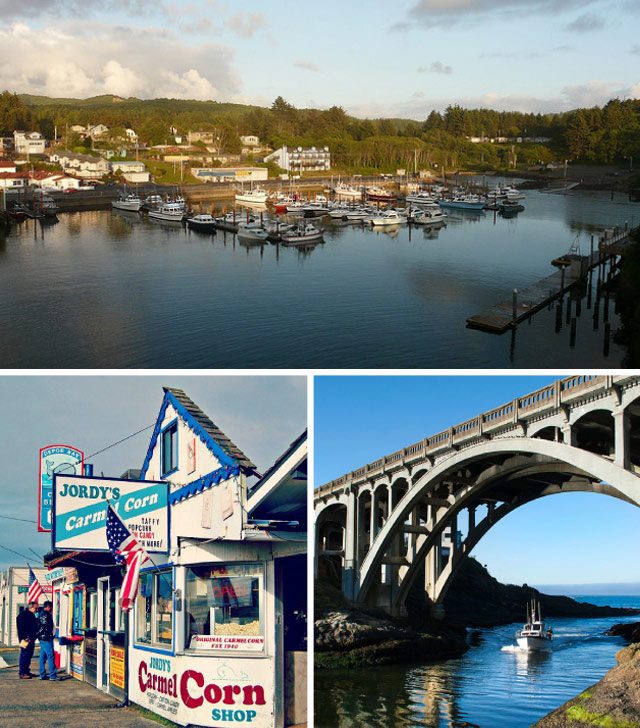 Where to Stay
The Inn at Otter Crest (from $99, 800-452-2101) is an oceanfront resort hotel in Otter Rock on its own headland with tide pools below. The suites are perfect for families.
Rooms at the Depoe Bay Inn (from $119, 800-228-0448) overlook the snug little harbor- watch fishing boats and seals pass by while you enjoy the inn's complimentary breakfast.
Where to Eat
Tidal Raves Seafood Grill puts a creative spin on traditional coast cuisine, plus they have an extensive kids' menu. Sit by the window for dinnertime whale watching.
Gracie's Sea Hag is a local favorite for a bowl of steamy clam chowder or a big boat of tasty fish & chips.
For some of the best fritters on the coast (plus a pastry case full of other sweet treats), stop by Depoe Baykery.
Getting to Depoe Bay
Depoe Bay is about 2.5 hours drive time from Portland. Take I-5 south to Salem. Take exit 260A and follow OR-22 W and OR-18 W to US-101 S/Oregon Coast Hwy in Lincoln County. Merge onto US-101 S/Oregon Coast Hwy and follow it through Lincoln City all the way to Depoe Bay.