Forget sandy beaches. This wild stretch of the Oregon coast is all about frothy waves crashing into basalt headlands, and passing grey whales.
The small town of Depoe Bay sits between two Oregon Coast hotspots–Lincoln City to the north and Newport to the south, which may be why it's often overlooked by travelers to this part of the coast. But there are so many reasons not to skip it.
An old fishing village that retains plenty of maritime cred, Depoe Bay straddles Highway 101 along a particularly dramatic stretch of Oregon's central coast. Facing a rocky outer bay that shares its name, the tiny downtown strip is lined with seafood shacks, kite shops and a quarter-mile seawall promenade (a great place from which to spot whales). In the middle of town, a narrow channel pierces the rocky bluff to connect the ocean to a tiny harbor, the world's smallest navigable harbor if the road signs are to be believed, lined with charter fishing and whale watching boats. Spanning the channel is postcard-worthy Depoe Bay Bridge, a concrete arch built in 1927 that is reminiscent of the more famous arch bridges along California's Big Sur coast.
Even if you don't see whales during your visit to Depoe Bay, you will see waves. The seasonal storm watching from Depoe Bay's blufftop inns is phenomenal.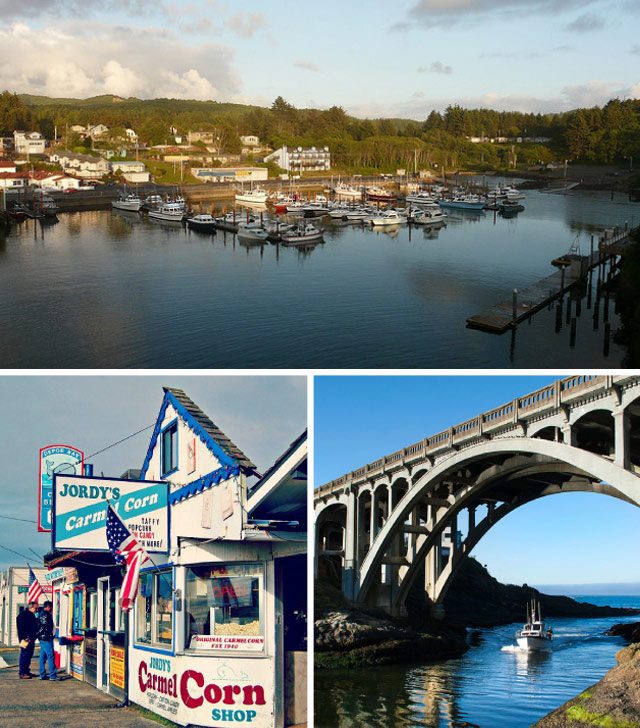 DO: Watch Grey Whales
Depoe Bay isn't known as "The Whale Watching Capital of Oregon" for nothing! The rough topography of this stretch of the central coast isn't just breathtaking beautiful, it's also prime terrain for spotting massive gray whales as they pass near the shore as close as 30 feet away as they feed for shrimp and plankton in shallow water with their young. Whales may be spotted any time of year, but it's during their late fall and spring migrations when they're most abundant (Fun fact: the California grey whale migration, from its feeding grounds in the Bering Sea to its breeding lagoons off the coast of Baja California, Mexico, is the longest migration of any mammal on earth!)  The best months for spotting whales are December/January as the whales swim south and late March/April as they return north.
Where to see whales from shore: Any rocky outcropping in the Depoe Bay area will do as a vantage point for spotting whales. Just north of Depoe Bay is a favorite spot for a local pod of resident grey whales to congregate, Boiler Bay State Scenic Viewpoint. Transient Orca whales may be spotted here as well, hunting for baby grey whales. Just south of Depoe Bay is Rocky Creek State Scenic Viewpoint, another prime viewing location. A bit south from here along Hwy 101 are two more spots to stop and scan for whales, Otter Crest Viewpoint and Devils Punch Bowl.
How to spot a whale: Bring binoculars and a spotting scope if you have one. First, scan the surface of the ocean without binoculars until you see a puff of white. That's the spray out the blowhole of a grey whale. Keeping your eyes planted in the same general area that you saw the puff of white, raise your binoculars to your eyes and focus them. Scan the same area using the binoculars until you see the whale come up again for air (about 10-20 seconds after its last breath). If the whale doesn't surface again, it is probably diving and will be underwater for a few minutes before surfacing for another breathing cycle.
Stay warm and dry: Dress in lots of warm layers while whale watching from shore; the cold wind up on those headlands can be brutal! See our storm-watching essentials for ideas of dressing for blustery days.
Learn from whale experts: Stop in at the Whale Watching Center (an Oregon state park) where knowledgeable rangers will help you spot grays as they blow, spy hop and breach. Open Weds-Sun, 10am-4pm.
Every March, Depoe Bay kicks off the spring migration whale watching season by hosting a Spring Whale Watching Week (March 21st – 29th, 2020) that features trained volunteer guides from the Oregon Parks and Recreation Department stationed and ready to help you see migrating grey whales at 26 whale watching lookouts. Look for the signs that read "Whale Watching Spoken Here" from 10am-1pm each day.
See the map of the 24 whale watch sites whalespoken.org, and watch whale activity off of Depoe Bay live this spring on the Oregon State Parks YouTube channel.
See whales from a boat: Several companies operate whale watching boat trips out of Depoe Bay. To book a whale watching boat trip, check out Whale Research EcoExcursions or Tradewinds Charters.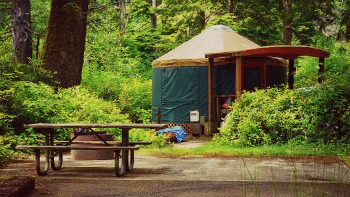 Where to Camp
The nearest camping to Depoe Bay is Beverly Beach State Park, seven miles south of town along Hwy 101. Read more about camping and hiking at Beverly Beach (they have yurts!)
Where to Stay
The Inn at Otter Crest (from $99, 800-452-2101) is an oceanfront resort hotel in Otter Rock on its own headland with tide pools below. The suites are perfect for families.
Rooms at the Depoe Bay Inn (from $119, 800-228-0448, no kids allowed) overlook the snug little harbor- watch fishing boats and seals pass by while you enjoy the inn's complimentary breakfast.
Where to Eat
Tidal Raves Seafood Grill puts a creative spin on traditional coast cuisine, plus they have an extensive kids' menu. Sit by the window for dinnertime whale watching.
Gracie's Sea Hag is a local favorite for a bowl of steamy clam chowder or a big boat of tasty fish & chips.
For some of the best fritters on the coast (plus a pastry case full of other sweet treats), stop by Depoe Baykery.
Getting to Depoe Bay
Depoe Bay is about 2.5 hours drive time from Portland. Take I-5 south to Salem. Take exit 260A and follow OR-22 W and OR-18 W to US-101 S/Oregon Coast Hwy in Lincoln County. Merge onto US-101 S/Oregon Coast Hwy and follow it through Lincoln City all the way to Depoe Bay.