Explore the Paradise region of Mt. Rainier on one of these hikes that are bursting with wildflowers right now, plus where to stay if you make it a weekend.
Do you hear a mountain calling your name?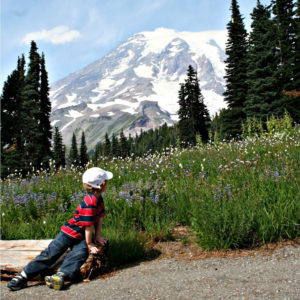 It's the most recognizable icon of Washington state's landscape. It has three of our state's best campgrounds and two outstanding historic lodges to sleep in. And whether you experience Mount Rainier National Park from a car, a wheelchair, a stroller or your hiking boots, it'll knock your socks off.
The Paradise area of Mount Rainier has always been one of my favorite spots in the Pacific Northwest. Miles of trails, many paved and accessible to all ages and abilities, weave through rich meadows with gurgling streams. Marmots whistle from rocky slopes. Wildflowers explode like fireworks at your feet in summer, and the same meadows are tinged with the deep reddish hues of autumn in early fall. It's a spectacular place.
Getting There
The Paradise Visitor's Center and its surrounding trailheads are about 2.5 hours from Seattle. To get there, take I-5 south to Tacoma, then drive east on SR 7 to Elbe. From there, continue on SR 706 through Ashford to the Nisqually Entrance to the park. The entrance fee is $30 per vehicle (includes all passengers, good for seven consecutive days). After entering the park, continue on Paradise Road heading east all the way to the Henry M. Jackson Memorial Visitor Center and the Paradise Inn. See map and directions.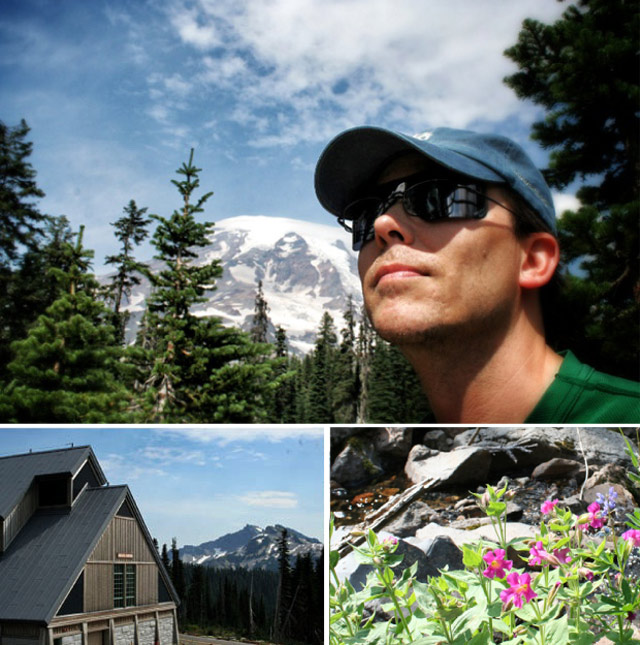 Where to Hike
Several trails depart from the Paradise area that can be taken in bite-sized chunks for short hikes, or combined into longer explorations. Below are three hike options for you to choose from.  Preview which wildflowers are in bloom at the hiker-submitted Trip Reports over at wta.org.
Order a copy of Day Hiking: Mount Rainier by Tami Asars for the best guide to hiking on the mountain–it features more than 80 trails throughout the park with insider tips, driving directions, photographs and topo maps for each.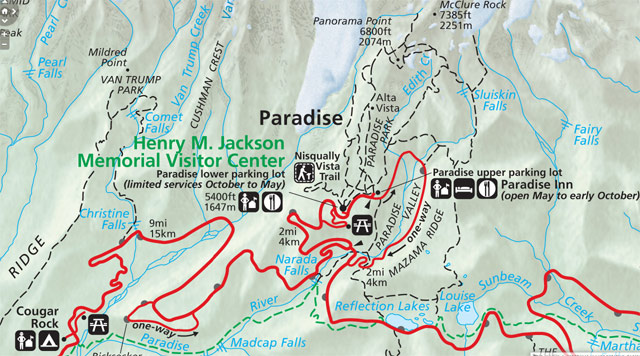 1.2 miles RT, 200 feet elevation gain
You need only hike twenty feet on this trail for incredible views and a carpet of subalpine wildflowers. The hike is paved and accessible for wheelchairs and strollers. Many trails that are collectively known as the "Paradise Flower Trails" depart from the Paradise Inn parking lot. To hike this particular loop trail, stay to the left at the initial trail junctions–it is the westernmost trail from the inn. Soon you are on a gentle ascent through fields of beargrass, hellebore and avalanche lilies (see our flower guide at the end of this article). Soon the trail splits into a loop – stay to the left and hike along a ridge above the Nisqually glacier before returning to the original trail and back to the inn.
1.75 miles RT, 600 feet elevation gain
Every time I hike this paved loop I think the trail should be renamed "Marmot Vista" for the many chubby, furry creatures who frolic and whistle from the surrounding flower fields. In truth, Alta Vista means "high view" referring to the green knoll directly above the historic inn, and that's pretty accurate for this trail, too, especially on the clear days with the mountain's glaciers so close to your face you feel you might be able to reach out and touch them. A bit longer and steeper than the Nisqually Loop, Alta Vista is the ultimate hike for wildflower lovers, as beauties like avalanche lilies, lupine, valerian, magenta paintbrush and so many more flowers cover the sweet meadows.
5.5 miles RT, 1700 feet elevation gain
This loop begins on the west side of the paved Alta Vista trail loop, but soon leaves pavement behind as it climbs to a high overlook of Paradise Valley and the volcanoes to the south (St. Helens, Adams and Hood). Save this trail for August if you want it to be snow-free, and you'll find wildflowers peak just a bit later here than down at Paradise.
Where to Stay
If you want to make your visit an overnight trip, there are many lodging options including three park campgrounds, two historic park lodges, and several inns just outside the park entrance.
Cheat Sheet: Common Wildflowers at Paradise
If you visit Paradise in late summer you'll likely catch some beautiful wildflowers in bloom (the peak weekends fluctuate year to year depending on the snowmelt). Our favorite guide to enjoying this wildflower display is Wildflowers of Mount Rainier by Laird Blackwell. If you visit the wildflower-laden trails of Rainier in July or August, you will be so glad to have this colorful, easy-to-use guidebook in your pocket.
Below is our little guide to wildflowers on the Paradise Flower Trails. Enjoy!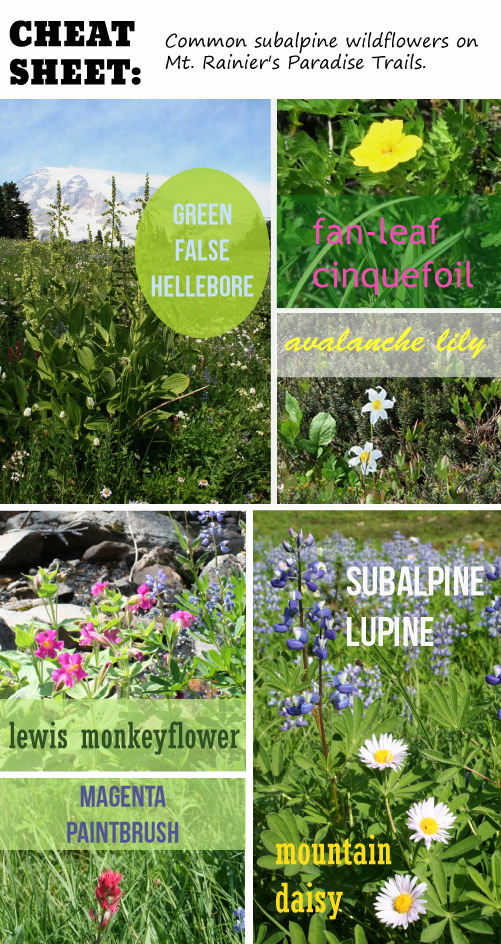 NOTE: This article was originally published in July 2014 and has been updated.