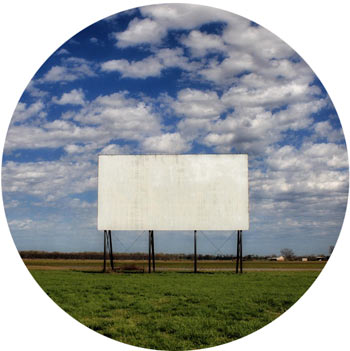 What's the ultimate summer date night on the cheap? A drive-in movie!
Don't put it off anymore. Go this summer. It seems that with each passing year, another drive-in movie theatre in the Northwest closes for good (the most recent victim is the beloved Valley 6 Drive-In in Auburn, Washington). And with movie studios planning to end the distribution of films in old-fashioned 35-millimeter format in 2015, it's anyone's guess how much longer new movies will be playing at drive-ins that haven't upgraded to digital.
Here are some spots to drive in to your summer movie.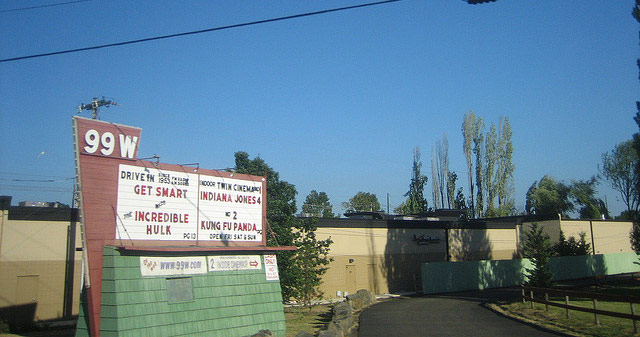 Wheel-In Motor Movie – Port Townsend, WA
website  |  (360) 385-0859  |  210 Theater Road (map)
Family-run since 1953, the Wheel-In Motor Movie is Washington's smallest drive-in (room for 150 cars) and full of old-fashioned nostalgia.  Park in its grassy field framed by lovely conifer trees. They play mostly first-run movies and lots of blockbusters.
Rodeo Drive-In – Port Orchard, WA
website  |  (360) 698-6030  |  7369 Washington 3 (map)
Also family-owned, the Rodeo is Washington's second-largest drive-in cinema with three screens that play double features. There's room for nearly 1000 cars. The snack bar has an extensive menu of classics, from nachos to corn dogs.
99W Drive-In – Newberg, OR
website  |  (503) 538-2738  |  3110 Portland Rd (map)
Another old-fashioned drive-in full of nostalgia, the 99W is just a solo screen open weekends with room for about 300 cars. They opened in the summer of 1953 with double features and haven't stopped since.  Enjoy intermission when they play vintage reels.
Twilight Drive-In – Langley, BC
website  |  (604) 856-5063  |  3350 260 St. (map)
Twilight was built in 2005 by a local movie buff, Jay Daulat, who started his career in cinema as a drive-in projectionist back in 1969. It's family-owned and the only remaining drive-in theatre in the lower mainland. Community support (10,000 fans on Facebook!) ensures it will have an audience for many years to come.
Want even more? Find more local drive-in movie theatres here.
Also, check out Carl Weese's ongoing project to photograph America's abandoned drive-ins.