Update: Prices below have been updated for 2015.
Where can you stay on the Washington state coast for under $70 a night? Ok, besides your tent!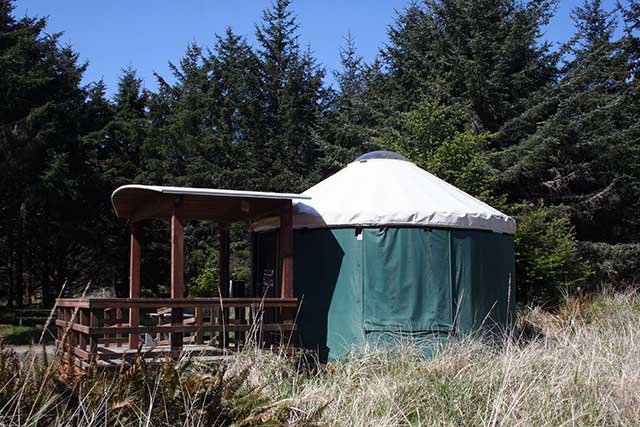 Cape Disappointment is a fabulous Washington State Park at the south end of the Long Beach Peninsula, situated where the Columbia River meets the Pacific Ocean. Its location is absolutely stunning, and the nearly 2,000-acre park has 7 miles of hiking trails to keep you in great shape during your visit and get you truly dramatic views. And, every little seaside town you pass through on the way there sells saltwater taffy. Ahoy!
Imagine my joy, then, to discover that Washington State Parks are following the trend that has brought yurt-lovers to Oregon State Parks for years — Cape Disappointment has 14 yurts! They have three cabins, too. And if you're happy sleeping cheaper in your tent or RV, there's a campground as well.
The yurts at Cape Disappointment are within walking distance of the beach, where you can watch waves pound steep cliffs or stroll along a sandy beach. Once you've had enough of that, peruse the newly expanded Lewis and Clark Interpretive Center.
Cape Disappointment also has cabins tucked in an alder forest on the shore of Lake O'Neil. Each cabin is 13'x13′ with a covered porch, and is furnished with a bunk bed that sleeps three, a full-size futon and small end table. Like the yurts, you will have your own picnic table, electric heat, lights, fire pit with grate and locking doors, with bathrooms and showers nearby.
There's no real roughing it here — you'll feel right at home with the yurts' warm furnishings and electricity. Each yurt is 16 feet in diameter by 10 feet high and furnished with bunk beds that sleep three, full-size futon, floor lamp, small end table and heater. Skylights and screened windows bring the outdoors in, and the yurts have hardwood floors and locking doors. You will love relaxing outside on the ADA-compliant deck, eating at the picnic table and building a cozy fire in the fire pit.
Details for yurts and cabins:
Up to six people per yurt or cabin.
$69 (plus tax) per night per yurt/cabin May 15 – Sept. 15;
$59 (plus tax) per night per yurt/cabin from Sept. 16 to May 14.
Reservations: online or call (888) CAMPOUT or (888) 226-7688.
Details for camping: Cape Disappointment has 137 standard campsites, 60 full hookup sites, 18 sites with water and electricity only, five primitive campsites. Rates are $12 – $36.


TRAVEL GUIDE: Washington's Long Beach Peninsula
What is a yurt?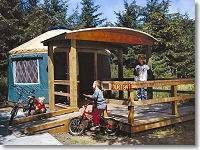 Yurts are circular, domed tents made of extra-heavy, durable canvas and they have spacious, heated interiors. (Though come prepared with blankets and warm clothing as nights here can get quite cool.) Yurts evidently served as traditional shelters for nomadic people in Asia. Now, they're a comfortable, affordable way to visit stay at some of our region's fabulous natural areas.