Psst…. get our premier guide to fall travel – Autumn Escapes in the Pacific Northwest. Get inspired to spend your fall weekends combing rocky beaches, savoring the harvest, and hiking scenic mountain trails of Washington and Oregon. Get it here.
I've saved some vacation days, and I hope you have, too. For fall lovers like me this is when the fun truly begins, from pumpkin patches to apple-picking and cider-tasting.
Autumn is a prime travel time simply because it isn't summer. There are no summer tourists to wait behind in ferry lines or compete with for lodging vacancy.  And you'll save some cash, because many lodgings lower their rates in October.
So go ahead and get out of town.  The crisp air and fall foliage are calling your name!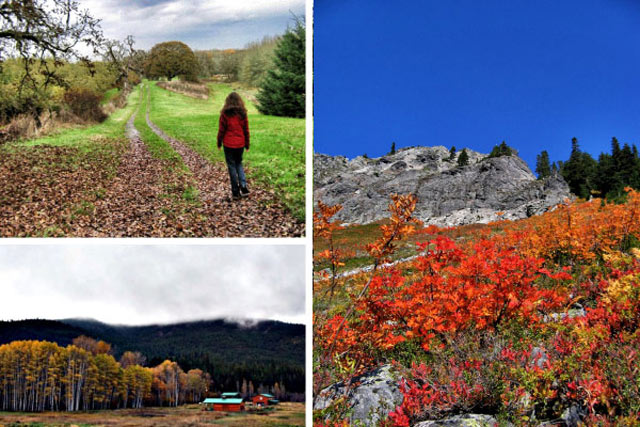 FALL TRIP: The Methow Valley
When autumn's gray skies dampen your mood, escape the mist and the moss of the west side for Washington's Methow Valley. Beautiful in any season, the valley transforms into a sun-dappled nirvana in autumn with hues of crimson, lemon, russet and copper. And if you're yearning for a hearty hike with sweeping vistas of gorgeous fall color, look no further than the wilderness surrounding the Methow.
Hike: West of Twisp is a stunning hike up to Twisp Pass (9 miles round-trip, 2450 feet elevation gain). This dramatic and little-hiked gateway into the North Cascades National Park is marvelous in October when brilliant golden larches give a glow to the steep hillsides and rouge berry bushes carpet the meadows. From Twisp, head west on the Twisp River Road (FR 4400) 24.6 miles to trailhead. Always check trail conditions before heading out on this hike in fall.
Eat: Twisp's morning hangout is The Cinnamon Twisp, known 'round the Northwest for their famous cinnamon twisp pastries, which is a bit like a twisted-up cinnamon danish, and absolutely delicious before a brisk fall hike. They bake plenty of other tasty pastries, too. Watch the Chewuch River tumble past from your table at the Old Schoolhouse Brewery (155 Riverside Ave) in Winthrop. The menu is heavy on pub food like burgers, fries, fish and chips and hearty salads, but also features some unexpected dishes like tabbouleh and gazpacho. Love dark beer? Try the coffee stout.
Stay: The six Rolling Huts (18381 State Route 20 in Winthrop) sit near the bank of the Methow River, a cluster of compact glass and steel modern cabins that completely redefine the idea of "camping." The hut's furnishings are simple but functional (bring your own bedding), though all the important amenities are there—a fireplace, kitchenette, and spacious deck that face rugged Cascade peaks. Rates are $145, pets ok.
Open just a year, Twisp River Suites (140 Twisp River Rd) has fast become a new favorite for its riverfront decks and flexible room options, from smallish rooms to apartment-sized suites. Continental breakfast provided. Dog-friendly rooms just opened for reservations. Rates start at $139.
Get more fall travel ideas for the Methow Valley in my new book: Autumn Escapes in the Pacific Northwest.

FALL TRIP: Salt Spring Island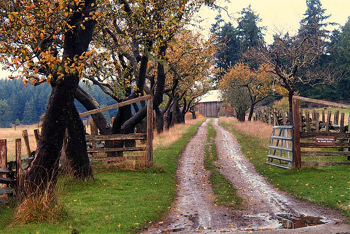 Want to curl up with a book, or spend lazy afternoons combing a rocky beach? I suggest getting on island time. Board a ferry and leave behind the stress of work and cell phone signals as you experience autumn the slow way on one of the most beautiful islands in the Northwest.
Salt Spring Island is a fall favorite for reduced lodging rates and shorter ferry lines. It also boasts a palette of autumn color, a delicious local harvest from the island's many farms, and a chance at sun – the island is in the rainshadow of the Olympic mountains.
Do: Pull over to sample harvest goodies at roadside farmstands – it's a Salt Spring tradition! You'll pass them along most of the island's main roads, selling everything from homemade granola to fresh-made jams. If your trip falls on a Saturday, head to Centennial Park in Ganges for the Salt Spring Market (9am-4pm April through October) for fresh produce, pumpkins and lots of island art. Rainy day? Visit saltspringstudiotour.com to plan your self-guided island road trip touring the 30 art studios where you'll find beautiful ceramics, watercolors, woodcarvings and more. Fall is a wonderful time to be out on the water to spot seals, diving ducks and loons; rent a kayak from Beachside (163 Fulford-Ganges Rd, 250-537-2553) and paddle the afternoon away in Ganges Harbour.
Eat: The Tree House Cafe (106 Purvis Ln) in Ganges is a must-stop for local flavor, from curried tofu to teriyaki salmon burgers, all washed down with a pint of Saltspring IPA. Don't miss live music here on Friday nights. Another great bet is Rock Salt Restaurant and Cafe (2921 Fulford Ganges Rd in Fulford Harbour by the little ferry dock where you can come or go from Vancouver Island) where you can nosh on spicy potato & pea samosas or a plate of poutine (my fave!) surrounded by local art with a view of the water.
Stay: Get in on the fall harvest at Island Farmhouse B&B, a working farm situated on ten rural acres with both pasture and pond, where a room runs about $90 a night and includes a farm-fresh breakfast.
For a deluxe family stay in Ganges just a few blocks to the farmers' market, boutiques and marina, you can't beat the spacious, modern apartments at Mariner's Loft.  At $150-$250 it's a splurge, but you'll save in the long run cooking up your own farm-fresh, seasonal meals in the huge fully-equipped kitchen. We also love the full dining area, gas fireplace and large balcony with a harbor view.

FALL TRIP: The North Willamette Valley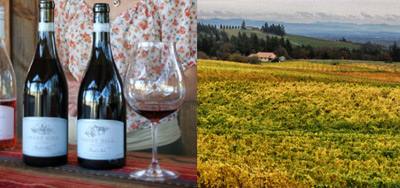 Oregon's lush Willamette Valley south of Portland is an idyllic autumn getaway patchworked with hazelnut orchards, sprawling pumpkin patches, charming farms and hundreds of wineries.
If you love wine, you will delight in tasting it from the source. There are few culinary experiences as personal as sampling and buying a wonderful wine directly from the winery where it was made and conversing with the winemaker who crafted it (and in some cases even tended the grape vines). Most tasting rooms keep weekend hours through Thanksgiving, and the slower season invites the opportunity to chit chat with the winemakers themselves.
The Willamette Valley wine country is immense, comprising more than 300 wineries and dozens of small towns. You won't see it all in one weekend, nor should you try. The northern region sandwiched between Newberg and Carlton makes for a perfect, bite-sized chunk. Like most of the larger wine region, the wineries in this swath of the valley specialize in Pinot Noir; the valley's lower hillsides are supremely suitable for growing this cool climate grape. No grape variety is as reflective of site and climatic differences as Pinot Noir, and even small distance differences in the valley will often yield wines of expressly different character, making for a fun day of tasting.
Taste: A unique tasting option is to park and walk in the tiny town of Carlton, home to more than 15 tasting rooms. Shops and restaurants line Main St while wineries are scattered about on the side streets. A can't-miss stop is the Carlton Winemakers Studio (801 N Scott St., Carlton, 503-852-6100), a co-op facility that brings a few dozen wineries together under one roof and a convenient way to sample several wines.  Monks Gate Vineyard (9500 NE Oak Springs Farm Rd, Carlton) is tucked away on a 50-acre family farm east of Carlton. Take the opportunity to sample estate Pinot Noirs from different seasons and chat with the winemakers (Linda and Ron) about the distinctions of each. You'll even notice differences in their wines based on where in the vineyard the grapes were grown – topography can make that much of a difference. Open May-Nov, Fri-Sun 12-5pm. Ghost Hill Cellars is just across the road, so hit both of these wonderful wineries if you can. A note about tasting: be responsible, and always have a designated driver. If the designated driver would like to taste, they should spit.
Eat: Stop in for a decadent pastry and sandwich at Carlton Bakery, known for making good use of local Oregon hazelnuts, cheese and pears and served alongside a cup of Stumptown Coffee.  Also in Carlton is Cuvée, serving French-inspired preparations of seafood, beef, pork, seasonal vegetables and housemade breads.  Tina's in Dundee (760 Hwy 99W) might look like an ordinary, modest cottage from the street, but serves some of the valley's most inventive food made with fresh Northwest ingredients, like pan-fried Willapa Bay oysters and salmon spring rolls.
Stay: The Hotel Oregon has 42 European-style guestrooms (shared bath) in an historic building downtown McMinnville, the Willamette Valley's largest small town. Part of the local McMenamins brewery and hotel chain, the hotel's first floor houses a pub. From $75. Pets ok.
You'll love a two-night stay at Gahr Farm near McMinnville a B&B cottage situated on a 350-acre conservation farm and forest, managed as a native plant and wildlife reserve. Each cottage has a full kitchen so you can make a great dinner to go with the wine you bought that day. These cottage used to be very affordable for budget travelers, but rates have recently climbed to $160 a night.
Get more fall travel ideas for the Willamette Valley in my new book: Autumn Escapes in the Pacific Northwest.

FALL TRIP: Central Oregon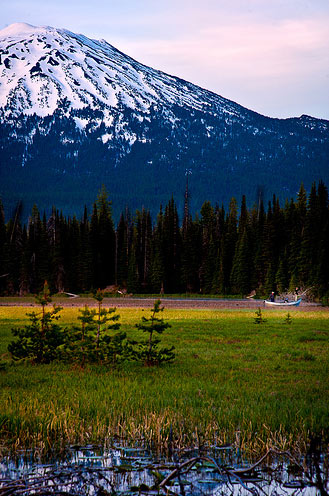 Bend is a sophisticated little town tucked in the eastern Cascade foothills, offering nice fall foliage through late October, alongside some scenic mountain bike trails, and finished off with a pint of craft beer. As you can imagine, Bend is pretty much a perfect autumn getaway.
Do: Bend is a recreation town, so pack your hiking boots and fleece. In town, the Deschutes River Trail is a cyclist's dream, a paved path that runs along the beautiful waterway that is the heart of the city. Fall color along this route will leave you stunned with joy. When you're ready to venture out of town, one of my top recommendations is a visit to the Oregon High Desert Museum. We love the daily raptor show here (they have a Gyrfalcon!) and various other indoor and outdoor exhibits. Also nearby is the Lava River Cave, a mile-long lava tube cave that is part of Newberry National Volcanic Monument, an unexpected and stunning landscape of basalt. Take a self-guided hike through the cave, which takes about 1.5 hours. And wear layers!–it's chilly in the lava tube. (Note: the Lava River Cave is closed in the fall of 2014 for reconstruction work). Another fabulous autumn pick at Newberry if you can sneak it in before snow falls is Paulina Lake Loop, a high-country jaunt around an azure-hued lake. Oh, and there are hot springs.

Eat: Head to The Sparrow Bakery (50 SE Scott St.) for breakfast or lunch – their croissants are out of this world. Beer lovers should head to 10 Barrel Brewing (1135 NW Galveston Ave) Their outdoor patio with a firepit is the place to be on a cool evening, and the food menu is pub with a serious gourmet twist. So pull up a chair, order some crawfish cakes and some steak and gorgonzola nachos, and raise a pint to great craft beer, because they have that too! Another local brewery that combines their craft creations with great bites is Silver Moon Brewing (24 NW Greenwood Ave). Head to their taproom if you're seeking friendly local hangout, with a lively atmosphere, laid-back attitude and good food (try the gorgonzola fries). The pub often hosts live music, kids are welcome until 8pm, and Mondays feature $2.50 pints all day long.
Stay: All the cool kids stay at the McMenamins Old St. Francis School (700 NW Bond St.) downtown, where a mosaic-tiled soaking pool awaits after a day of leaf-peeping, and whimsical decor defines its 19 comfy rooms and four sweet cottages.  Rates start at $155, pets ok.
On a budget? Book a room at The Mill Inn, (642 NW Colorado Ave) tucked away in Bend's hip Old Mill District. The rates for a queen-bed room or suite are $105 – $130/night with free wifi and breakfast included.
Team up with another couple or  family and rent one of Lavabelle's adorable vacation cottages in the heart of Bend. These fully-furnished homes range from studios to bungalows, from one bedroom to four or more. The kitchens are equipped with every cooking utensil you could ever want, and many have bonus amenities (the one we stayed in had a grand piano!) Rates range from $125 – $300 a night. Pets ok.
Get more fall travel ideas for Oregon in my new book: Autumn Escapes in the Pacific Northwest.
Here's to autumn!
This article was originally published in 2013 and has been updated. All photos are ours except Salt Spring Island by PMedv and the Deschutes River by John Brockman.