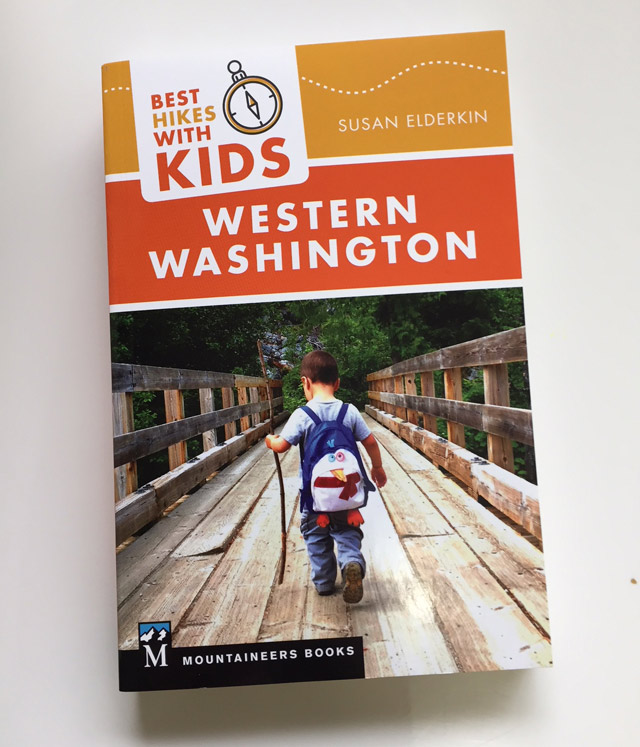 You had a baby, shelled out the cash for a primo baby carrier, and have packed all the snacks (and the ten essentials!) Only question left is: where to hike?
A completely revised edition of the popular book Best Hikes with Kids: Western Washington by hiking expert Susan Elderkin has just hit bookstores, and I was so excited to get my copy in the mail this week. If you have young kids of any age or ability and you like to hike, you should get this book.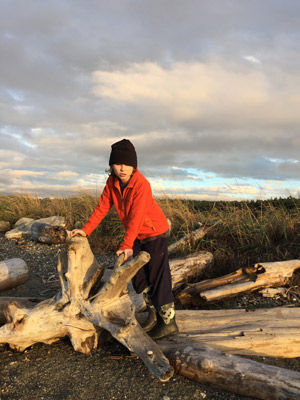 Before we had our son almost a decade ago, summers were filled with day hikes and long backpacking trips, while off-season months took us through river valleys and along sandy beaches. If we had free time, we were hiking. I was prepared for parenthood to slow the pace of our outdoor adventures, but the reality was much more dramatic. In those early days, a walk around Seattle's Green Lake became a "hike." A stroll through Nisqually National Wildlife Refuge felt like a trek. Isaac is nearly ten now and we've graduated to gentle backcountry trails and his favorite–rain forest hikes. But I still remember what a struggle it was to get out for a real hike when he was little, from finding the time to research the perfect hike to feelings of panic that I'd forgotten to pack his favorite stuffy, or enough motivating snacks.
Sound familiar? You need this book. Here are eight reasons why:
So many trails: The book features a whopping 125 hikes in Western Washington, enough to fill every weekend for the next two years!
Tips, tricks, and still more tips: From advice on enticing kids up the trail to essential trail safety and know-how, this books will arm you with everything you need to know before hitting the trail with little ones.
Kid-tested, parent-approved: Every hike is kid-tested and well-researched by Elderkin, an avid hiker who has spent decades exploring the state's trails from seashores to summits.
Variety: One of the best ways to get kids on the trail is the promise of a new experience. This book features it all, from deep rain forests to beaches with tidepools.
Hikes by the season: Easy to browse category guides take the guesswork out of selecting hikes for rainy days, winter months, wildflower displays, and fall color.
The trails are kid-friendly: Every single hike clocks in under 6 miles round-trip and less than 1000 feet of elevation gain.
Fun features on every hike: Want to pick ripe berries, feel the spray of a waterfall, get a history lesson, or spot migrating waterfowl? There's a hike for that! This guidebook helps you easily find trails that feature special attractions for kids.
All the info you need: Each trail has complete driving directions, trail descriptions, stats and details, GPS coordinates, and many include tips to explore further in the region of the hike like where to camp, eat or stop for a roadside attraction.
Want a sneak peak into the hikes in this book? I'll share with you the four trails we're most excited about hiking for the first time ever with Isaac this year!
Mima Mounds near Olympia (2.8 miles RT, 25 feet gain) I've wanted to explore this mysterious terrain for awhile, a landscape of odd mounds of earth the origin of which has sparked theories ranging from giant prehistoric gophers to glaciers.
Lighthouse Point at Deception Pass State Park (2 miles RT, 50 feet gain) We just camped at Deception Pass last weekend and hiked many of the trails there but somehow missed this scenic headland with lookouts known for spotting harbor seals and even the occasional pod of orcas! A reason to return soon.
Lava Canyon at Mt. St. Helens (1.4 miles RT, 275 feet gain) This hike through a slickrock canyon is beautiful but you have to make sure kids stay on the trail for everyone's safe return, and I feel my little geology buff is old enough now to follow that essential rule. I hope we can hike it this summer!
Staircase Rapids , Olympic National Park (2.2 miles RT, 130 feet gain) We've become quite fond of Hood Canal camping getaways the past few years, and I look forward to trying this jaunt through old-growth to frothy whitewater rapids on our next camping trip there.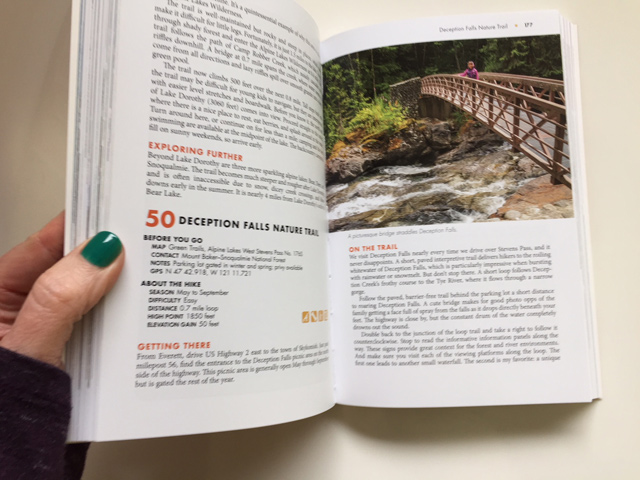 Buy the book: Best Hikes with Kids, Western Washington by Susan Elderkin, published by Mountaineers Books.
Attend a book launch event: Susan Elderkin's webpage has an events section on upcoming book signings, hiking chats and more. You can also find her on Instagram.