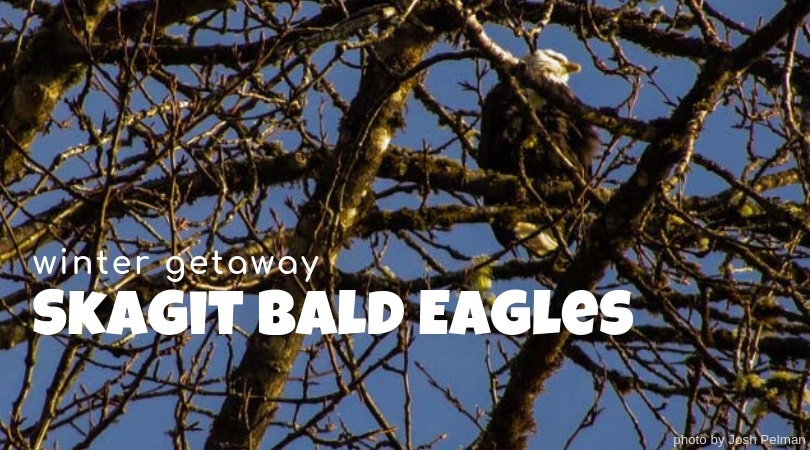 Have you been up to see the eagles?
One of the very first day trips I made after moving to Seattle was up to the Skagit River in January to see the eagles. I'd relocated from Wisconsin, a state where small flocks of bald eagles commonly gathered along fish-bearing rivers in winter. So off I went, expecting to see a dozen or so of these grand, majestic birds.
Was I ever surprised! My sister and I counted more than 100 eagles that day from the river bank. Get in a boat to float down the river and you'll possibly see even more.
There are literally hundreds of them, all American Bald Eagles, all looking for one thing–a tasty bite of spawning salmon. The Upper Skagit River in Washington's North Cascades foothills hosts the largest concentration of bald eagles in the continental United States. They're not here in such numbers year-round–this is a winter gathering of birds (November – January) who will then go on to spend the breeding season dispersed throughout western North America.
How to See the Skagit Eagles
The wintering eagles congregate on tree branches right along the banks of the Skagit River. Eagles feed along the river in the early morning, and this is your best chance to spot them with the naked eye, through binoculars or a spotting scope. On cloudy days, eagles will continue to roost in trees along the river throughout the day. On sunny days, look for them soaring in the air over the valley.
Plan your route: The easiest way to see wintering bald eagles along the Skagit River is to make a short road trip on Highway 20 (the North Cascades Highway), driving in your car from Sedro Woolley east to Marblemount, and stopping at viewing hot spots along the way. It's an easy day trip from Seattle. You can choose to make it an overnight getaway by booking accommodations at one of the area's inns (see below).
There are many places to stop and spot eagles (see the whole list here) but the top stops are: Skagit River Bald Eagle Interpretive Center, Howard Miller Steelhead Park in Rockport, Mile Post 100 Rest Area, and the Marblemount Fish Hatchery.
The Skagit Eagle Festival is a month-long celebration every January, the peak of the eagle-watching season. To take advantage of all the festival has to offer, plan your visit for any weekend in January. This is when trained volunteers will be stationed at a number of eagle hot spots along the Skagit River to help you see and learn about the birds, the salmon, and the whole watershed. They'll have binoculars and spotting scopes available for your use. Viewing stations are at Howard Miller Steelhead Park in Rockport, Sutter Creek at Milepost 100, and the Marblemount Fish Hatchery.
The festival also hosts deep forest tours at Rockport State Park and hatchery tours at the Marblemount Fish Hatchery. You'll learn about the eagles and other wildlife that make the Skagit corridor their home.
The Bald Eagle Interpretive Center hosts interpretive talks, slideshows and a nature shop. The Center is at Howard Miller Steelhead Park (52809 Rockport Park Rd in Rockport).
Spotting Tips
Know your eagles. The Skagit River eagles are Bald Eagles, the national bird of the United States. This eagle is a bird of prey, and feeds primarily on fish (salmon is a favorite) as well as waterfowl like ducks. This bird is huge, standing up to 3 feet tall from head to tail. Adult birds have an unmistakable white head and tail, and pale yellow beak and talons. They will have their full adult plumage when they reach 4-5 years of age. Young birds are mostly dark all over, and are sometimes confused with another species, the Golden Eagle, but Golden Eagles are not found in the Upper Skagit Valley in winter months. Learn more about the Bald Eagle here.
Bring binoculars. Eagles are very large birds and they look a bit like huge footballs sitting atop tree branches, so you won't need binoculars to spot the birds because they'll be obvious. But you will want binoculars to get a closer look at their stunning white heads and yellow beaks. If you'll be spotting eagles from shore, you'll also really enjoy having a spotting scope and tripod along with you. Come on January weekends if you don't have optics of your own–the viewing stations will have volunteers that'll lend you some to see the eagles up close.
Birdwatch by boat. My most memorable trip to see the Skagit eagles was the time I joined a float trip on a friend's large inflatable raft. The river is a calm, peaceful place in winter, and raft floating is gentle and slow. It's quite chilly though, so bundle up in lots of layers and bring a thermos of coffee or cocoa. The put-in boat launch is in Marblemount, and the take-out is at Howard Miller Steelhead Park in Rockport. You can travel this stretch of the Skagit River by kayak, too.
Go with a guide. Skagit River Guide Service hosts boat trips that are a big step up in luxury from a raft. The large boats have comfy seats and are heated, plus your expert guide will be able to tell you all about the eagles, salmon and other wildlife along the Skagit River.

About those Binoculars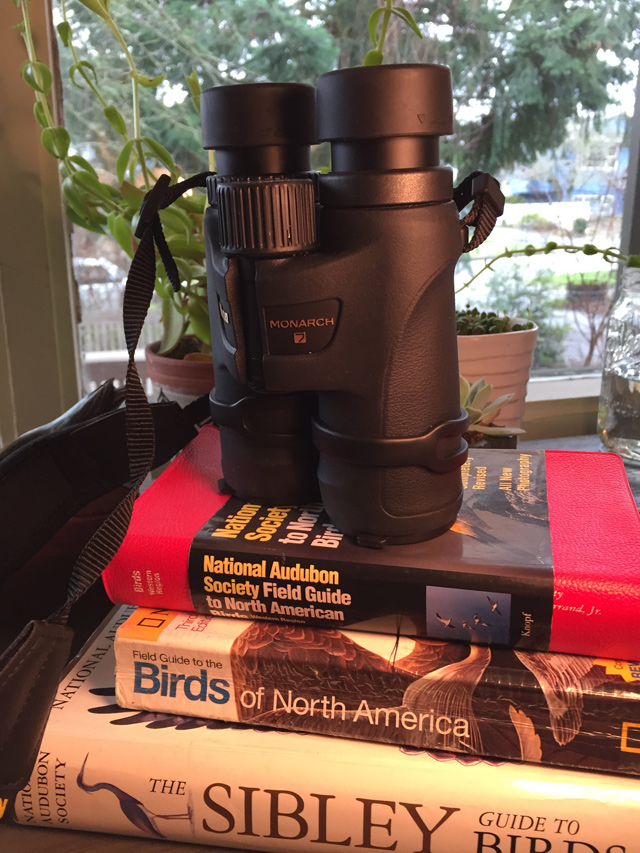 Are you in the market for your own pair of optics? I've been birding for more than 20 years; here's my suggestion for beginners: If you're just starting out birdwatching, get an inexpensive pair. On the low end I recommend these Bushnell H2O Waterproof/Fogproof Roof Prism Binoculars (great value at $70). My husband uses these, and I've used them myself a fair amount. After using your low-end pair of binoculars for awhile you'll figure out which features are important to you, how much weight you'll tolerate around your neck, how much power you need, what kind of zoom mechanism you prefer, etc. That way when you're sure birdwatching is your new favorite hobby and you're ready to save up and invest in a better pair of optics, you'll know what you want.
My favorite mid-range binoculars (and the ones I own myself) are the Nikon MONARCH 7, 10×42 ($490). These have a wide field of vision, easy and fast zoom, and they are good for small faces (my eyes are kinda close together and these work great). I've borrowed really high-end binoculars from friends before (like Swarovski or Leica which tend to cost more than two grand!) and I honestly think these are comparable (don't @ me!). Oh, and they're waterproof which is really nice because as you know, it rains here.

Where to Stay
We like the rooms at the Buffalo Run Inn, set in an historic 1889 old growth cedar roadhouse. Some rooms have kitchenettes and all come with a continental breakfast.
The cozy cedar cabins at Grace Haven near Marblemount make a fine place to hunker down for a night or two, cooking your own meals in the brightly-hued full kitchens, and relaxing by the gas fireplace. A few of the cabins are pet-friendly and there's a small playground for the kiddos.
Ovenell's Heritage Inn in Concrete is a really lovely place to stay and one of our favorite places to go for a cabin getaway. It's a B&B in the main house, plus a handful of cute detached cabins. The cabins sleep four so bring the kids – this is a working farm and they'll love being up close to the animals. The pine log cabins have full kitchens, woodstoves and high vaulted ceilings.
Where to Eat
The Buffalo Run Restaurant across from the inn (60084 State Route 20 in Marblemount) features adventure meats from the owner's nearby ranch, including elk, ostrich and-you guessed it-buffalo. The menu has plenty of regular stuff too, like pastas, salads and fabulous homemade pies.
After you've had an eyeful of eagles, grab a table at Birdsview Brewing Company just west of Concrete (on Hwy 20 just west of the junction with Baker Lake Rd) and order up some toasty sandwiches, burgers with chips and a sampler of craft beer brewed onsite.
Resources
The Concrete Chamber of Commerce website has the full detailed schedule for the Skagit Eagle Festival.
photos: top photo by Josh Pelman, bottom photo by Vlad Karpinskiy.