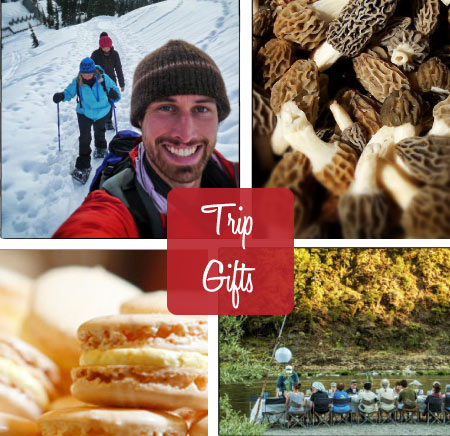 I like to joke that we live in a cracker box house. We have just enough living space for our small family in our Seattle abode, but we don't have a garage or basement. Some things don't fit anywhere – like our vacuum, for instance. It doesn't have a dedicated "place" that it's stored when not in use, so it just sort of floats from room to room as it gets used. The floating vacuum. I hate the floating vacuum!
The upside is, we don't buy things we don't need, because we can't. And when random things start finding their way into our home and collecting on countertops, I have to lay down the law. (At present, I'm trying to find a home for a stuffed Santa in a rocking chair made of twigs. Any takers?)
If you've got folks on your holiday list that have had enough of stuff, give the gift of experience instead! Imagine how much your friend would love to learn all about local birds, or the smile on your sister's face when she's paddling in Puget Sound among orca whales. So go ahead and skip the stuff this year and give an experience — a quintessential Pacific Northwest experience.

Great Gifts for Intrepid Pacific Northwesterners
Trips to Gift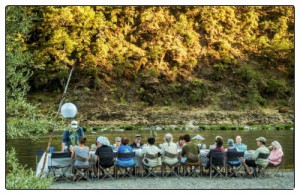 1. Farm-to-Table Dinner. Give the gift of local food — beautifully-prepared and enjoyed in a fabulous setting. At a farm-to-table dinner event, your gift recipients will dine with several other guests, often at one long table among farm crops or along a scenic river. The dinners are typically prepared by awesome chefs who source all of their ingredients very locally, like from the orchard next door or the cheesemaker one valley over. All that fabulous food gets washed down with a carefully-chosen selection of local wines. These dinners usually start around $75 per person and might include a tour of a nearby farm.
There are a few choices for farm-to-table experiences in the Pacific Northwest that would make fantastic gifts for a hyper-local foodie. In Oregon, check out Farm to Fork (pictured) – they'll announce their 2015 series soon. Outstanding in the Field offers dinners around the country and adds new dates to their schedule on a regular basis. Local tilth and farmer associations host farm-to-table dinners as well, such as Sno-Valley Tilth and many more–check with your region's tilth association.
Note – you can't actually buy tickets for 2014 dinners yet, so to give one of these dinners as a holiday gift, get creative. My idea – give a fork with a pretty IOU note tied onto it using a piece of straw.
— — — — — — — — — — — — — — — — — — — — — — — — — —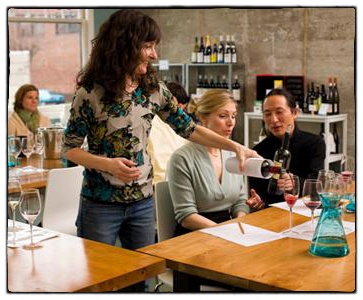 2. Wine School. Got a devoted wine-lover on your list? Send them to tasting school. With a little research you should be able to find a local workshop on tasting or making wine!
Check out this Introduction to Wine event in Seattle in January, or this Introduction to Wine Series in Portland throughout February at the Wine and Spirit Archive.
— — — — — — — — — — — — — — — — — — — — — — — — — —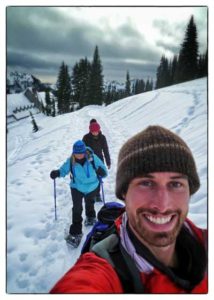 3. Snowshoe Escape to Mount Rainier. This gift is for someone who loves outdoor recreation, even in winter, but isn't yet experienced with snowshoeing. As fun and invigorating as snowshoeing is, a little instruction goes a long way, especially in avalanche terrain. The expert nature and recreation guides with Evergreen Escapes will lead your lucky gift recipient through the snowfields at Mount Rainier for a full-day outing, pointing out wintering wildlife along the way and sharing the natural history of the area. This company's recreational tours are top-notch, the best of their kind offered in the Seattle and Portland regions. One of their full-day escapes makes the perfect gift to experience a unique part of the Pacific Northwest.
— — — — — — — — — — — — — — — — — — — — — — — — — —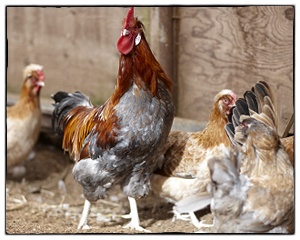 4. Chicken Farmer for a Day. Does someone on your list have backyard chickens? After a few years, hens stop laying eggs. It's inevitable. So what do you do? Author Lyanda Haupt has blogged about retiring older hens to the idyllic countryside. Another option, of course, is to eat them. At Nettles Farm on Washington's Lummi Island, Owner/Farmer Riley Starks teaches hands-on workshops about turning your backyard chicken into a stewing hen. He'll teach how to humanely kill, pluck, and gut a hen or rooster. And, at the end of the day each participant takes home two stewing hens along with their newfound skills.
— — — — — — — — — — — — — — — — — — — — — — — — — —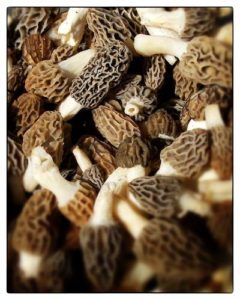 5. Foraging Trip. Got a gourmand on your list? Give the gift of wild edible knowledge! Wild dandelion greens can be sauteed as a delicious side dish, and chanterelle mushrooms aren't $16 a pound if you harvest them yourself for free. Indulge your giftee's hunter-gatherer impulse with a private foraging class led by Rebecca Learner in Portland. Trackers PDX offers a one-day or weekend training program for learning to identify and cook with forged edibles. Wild Food Adventures offers a series of workshops, mostly in Oregon. In Seattle, the Puget Sound Mycological Society offers a number of classes on edible fungi.
— — — — — — — — — — — — — — — — — — — — — — — — — —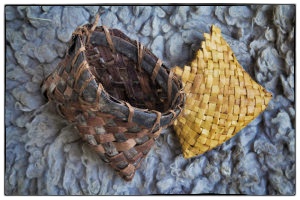 6. Earth Skills Workshop. Earth skills are easy. Or at least they can be if you take this one-day workshop on ancient crafts through ReWild Portland. Earthy crafts taught in this class range from making usable bowls out of garden gourds to creating a hat out of woven cattail reeds. Your crafty giftee will love it!
— — — — — — — — — — — — — — — — — — — — — — — — — —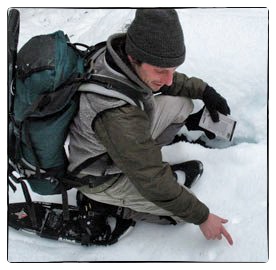 7. North Cascades Institute getaway. If you truly adore your nature-loving gift recipient, send them on an educational getaway with North Cascades Institute. Maybe they'd love a day trip to observe and learn about the birds that winter in the Skagit River delta.  Or perhaps a  guided excursion to hike on some lightly-visited San Juan Islands is more their speed, or even learning to track wildlife in the backcountry of Mount Baker. The possibilities to learn more about Northwest nature are endless!
NCI's schedule of 2014 classes and field outings for adults and youth will be announced any day now. Check their website for more.
— — — — — — — — — — — — — — — — — — — — — — — — — —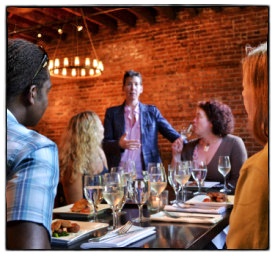 8. Pike Place Market Food Tour. How fun would it be to literally eat your way through Seattle's Pike Place Market with an expert local foodie leading the way and hooking you up with all the history and culinary secrets  in the Market's back alleys and hidden corridors? This cool experience is offered by Seattle Food Tours, and features hidden (and tasty!) market spots you've probably never even heard of.
— — — — — — — — — — — — — — — — — — — — — — — — — —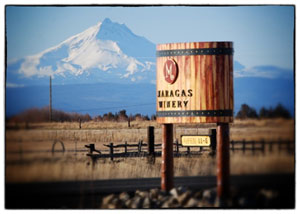 9. Tour organic farms in Central Oregon. Many of us seldom have the opportunity to connect with the people and places that grow the food we eat every single day. Well, the Well-Traveled Fork is a culinary tour company based in Bend, and they host hands-on culinary tours of Central Oregon farms and ranches for folks who want to deepen that connection. I can think of many people who would love to receive this tour as a gift, myself included!
— — — — — — — — — — — — — — — — — — — — — — — — — —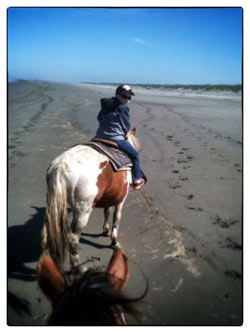 10. Ribeye Ride. Ever since I mounted a horse with Backcountry Wilderness Outfitters in Long Beach, Washington for a trot on the sand, I've daydreamed of taking one of their Ribeye Rides. This would make such a cool gift for someone who loves horses, beaches and sunsets (um, everyone?) It's $85 per adult for the four-hour guided excursion that serves up a full steak dinner, cooked the way you want it. Even better? After you're all full from dinner, you get to ride back with the sunset. Call (360) 642-2576 to book a trip.
— — — — — — — — — — — — — — — — — — — — — — — — — —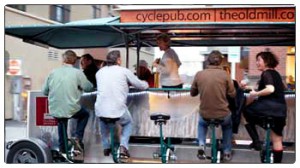 11. Cycle Pub in Bend. When you see it you can't help but do a double-take – it's a pub crawl on wheels! Any craft beer lover in your life would be delighted to get this tipsy trip as a gift. Climb aboard the giant pedal-powered open-air bus as it tours the breweries of Bend, Oregon in the most unique way possible. The Cycle Pub isn't your average bike, and Bend certainly isn't your average town. Tours typically run 2 hours in length.
— — — — — — — — — — — — — — — — — — — — — — — — — —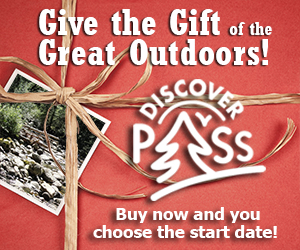 12. Access Passes for Public Lands. Give the gift of outdoor exploration! Many public lands require inexpensive access passes, widely known as user fees. These funds are vital to keeping our state parks and federal recreation lands open to the public and well-maintained. In Washington state, the annual Discover Pass (purchase it online here) gets your gift recipient access to millions of acres of beautiful state parks and recreation lands, and it's a bargain at $35. For access to national forest lands, give the gift of a Northwest Forest Pass, and if your gift recipient wants to visit National Parks as well upgrade to the America the Beautiful Pass.
 — — — — — — — — — — — — — — — — — — — — — — — — — —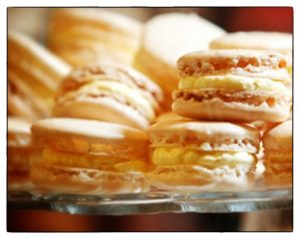 13. Culinary Tour of Portland. This city has more nicknames than bridges – almost. Let's see, there's PDX, City of Roses, Bridgetown, Stumptown…and Forktown? Yep, Forktown Food Tours offers several walking food tours each week into the heart of  Portland's food scene, neighborhood by neighborhood.  Their aim is to create tours that are fun, delicious and cultivate appreciation for local food and culture. A 3-hour tour is $65 and includes all food, beverages, and the expert tour guide.
 — — — — — — — — — — — — — — — — — — — — — — — — — —
photo credits: riverside dinner from farm to fork  |  rainier snowshoe trip by evergreen escapes and tyler davis |  morel mushrooms by flutterby  |  animal tracking by north cascades institute  |  skin on frame kayak by TrackersPDX  | cycle pub from the cycle pub in bend.  |  macarons by forktown food tours