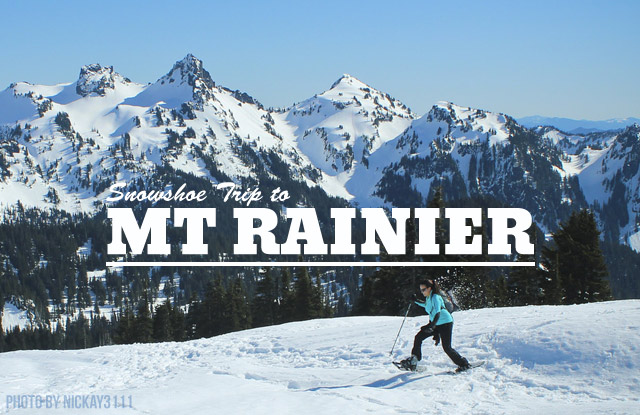 Winter is here! Snow is falling in the Cascades and Olympics, and the winter of 2015-2016 is shaping up to be a fantastic season for hitting the slopes… or the trails.
I have a bit of a complex relationship with snow. As a child in the midwest I never knew a winter without it… building snowmen in the back yard followed by sibling snowball fights, the awkwardness of those one-piece snowsuits that made you feel like an overstuffed bear, and the chill of peeling off of snow-caked wool socks to dry atop the radiator.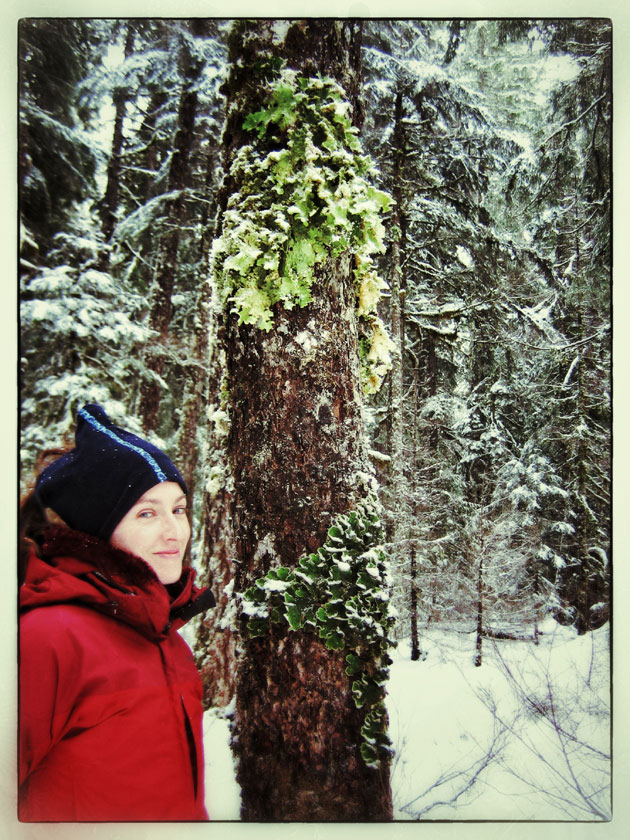 As a Seattleite, I am in awe of snow's power to send our daily lives into chaos should it decide to start falling shortly before the evening commute. But those chaotic winters are rare. Some years, we get just a flake or two in the Puget Sound lowlands. Some locals love it that way.
The truth is, I need an occasional snow bomb to fall from a tree and send cold, wet flakes down my back. The feeling of snow on my skin reminds me that I'm alive. Fortunately, snow is just a short drive away.
Maybe you, too are a Seattleite in search of a bit of snow to kick around. You can head straight up to Stevens Pass with the herds of downhill skiers if you want to.
Or, I can let you in on my favorite place to hike around in wintertime: Longmire at Mount Rainier National Park.
New to Snowshoes?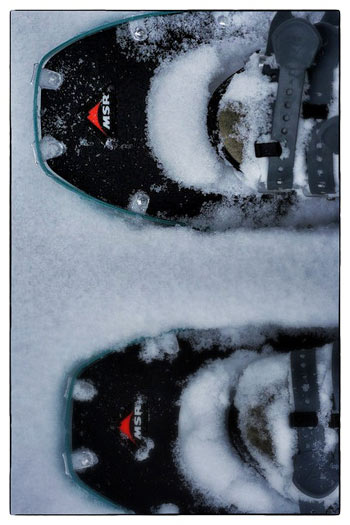 Never been on snowshoes? Don't fret – if you can walk, you can snowshoe. No special skills are required, the gear is basic and affordable, and snowshoes give you immediate access to the winter wonderland of Northwest mountains.
Snowshoe Gear:  The only essential equipment is a pair of snowshoes that strap onto your waterproof hiking boots or snow boots. In addition, most people bring along a pair of hiking poles for added stability, but this is optional. Snowshoes are adjustable to your boots and generally come in just one size for adults (22-23 inches long). Higher-end models are often labeled as gender-specific, but in my experience getting gender-specific snowshoes is unnecessary. A good pair of adult snowshoes will run between $150-$250, with kids' sizes usually under $100.
A great pair to try if you're on a budget are MSR Evo Ascent Snowshoes at $139. MSR is a Seattle gear company that's been making quality, all-terrain snowshoes for decades, and this is one of their oldest and most popular models.
What to Wear: We have a separate article devoted to what to wear snowshoeing, including how to layer properly for maximum warmth.
How to Snowshoe: They go on right over your boots, and strap on quite securely. Then suddenly, you're like bigfoot trampling through deep snow! Expect a workout–Northwest snow is wet and heavy, and snowshoeing here takes stamina and power. The upside is, snowshoeing burns a ton of calories so it's an awesome way to get back into shape after holiday over-indulgences. After a bit of practice finding your most comfortable techniques for tight turns and going up or down hills, you'll be a full-fledged snowshoer.
Safety First! Unless you take an avalanche safety class, stick to trails that have very low avalanche danger. This is really important. An open slope that is bursting with wildflowers in summer can be potentially deadly in winter. And on forested trails with no unstable slopes in sight, you still need to keep to the trail and avoid stepping into what are called tree wells – a fall in one can be fatal. Get more winter safety tips here.
Snowshoeing Trails at Mount Rainier, Longmire Area
The Longmire area of Mt. Rainier is easy to access from the Seattle / Tacoma area in winter, and sits at 2760 feet elevation just 6.5 miles east of the Nisqually entrance to the park. Longmire is a designated national historic district and consists of an historic lodge (the National Park Inn, open in winter, see below for rates and lodging info) and a museum housed in a 1916 building that once served as the park headquarters. Many snowshoe trails depart from the Longmire parking area.
Before you go: You can check the snow cover before your trip via the Longmire webcam. If Longmire has  little or no snow, you may wish to head a few thousand feet up in elevation to Paradise. Check on the status of the road beyond Longmire here; the route to Paradise is typically open in winter but may close for extreme conditions or avalanche danger. Please note that all vehicles are required to carry tire chains when traveling in the park during the winter season (Nov 1 – May 1). This requirement applies to all vehicles (including four-wheel drive), regardless of tire type or weather conditions. The entrance fee for Mount Rainier National Park is $20, which grants unlimited entry for one vehicle and all its passengers for seven consecutive days.
Twin Firs Loop (0.5 miles, pretty flat)
Hike through a short stretch of lush, ancient forest. The "twin firs" stand at the trailhead, and along the way you'll see dozens more Douglas Fir along with Western Red Cedar and Western Hemlock, all towering over a carpet of fir. This hike is easy enough for kids with plenty to admire, from nurse logs on the forest floor to snow-drenched fir branches above. The trailhead is two miles west of Longmire.  More on this trail.
Trail of the Shadows (0.7 miles, very flat)
This easy loop sits just across the road from Longmire's National Park Inn. It's a flat interpretive nature trail through both forest and wetland, perfect for hikers of all ages.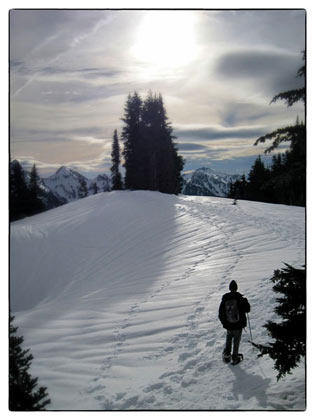 Rampart Ridge Trail (4.6 miles, 1300 feet elevation gain)
If you want views and are willing to climb a bit to get them, this is your trail. It branches off from the Trail of the Shadows. More on this trail.
Wonderland Trail (7.5 miles, 1300 feet elevation gain)
Hike part of the iconic Wonderland Trail on this fine snowshoe route through ancient forest and along a beautiful river. After an initial relatively flat portion, the trail climbs and passes some beautiful waterfalls. More on this trail.
No snow at Longmire? Or maybe you just want some really big views? Continue on the road from Longmire up to the Paradise area for two of Rainier's most famous snowshoe routes through open snowfields and meadows to stunning views: Panorama Point (5 miles round-trip, 1,300 feet elevation gain) and Mazama Ridge (6 miles round-trip, 900 feet elevation gain).
For more trails in Mt. Rainier National Park, check out Day Hiking Mount Rainier published by Mountaineers Books.
Ranger-Guided Snowshoe Walks at Mt. Rainier
Join a Mount Rainier Park Ranger to learn the art of snowshoeing and discover how the plants and animals of Mount Rainier adapt to the world-record snowfalls. Guided snowshoe walks take place Saturdays and Sundays from mid-December and run through March every year, Walks start at 11am and 1:30 p.m. (meet inside the Jackson Visitor Centerat Paradise and cover approximately 1.8 miles in 2 hours. Snowshoe walks are limited to 25 people (ages 8 and up) on a first-come, first-served basis. A sign-up sheet is available at the Jackson Visitor Center information desk (at Paradise) one hour before each walk. Snowshoes can be borrowed from the park for a $4.00 per pair donation (donations defray the cost of snowshoe maintenance and replacement) or you may use your own snowshoes. Click here for more details.
Bring along a sled if you have one–Paradise is also home to a large snowplay and sledding area that is generally open late December through March, depending on snow conditions.
Where to Stay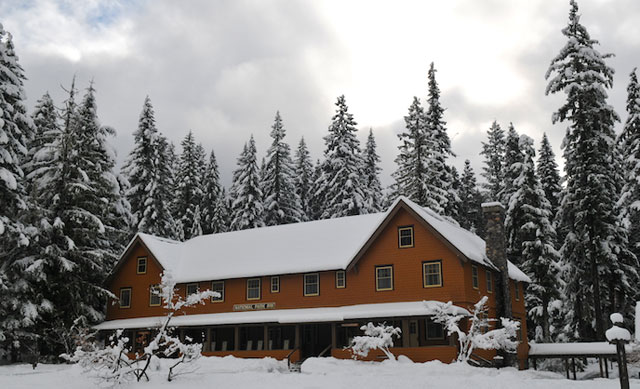 Make your base the historic National Park Inn at Longmire. Take advantage of their midweek winter special where one night stay gets you a second night free. You can set out on snowshoes on one of the forested trails that depart from the lodge (snowshoes provided or bring your own), or head up to Paradise for a snowshoe trek with panoramic views across to the Tatoosh Range.
Make a weekend of your winter trip to Mount Rainier with a stay at Alexander's Country Inn, Restaurant & Day Spa in Ashford, just one mile from the Nisqually Entrance to Mount Rainier National Park. Built in 1912, Alexander's is a romantic Victorian hotel with 12-guest rooms, and your stay includes a full breakfast, hot tub and evening wine. Alexander's even has snowshoes and poles available for guests to use.
For a cheaper sleep, book a room at Whittaker's Bunkhouse in Ashford ($65-$90 in winter).
photos: main photo by Nickey3111 | snowshoes by anna brones via flickr creative commons  |  snowshoer on unidentified ridge at Mt. Rainier by Vlad B via flickr creative commons | national park inn via nps