Taking a camping trip this weekend?  Pack your gear using our handy Car Camping Checklist and you won't forget anything, ever.

UPDATED July 27 2018
Going camping? It's dry out there. There are lots of campfire restrictions in place. In fact, 2018 marks the sixth summer in a row that has seen restrictions on campfires in the Northwest. It seems it is our new normal.
Campfire restrictions in Washington state are growing and you'll definitely need to check ahead to see if you'll be able to have a campfire in a designated fire ring in your destination campground. Oregon has even more campfire restrictions; wildfires have already been devastating and taken lives there this year.
If there is a wildfire in or near an area you plan to visit, hike or camp in, it may close access roads, campgrounds and trailheads. To see an updated status of all current wildfires, visit Inciweb for Washington and Oregon.
Current Campfire Bans and Restrictions
CURRENT RED FLAG WARNINGS
A red flag warning is issued by the National Weather Service to inform regional firefighting and land management agencies that critical fire weather conditions are either imminent or occurring now. Any fires that develop will
likely spread quickly. Outdoor burning is not recommended.
Sun Jul 29 2018: Red Flag Warning for the Cascades from through 11pm Monday night for hot, dry and unstable conditions. West Slopes of the North Cascades and Central Cascades above 1500 Feet. More here.
WASHINGTON STATE PARKS
Washington State Parks seems to be enacting campfire restrictions on a park-by-park basis so far this summer, and they're keeping this page up-to-date with the latest restrictions, updating the list every few days. An increasing number of WA state parks have total bans on all campfires as of July 27, including Alta Lake, Curlew Lake, Columbia Hills, Dash Point, Federation Forest, Flaming Geyser, Wallace Falls, and a few more. If you're camping in Skagit or Snohomish counties, some some lightning strikes in the Cascades today (July 27) have meteorologists worried about new fires being sparked.
OREGON STATE PARKS
As of July 19, ALL campfires and open flames are totally banned at Oregon State Parks. This ban originally included parks on the Oregon Coast, but on July 25, those coast campgrounds were exempted from the ban. See the latest announcement here.
The ban is in response to Oregon Governor Kate Brown's declaration of a fire emergency.
The campfire and open flame ban includes campgrounds and day-use areas. The fire ban applies to wood, charcoal, and other flame sources that cannot be turned off with a valve. Liquid fuel stoves or cooking devices that can be turned off with a valve are permitted, but cannot be left unattended. Propane fire pits are allowed in coastal parks and restricted in other areas.
MG Devereux, OPRD deputy director, says the ban is meant to avoid any accidental fires on OPRD property that would further tax limited firefighting resources.
"We understand this is an inconvenience for campers, especially those who might not see the immediate need for local fire restrictions," said Devereux. "We appreciate the public's patience and their willingness to help protect our natural areas."
Visitors planning a trip to a state park should check for up-to-date information about fire restrictions below or by calling the state parks info line at 800-551-6949.
NATIONAL PARKS:
North Cascades National Park has institutes campfire bans in Lake Chelan NRA and the NCNP portion located in Chelan County.
"Effective Friday, July 27, campfires or the ignition of wood, briquettes, or any fuel in fire pits, fire pans, and barbeque grills, are banned in Lake Chelan National Recreation Area and the area of North Cascades National Park located in Chelan County. This includes all National Park Service lands south and east of Cascade Pass, Park Creek Pass and Rainy Pass as well as the entire Stehekin Valley. Stoves or grills that are solely fueled by liquid petroleum fuels are allowed in all locations.In the areas of North Cascades National Park unaffected by this ban, campfires are permitted in established fire pits. Check with surrounding agencies and counties for any additional fire restrictions."
Olympic National Park does not currently have special campfire restrictions in place.
Mt. Rainier National Park does not currently have special campfire restrictions in place.
Crater Lake National Park does not currently have special campfire restrictions in place.
NATIONAL FORESTS:
Okanogan-Wenatchee National Forest: Some campfire restrictions are in effect. Campfires are still allowed in established fire rings in developed campgrounds.
Mount Baker Snoqualmie National Forest: no special campfire restrictions in place.
Olympic National Forest: no special campfire restrictions in place.
Some national forests in Oregon have banned campfires outside of developed campgrounds, including the Willamette National Forest.
All campfires (both in developed campgrounds and general forest area) are prohibited across the entire Mt. Hood National Forest as of July 24, 2018.
MISC
In Oregon, Lane County (which maintains several county park campgrounds) has banned campfires. Info here.
Does Your Campground Allow Campfires?
Northwest campgrounds are managed by many different public land agencies and scattered throughout many different counties that might have burn bans. If you're headed out for a camping trip this summer and want to know whether or not you can have a campfire, try these steps:
1) Check with the agency that manages the campground to see if any campfire restrictions are currently in place.
2) Check to see if the county the campground is in has enacted a burn ban, and if it extends to recreational fires in campgrounds. Many county burn bans make exceptions for designated fire rings within national parks or forests within the county. Each case is different.
Please note, even if your destination campground is allowing campfires at the moment, conditions can change quickly. Land managers have the discretion to restrict campfires in campgrounds at any time based on their assessment of current conditions. If you plan to cook over a campfire, bring a camp stove and fuel as an alternate for cooking your food just in case you arrive and find out you can't have a campfire after all.
Please follow all campfire rules and ban regulations. Fines just for violating a burn ban range from $100-$5000 and can include jail time, and the personal cost to you could go much, much higher if your campfire sparks a wildfire.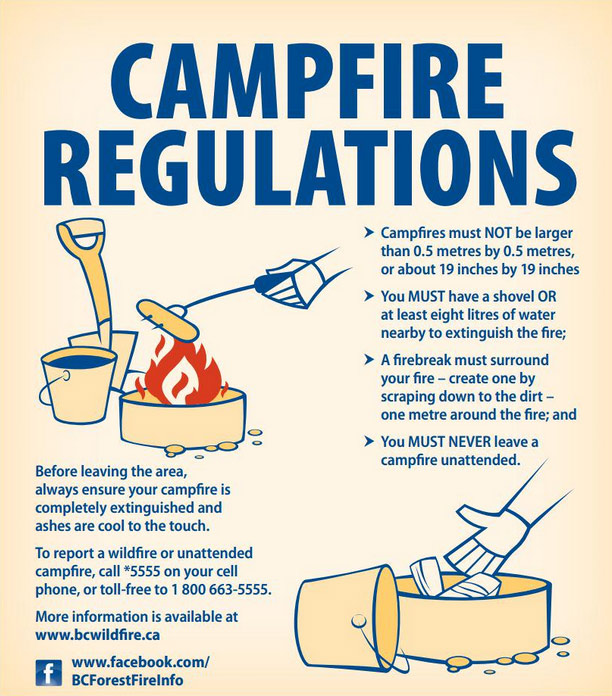 More on Northwest Campfire Bans
To report a wildfire in Washington, call 1 (800) 562-6010.
Wondering how you will make s'mores over a gas grill or bbq? It can be done.