A reader asked for a recommendation for an affordable place to stay in Long Beach, Washington. I remember my first visit to Long Beach many years ago. As a hiker and nature lover, I like my coastal visits to be wild and scenic.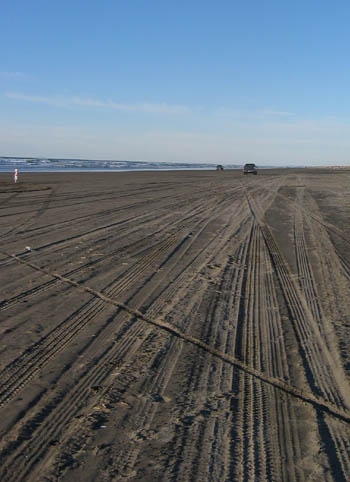 The Long Beach Peninsula has plenty of those characteristics, from Cape Disappointment to Willapa Bay. But my first night there, hand-in-hand with my husband, our twilight beach walk turned into a jeep dodge through deeply-rutted tire tracks. It was less than romantic.
The thing about Long Beach is, cars and trucks drive right on the beach here. It's totally legal and driving on the beach is considered a local tradition. In a place with so much natural scenery and beauty, this is kind of a bummer. Fortunately, there are wonderful pockets of nature, fun distractions and plenty of cheap sleeps to make this scenic stretch of sand worth your visit. And, driving on the beach is not allowed from April 15 – Labor Day.
The town of Long Beach is a real beach town. Kite shops, saltwater taffy stands, bike rentals and funky junk stores line the main drag. Do you like mini-golf, go karts, and fish and chips? That's Long Beach. The middle of summer brings throngs of families in search of fun, and they usually find it. Dangerous riptides in the area keep many visitors from actually swimming in these ocean waters, however.
Beyond the town of Long Beach, there is plenty of potential for both nature and romance. Take a hike on a newly-constructed trail at Cape Disappointment State Park, then watch for migrating whales at the North Head Lighthouse. Splurge for an hour-long guided beach excursion on horseback from Back Country Wilderness Outfitters for $25.  Willapa Bay is a great place to paddle a kayak, but only with a reliable tide table! The bay turns into a giant mudflat at low tide and sometimes leaves kayakers stranded until the tide returns hours later (this has happened to me; fortunately I had a very good book with me to occupy my time!) There's a terrific restaurant in Seaview, the 42nd Street cafe, that I can't recommend highly enough– in fact I'd eat every meal there if given the opportunity, especially breakfast.
The Long Beach Peninsula is a paradise of sorts for Northwest birdwatchers, so pack your binoculars and a good field guide. The northern tip of the Long Beach Peninsula is home to two bird-rich natural areas–Willapa National Wildlife Refuge and Leadbetter State Park. The spring and fall migrations of shorebirds draw hundreds of birders to this region to see sandpipers, dunlin and even the threatened snowy plover.
Where to stay on the Long Beach Peninsula? Consider that fall / winter rates are steeply cheaper than summer, and October is a great month to visit here, anyway. There are many cheap sleeps to choose from, stretching from the popular yurts at Cape Disappointment to vacation homes that are inexpensive to rent in the off-season (see my post last year on Finding Vacation Rentals).  Here are a few recommendations in between.
The Enchanted Cottages in Seaview offer warm hospitality and beach charm at a budget price ($70-$97 for regular-sized rooms). Hollyhock is on the main floor and has a separate bedroom; Captain's Quarters is the upstairs studio. Hosts Virgil and Trisha are proud of the rave reviews they get from folks who stay here, and they intend to keep it that way. Call 360.642.8606.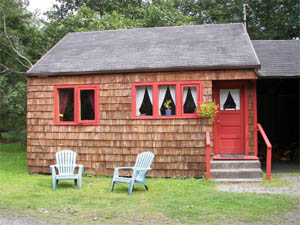 Want your own cottage? Try the Shakti Cove Cottages in the woods in Ocean Park, about ten miles up the beach from the town of Long Beach. Cottages are $80-$95 a night.  Each charming cottage has a kitchen, private bath and queen bed, and are a short jaunt to a stunning stretch of beach. Pets welcome. Call (360) 665-4000.
Spend a little more and get a bit closer to the ocean. The Klipsan Beach Cottages offer one-bedroom dwellings at $120 – $140. Each cottage has a kitchen, private bath with shower and spacious deck. No pets. Call (360) 665-4888.