I've saved some vacation days. I hope you have, too. Because really–this is when the fun begins. The crowds have dwindled, and the weather is still perfectly pleasant. Many great places to stay in the Pacific Northwest that are cost-prohibitive in the tourist-heavy  summer months drop their rates after Labor Day.  Looking ahead a little, winter isn't so bad for long weekend getaways, either; these short excursions provide just enough beauty and distraction to keep us sane from all the rain.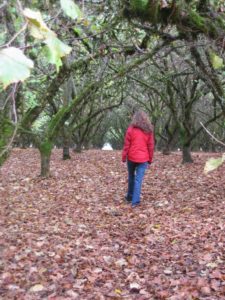 The Methow Valley. Washington Trails Association's suggested seasonal hike of the moment is Grasshopper Pass, in the Pasayten Wilderness outside of Mazama. This ridgeline hike starts high at 7100 feet and stays high, delivering constant views but not much shade, making the cooler days of September the perfect time to hike it. When you've finished your hike, head south to Twisp for a night's stay at the Idle-A-While Motel, where clean motel rooms or funky yet charming cottages run $68 to $98. Some have kitchenettes. The bumping Methow River is just a short path away from your bright yellow door. There's a hot tub and sauna for guests to relax weary muscles after a day of hiking, and bring your tennis racket – they have a tennis court. Reservations: online or call (509) 997-3222. Another great cheap sleeps is the Methow Valley Inn in Twisp.
Salt Spring Island. Take a ferry to British Columbia and experience autumn on one of the most beautiful islands in the Northwest. Salt Spring Island is a shoulder season favorite (summer means longer ferry lines and higher priced lodging.) Get in on the fall harvest at Island Farmhouse B&B, a working farm situated on ten rural acres with both pasture and pond, where a room runs $70 – $90 a night.
The Willamette Valley. There are so many reasons to spend a long weekend in Oregon's lush Willamette valley south of Portland. Pinot noir, pinot gris, and pinot blanc, just to name three. Hazelnuts, fresh fruit, charming farms, hiking in the nearby Coast Range, and great birdwatching are a few more reasons. And of course, a two-night stay at Gahr Farm, a B&B cottage situated on a 350-acre conservation farm and forest, which is managed as a native plant and wildlife reserve. $80 – $100 a night. Reservations: online or (503) 472-6970.
Central Oregon. Bend, a sophisticated little town tucked in the eastern Cascade foothills, offers nice fall foliage later in the month, served alongside some mountain biking and microbrew. Both the Country Inn the City B&B and the Mill Inn have fantastic rates and will leave enough money in your wallet for dinner at one of Bend's awesome restaurants.
Here's to autumn!