It happened. Brian and I finally had a weekend getaway. Without the baby.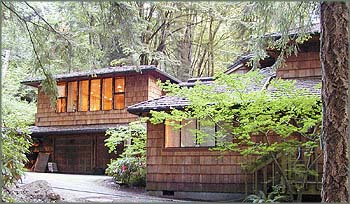 I should preface this with fair warning that there may be a number of posts in the coming months about great places to sleep on the Kitsap Peninsula. Because you see, that's where grandma and grandpa live! And we could get used to these baby-free romantic excursions.
Still.. that would require us to actually muster the willpower to try another cheap sleep after our incredible stay this past weekend at No Cabbages Bed and Breakfast, just outside of Gig Harbor, Washington. (Which does, by the way, welcome children, should we want to return with our baby in tow). The first sign we were in the right place was, literally, a sign that greeted us at the entrance that read "Not for the terminally uptight." That seemed just about fine to us.
Jamee and Dal run their B&B the way they live their lives — with genuine humor among nature, art, and friends. Their home is woodsy and rustic, filled with funky art and folksy crafts, and surrounded by tall trees that shade numerous outdoor living spaces, from a wrap-around deck to a stone patio encircling a communal firepit.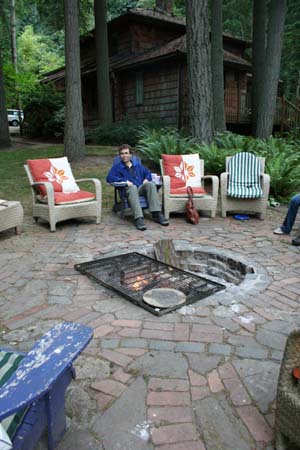 On the night we arrived, Jamee and Dal were sharing red wine and homemade wood-fired pizza out on the patio with some good friends over for a mid-summer visit. We were greeted with a dose of the warm hospitality No Cabbages is known for; Jamee and Dal invited us to join them for dinner. So of course we did. The pizza was delicious, the company delightful, and evening birdsong from the surrounding forest provided the perfect accompanying Northwest soundtrack.
No Cabbages B&B offers two rooms at $80 per night with a shared bath and private entrance.  This is a bargain to write home about, and most certainly one to take advantage of. The rooms are loaded with comforts, like robes and fluffy comforters and cool artwork and incredible forest views out your window (as well as water views in the winter, I am told). The shared bath (shared, that is, if the other room has guests as well) is of ample size, with a huge soaker tub. In the morning, Jamee's breakfast really hits the spot, with freshly-brewed coffee, orange juice, her famous popovers served with jam and whipped cream (enough for seconds if you're lucky), fresh fruit with custard, and spinach omelets with goat cheese.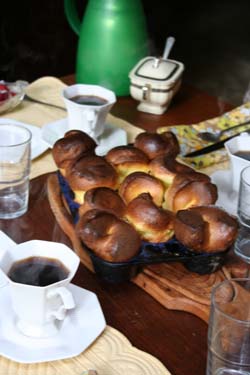 For a special treat, reserve the private suite Dal built above the garage. That one is $135 a night, and has a king-sized bed, huge and beautiful tiled shower, comfortable couch, and forest views out big windows on three sides.
Be sure to leave time for a beach stroll. Sunrise Beach Park is practically next door. We were so enthralled with the opportunity to sleep without interruption that we forgot to visit the beach. Of course, we'll be back, and the beach will still be there. It's the popovers I'm worried about!
Pets and children welcome, delicious breakfast included. (253) 858-7797 / www.nocabbages.com