Have you heard about the McMenamins Edgefield, just east of Portland in Troutdale? Hardly just a place to crash for the night, Edgefield is quite a destination in itself. A 15-minute drive from Portland, Edgefield is a bit far for city lodging, but the setting makes up for the distance pretty quickly.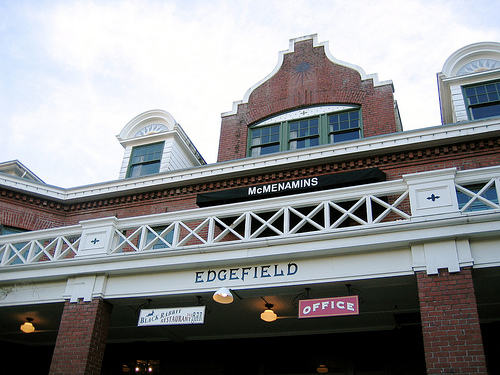 Set on a lush 38-acre parcel of farmland on the Columbia River, Edgefield has private rooms (over $100 / night), Euro-style shared-bath options (much cheaper, and our choice), and hostel-style dorm rooms (at $40 this is cheaper, still!) So turn off the TV and telephones (there aren't any) and turn on the turn-of-the-century vintage charm!
Oh – it also has a spa, offering services like facials, massage, invigorating body scrubs, nails, hair and a soaking pool.
Get a massage, relax on the veranda, play a round of golf, visit the glassblowing studio or catch a movie – all at the hotel. It's also got a fine-dining restaurant, classic pub, numerous small bars and colorful summertime grill. Brewery, winery and distillery onsite. The hotel's Black Rabbit Restaurant even serves breakfast, so there's no reason to ever leave. Of course if you do leave, you've got Mount Hood, Multnomah Falls, and the Columbia Gorge National Scenic Area close by.
But there are a few things you should know about the Edgefield before you book your room for that quiet, relaxing weekend retreat this summer.
This place has a reputation as a "drinker's paradise." We haven't found this to be much of an issue, but it's true – younger folk of the beverage-loving variety do tend to flock here, and stay up late drinking at one of the numerous on-site places to do so, and then come back to their rooms, perhaps a little noisily. Bring earplugs, and make sure they're good ones. In fact, bring a backup pair, just in case!
Another fun fact about the Edgefield is the main lodge, a historic 1911 building, has been many things over the years. For example, a farm. A hospital. A nursing home. There are also rumors the place was once an insane asylum and even a jail. If you are at all superstitious, bring some sage and a book of matches to smudge your room!
Info and reservations: (800) 669-8610. Free wifi. No pets.
Photo by bryanh.