Is your family staying in the Pacific Northwest for vacation this summer? You are not alone.
In fact, nationwide, you are now officially part of a growing travel trend. The New York Times' travel section writes that summer's best deals are close to home. The American family's summer vacation to Europe, which in recent years had become more and more accessible to middle-class families, is again out of reach. Even with the high cost of gasoline, its much cheaper to take the family to vacation at Myrtle Beach, Yellowstone National Park, or Disneyland. And given the creeping costs of air travel, growing awareness of our individual carbon footprints, and declining US dollar oversees, it's little wonder we're sticking closer to home.
Vacationing closer to home is hardly a sacrifice, especially if you live in a beautiful place like the Pacific Northwest. This summer may finally be the summer that your family skips the expensive vacation and instead takes that leisurely weeklong camping trip to the gorgeous Olympic Coast, grilling fresh salmon for dinner and whiling the days away searching for starfish, all for about $30 / day. Where's the sacrifice in that?
Here are a few more awesome summer destinations to keep in mind for your family vacation in the Pacific Northwest this summer.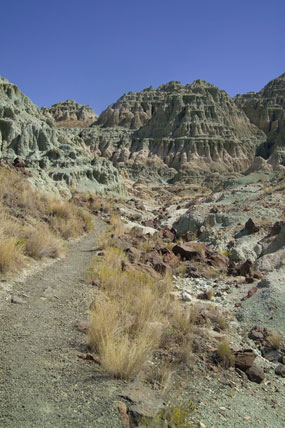 John Day Fossil Beds, Central Oregon. This National Monument is amazing, its right in our backyard, and you can find peace and solitude here even on a busy travel weekend like the Fourth of July. This volcanic region captured the past in a way rarely seen – strange and inconceivable plants and animals were captured forever as fossils when sudden, huge and rapid natural disasters occurred. Nearby towns feature charming bed and breakfasts and inexpensive hotels for your stay, and there is ample camping in the area.
Methow Valley, Central Washington. The Methow is an outdoor lover's paradise, and a perfect family destination. Spring and summer activities include hiking (choose from North Cascades National Park, the Paysaten Wilderness, and the Sawtooth Wilderness), birdwatching, fly fishing, mountain biking, horseback riding, rock climbing, whitewater kayaking, rafting or just lazily floating down the Methow River.
Quadra and Cortes Islands, Discovery Islands, British Columbia. While traveling to Canada is no longer a bargain for Americans, the declining US dollar could only get worse so you might as well go now before it does! A peaceful and fun-filled week is to be had camping, fishing, kayaking and relaxing in British Columbia's Quadra and Cortes Islands, easily accessible by ferry from Campbell River on Vancouver Island.