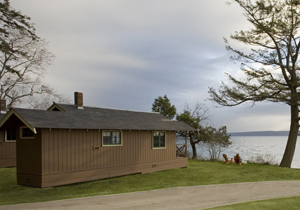 First, the really great news.
On Camano Island, just 90 miles from Seattle and not requiring transport by ferry, sits a wonderful new waterfront Washington State Park set to make its debut June 21. And, it features the most charming waterfront cedar cabins. AND, they are one of the cheapest sleeps going!

Practical Tips for your Stay at the Cama Beach Cabins
Now for the not-so-great news. The Park took advance reservations and the cabins are already booked solid every weekend this summer. However, there's still plenty of vacancy during the week (Sunday – Thursday nights) throughout the summer of 2008, and plenty of weekend vacancies this fall. So start planning your Cama Beach getaway now! Click here for info, or for info and to make reservations call (360) 387-1550.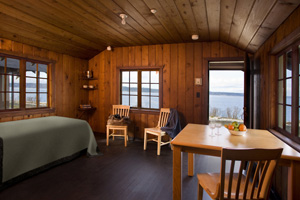 Cama Beach State Park sits on the southwest shore of Camano Island and faces Saratoga Passage (where I once saw my one and only orca whale in Puget Sound waters!) The setting is spectacular: 433 acres with the water on one side and a forested backdrop on the other. Cama Beach State Park is connected by a mile-long trail to Camano Island State Park, a 134-acre camping park, which stretches the possibilities for recreation even further (if you're able to pull yourself away from just sitting on the beach and gazing at the sunset). Hike or bike the 15 miles of trail, watch birds, frolic in tide pools, rent a rowboat, go fishing, crabbing or swimming, build a sand castle, fire up a marshmallow for some tasty s'mores, and play a game of horseshoes. There are interpretive activities, too, like classes on boating with the Center for Wooden Boats (a tenant of the park), geology beach hikes, bird walks, nature journaling classes, and more.
The beach was a fishing resort back in the 1930s, and the waterfront cedar cabins and bungalows are original – they've just been lovingly and beautifully refurbished. Oh, and these updates included the addition of electricity!
There are 24 standard cabins, half waterfront and half second-row, and range in price from $17 – $45 / night (prices are subject to increase in 2009). Each is 4'x20′ in size with a living room, kitchen area and bedroom. Waterfront cabins have two double beds, and second-row cabins have a double bed and a set of bunk beds (twin size). Standard cabin amenities are electric heat and lights, refrigerator, microwave, sink and a coffee pot. Restrooms and showers are nearby in the park. Linen service is not currently available. Guests should take along their own bedding (handmade quilts provided, though), pillows, towels, cookware, dishes and utensils.
Wanting a little more room or a bathroom? There are seven deluxe cabins, which sleep 4-5 people and range from $42 – $56 per night. Each is 14'x28′ in size with a living room and kitchen area, bedroom and small bathroom with shower, toilet and sink. Deluxe cabins have one double bed and two twin-size beds. Cabin amenities are the same as the standard cabins. The cabins are set above the beach, with a view toward the water. There is one larger bungalow available for $65 – $100 per night that sleeps 6-8 and has a propane fireplace.
The cabins are available for rent year round to individuals and groups. When booking your reservation, ask about the cooking possibilities (BBQ grill?) for your particular cabin, because that microwave will only get you so far. We're planning to bring our Coleman camp stove and we'll cook dinner just outside the cabin. There are several BBQ pits around as well. A dining hall is in the works for this fall that will serve sandwiches, soups and snacks.