Lopez, Shaw, Orcas, San Juan… for many Pacific Northwesterners, these words are synonymous with one thing: vacation!
Of the four San Juan Islands reachable by ferry, San Juan Island is my favorite easy family getaway. It's definitely the easiest island to escape to sans car. The ferry drops you off in the town of Friday Harbor, where dozens of restaurants and great lodgings are within walking distance of the ferry dock. But you won't want to spend all of your precious island time in Friday Harbor, as several waterfront parks, miles of hiking trails, tide pool beaches, lavender gardens and pastoral farms await your exploration. Fortunately there are ways to get around the island even if you arrive here on foot.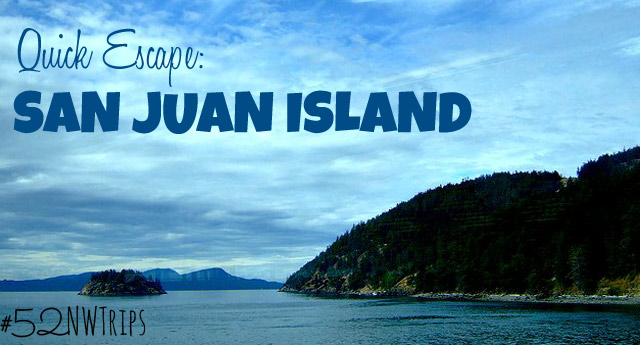 Getting There
The emerald San Juan Islands are scattered across the eastern Strait of Juan de Fuca in Washington state. Four of the 172 islands of the San Juan archipelago are accessible by state ferries: San Juan Island, Orcas Island, Shaw Island and Lopez Island.
You can reach San Juan Island via the Washington State Ferry system. Ferries depart from Anacortes in Skagit County. There are also a handful of float plane operators that can take you to the San Juan Islands from Seattle.
As of 2015, travelers to the San Juan Islands can reserve a spot on the ferry for routes from and to Anacortes. We did this on our last trip and I highly recommend it, especially if travelling with small children, as we had none of the usual stress of waiting in long ferry lines unsure if we'd ever make it on.

Getting Around Without a Car: The ferry drops you off downtown Friday Harbor, so it's easy to get from hotel to restaurant on foot. To venture beyond town though, hop on the Jolly Trolley (360-298-8873, $15  adults and $10 kids for an all-day pass with hop on/hop off privileges). It tours the island, stopping at most of the attractions including Roche Harbor, American Camp, Lime Kiln Park, and the alpaca and lavender farms. If you're traveling without small children, you can rent mopeds in Friday Harbor ($35–$60 by the hour, a better value for the whole day at $80–$140 and the higher-priced option can seat two people). The cheapest option for getting around the island car-free is San Juan Transit, where an all-day pass will cost you $15 ($10 ages 5-12).
When to Go
Sunny summer is high season on the San Juan Islands, when the streets of tourist-friendly Friday Harbor are buzzing with mopeds, bays are dotted with kayaks, and sailboats dodge one another in the surrounding channels. If you didn't plan in advance with hotel reservations for a weekend this summer, you have two options at this point: try to snag a room from a last-minute cancellation (call on a Monday for the upcoming weekend, then again on Tuesday, then again on Wednesday…you get the idea), or wait until autumn. The small island towns and pastoral landscapes of San Juan Island possess unique charms in the cooler months, not the least of which are very few tourists. Ferry lines shrink to a trickle, inn vacancy is plentiful, and you'll also be able to find great off-season rates. And perhaps most importantly, with a little luck you can escape the endless drizzle–the Olympic mountains create a "rainshadow" effect for the islands in.
Do: Stop at the Farmer's Market
Located at Brickworks (150 Nichols Street downtown Friday Harbor), the island's farmers' market is a must-stop. Visit with local farmers for fresh eggs, produce and fruit, pick up homemade scented soaps or hand-knitted gloves, stock up on fresh-baked bread, bagels and pastries, and rock out to some tunes on the fiddle.  In winter the market is indoors at Brickworks with a nice fire pit outside (January-March, the first Saturday of each month, 10am-1pm). The rest of the year the market is weekly both inside and outside (April-October, every Saturday 10am- 1pm).
Do: Take a Hike with a History Lesson
Kids will love poking around in the tidepools, running through windswept meadows and meandering along the interpretive nature trails at San Juan Island National Historical Park. The park has two distinct units on opposite ends of the island about 13 miles apart. The former encampment for the United Kingdom, English Camp, is in the island's northwest corner while American Camp sits on its southern tip.
San Juan Island is, of course, an American island. But this wasn't the case in the 19th century during the era of western expansion. An international boundary ran right down the middle of San Juan Island along the 49th parallel, allocating the island's western half to the British and the eastern half to the United States. Tensions rose suddenly in 1859 when a British-owned pig was killed by an American potato farmer, spawning a boundary dispute known as the Pig War. While cooler heads prevailed and the tense standoff over swine was short-lived, both nations subsequently established military encampments on the island (English Camp and American Camp) that housed men until an international commission gave the island to the U.S. in 1872.
Do: Go Whale Watching
Here's the deal: if you really want to see an orca whale in the Pacific Northwest, you go to San Juan Island! And summer is the best time to spot them. Most of the Salish Sea orcas are in our inland waters from late spring–early fall (late April to early October).
On the island's west shore, Lime Kiln State Park is known as a great spot to see passing orca whales (especially in summer), and the park also boasts 1.6 miles of hiking trails through a hillside forested with madrona trees. Lime Kiln is a 36-acre day-use park, and you'll need a Washington State Discover Pass to go there with a vehicle. This is one of the most reliable spots for whale watching from shore anywhere in the world. Don't forget to bring binoculars!
For a much closer look at orcas, take a guided whale-watching excursion. A few local outfitters will take you to see whales in kayaks – try Outdoor Odysseys or San Juan Kayak Expeditions. Or, take a whale-watching trip on a boat, which costs roughly $75 per person. Several outfitters run daily out of Friday Harbor. The San Juan Islands Visitors Bureau has a list of these whale-watching guides.
Kids will learn all about the amazing orcas at The Whale Museum (open daily 10am-5pm, admission $3-$6, kids under 5 free).

STAY: Book a room or suite with kitchenette at Earthbox Inn downtown Friday Harbor ($150-$250 per night). This refurbished motor inn not only has an onsite spa and indoor pool, their jewel-toned pedal cruisers are complimentary for guests to take for a spin around town. Kids will love the indoor pool. For families, book one of the spacious, loft-like second story rooms that have balconies.
EAT: Stop in at Van Go's Pizza for delicious thin-crust pizzas the whole family will love, from good ol' pepperoni to prosciutto & pear.Overlooking the harbor near the ferry landing is Downriggers, where entrees range from local seafood to chicken tenders and kids will love watching the boats come in and out of the harbor.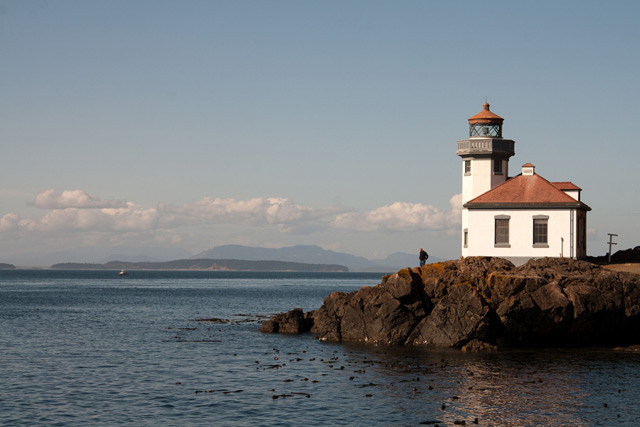 Top photo by HeyRocker, Lime Kiln lighthouse by Maureen Murphy.