Dear TripFinder,
We've lived in Seattle for two years now and have yet to see an orca whale. How can we see one? Thanks!
-Selma in Seattle
Dear Selma,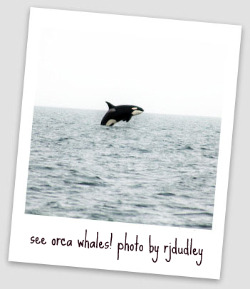 My first glimpse of an orca in Puget Sound was a chance sighting from a ferryboat crossing from Mukilteo to Whidbey Island. Note the word chance. Many people see orcas (and other whales) from the ferries, but plenty of regular riders never do. So if you really want to see one (or more) of these majestic creatures, don't leave it to chance. Go to San Juan Island!
The best time to spot orca whales is during the summer months, though it is possible to see them year-round. Orcas (also known as killer whales) are more closely related to dolphins than whales, and are found in oceans all over the world. Our Puget Sound / Salish Sea Orcas are officially known as "Southern Resident Killer Whales" and they are listed as endangered and have been protected under the Endangered Species Act since 2005. This listing helps protect not just the orcas themselves, but their habitats and food sources. There are three resident pods that frequent the Salish Sea – the J pod, the K pod and the L pod.  If you want to learn more about our resident orcas and the challenges they face, I highly recommend this article, Orcas on the Edge, by the National Wildlife Federation.
Most of the Salish Sea Orcas are in our inland waters from late spring – early fall (late April to early October). Their winter habits and locations are less known, but Salish Sea Orcas have been spotted as far south as the coast of central California and as far north as Haida Gwaii (previously the Queen Charlotte Islands.) We also sometimes get transient orcas in our waters. While our resident orcas eat salmon, many of the visiting transient orcas have different dietary niches and will eat seals, sea lions and even large whales. There's a fascinating encounter between a pod of transient orca whales and a Salish Sea resident grey whale that was caught on camera two years ago – see it here.
How to See Orca Whales
One option for spotting whales is to drive yourself to Lime Kiln Point State Park (360-378-2044) on San Juan Island's west coast. Lime Kiln Point is a 36-acre day-use park, and you will need a Washington State Discover Pass to go there with a vehicle. This is one of the most reliable spots for whale watching from shore anywhere in the world. Don't forget the binoculars, though!  Orcas are common here, and we've spotted them breaching every time we've stopped here in summer and early fall.
Want to get a little closer? Take a whale-watching excursion and let the experts show you the whales.
A few local outfitters will take you to see whales in kayaks – try Outdoor Odysseys or San Juan Kayak Expeditions.
Or, take a whale-watching trip on a boat, which costs roughly $75 per person. Several outfitters run daily out of Friday Harbor. The San Juan Islands Visitors Bureau has a list of these whale-watching guides. If you decide to book a boat trip, be sure to ask the outfitter when you book your reservation about their ethics and philosophy around observing whales from an acceptable distance without disturbing them.
When you get to Friday Harbor, make a stop at the Whale Museum (360-378-4710) if you have time to learn all about the amazing orcas. They have maps of the best places to spot whales from shore, and they can give you a personal referral for a responsible whale watching boat operator. Admission is $6 for adults, and children under 5 are free.
Hope this helps! Good luck spotting an orca!
Got a burning travel question? You ask, we'll answer.