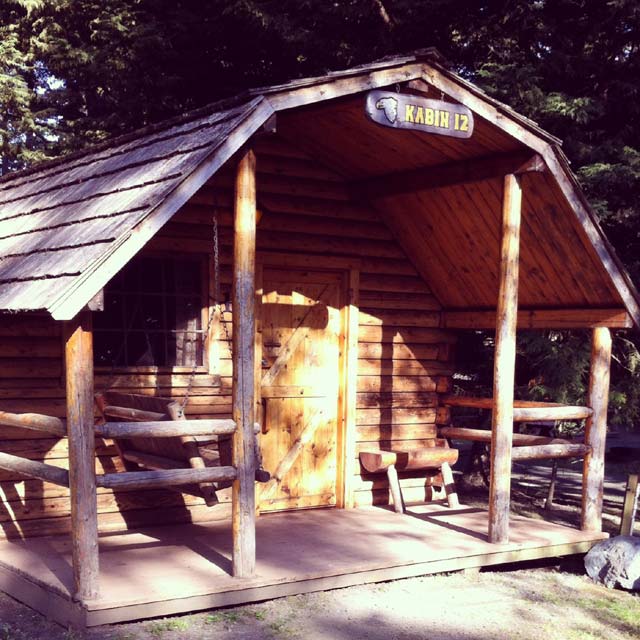 I'm a bit inclined to get stuck in ruts, from the cars I like to drive (old Volvo station wagons), to the campgrounds I prefer (tent sites near wilderness) to the toppings on my pizza (pineapple and hot peppers). And that's usually okay because really, change is over-rated.
But one kind of change is not over-rated: climate change. Our record-hot Northwest summer is providing a constant reminder. And to be honest, my old Volvo's 18-miles-to-the-gallon-on-a-good-day provides a constant reminder, too. My family might not be boarding greenhouse gas emission-heavy airplanes for our getaways, but we're not exactly doing no harm, either.
So when I got an offer to try a new Toyota hybrid for a weekend family excursion to also try out a new local KOA cabin, I pondered the possibilities of trying new things. And then I said: "Sign me up!" Here's what happened.
– – – – – – – – – – – – – – – – –
THE CABIN:
If you're a regular here, you know my family takes a lot of local trips around the Pacific Northwest. We've been almost everywhere. But until recently we had never been to a KOA campground. After all, we don't have an RV. And when I think of KOA I think of RV's and popup campers. I think of throngs of kids playing frisbee and riding around on scooters having fun, loudly. And not enjoying the peace and quiet of the great outdoors.
And then, I heard about the kabins. Kabins can change minds.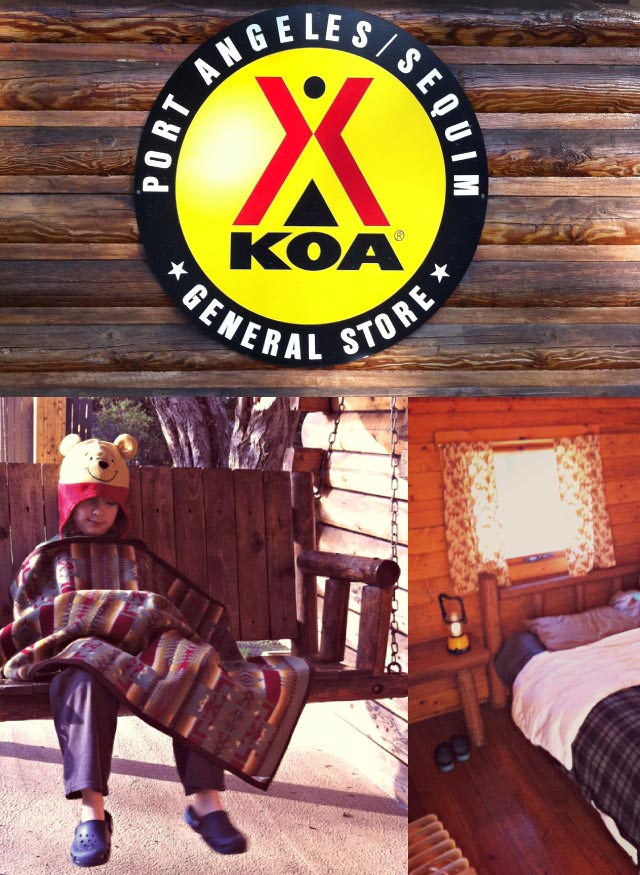 KOA stands for Kampgrounds of America, the world's largest system of privately held campgrounds with almost 500 locations across US and Canada. Individual KOA campgrounds are franchises. So although there's a corporate brand, individual campgrounds are locally-owned and have their own unique qualities and amenities. I like that. Of the KOA campgrounds scattered throughout in the Pacific Northwest, 24 of them offer rustic cabins for rent. I like that, too.
And here's something you'll like–KOA's cabins (or "kabins" as they've been called long before the Kardashians were doing it) tend to be much more available on short notice than the very similar state park cabins and yurts throughout Washington and Oregon. Instead of booking out months in advance, you might be able to snag a KOA cabin next week.
Did you know there's a KOA campground with more than a dozen cabins right off Hwy 101 between Sequim and Port Angeles? Many people don't, though the new owners are happily changing that. The Port Angeles / Sequim KOA is not only locally-owned, it's family-run. Proprietors Marty and Lana Adickes pursued a longtime dream when they bought their Olympic Peninsula KOA a few back, and have since poured their hearts into the place, keeping the cabins and bathrooms clean as a whistle and adding new features like an outdoor pavilion for events like family reunions or rustic weddings.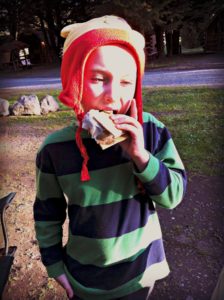 We shared the campground with just a few other guests during our springtime visit. Set well away from the highway in a grove of shady conifers, our little log cabin had two rooms and slept up to six (they're fully furnished, just bring bed linens). The cabin windows crank open and have screens to bring in a breeze on hot days, plus there are electric heaters for cool nights. There's a two-person swing on the front porch, and each cabin has its own picnic table and fire pit with cooking grate outside. (This KOA also offers smaller one-bedroom camping cabins that sleep four, and bigger deluxe cabins that have a fully equipped kitchen, bathroom, TV and AC).
The nice, clean bathrooms with showers are just a short walk away from the cabins, as is the KOA Store where you can get everything from last-minute fixins for s'mores to pool floats.
After years of hearing the rumors, I finally got a chance to see for myself just how deserved KOA's great reputation for family fun really is. We started with the kid's playground, a wooden climber with ladders and slides and a lookout platform. Then eyed the swimming pool (it was too chilly when we were there for a swim), watched bigger kids take a ride on the go-karts, and putt putted in the mini-golf area, then moved inside to the arcade and game room. This KOA also rents out bicycles. And if it's raining, there's free wifi throughout the campground to keep you busy. The campground also hosts fun activities like craft nights and ice cream socials. All in all, when it comes to fun, my six-year old gave the KOA two thumbs up.
KOA Cabin rates start at $80 per night.
Things to Do Nearby: Make the Port Angeles / Sequim KOA your base for exploring the north Olympic Peninsula, starting with Olympic Cellars Winery right next door to the campground. Olympic National Park's Hurricane Ridge is just outside Port Angeles. Sequim has great eateries and shops, and hosts a big lavender festival each July. Beyond Port Angeles is beautiful Lake Crescent and family-friendly hiking trails.
THE CAR: 2015 Toyota Camry Hybrid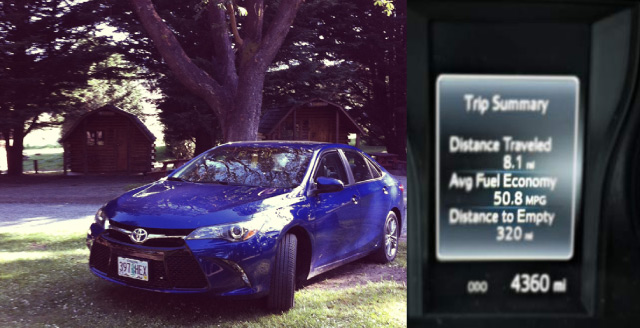 I believe in local travel for a number of reasons; in a nutshell I feel local travel supports our small town economies and businesses, and that if done thoughtfully, local travel can be quite sustainable. Sometimes we take car-free trips–the train down to Portland or a ferry to the islands–but mostly we drive our old station wagon on our local getaways–the one that gets around 18 miles to the gallon.
The one change we could make to our local getaways that would improve their sustainability would be to buy a hybrid vehicle.
To say we liked the sporty Toyota Camry Hybrid would be an understatement. It drives nice, it looks sharp and has incredibly comfortable, adjustable seats. Oh, and ours had some things I didn't even know how much I'd love – satellite radio, and a GPS navigation system with touch-screen LCD display! (Do I sound overly excited? Our station wagon just has a tape deck – maybe that'll put things in perspective).
What I was most interested in though is whether a sedan would be big enough for us and all our camping gear. And just how much more efficient would it be to drive a hybrid sedan than our trusty old station wagon?
When it came to fuel efficiency, I was very pleasantly surprised. Most sources list the fuel economy on this car to be around 40-45 mpg. We continually got around 50 mpg on our trip. That's more than double the fuel economy of our current car.
After our weekend trip to the Olympic Peninsula, the verdict was in on the space issue as well. The Camry's trunk fit all our camping gear, and then some. We also managed to fit a cooler and extra blankets.
– – – – – – – – – – – – – – – – –
So, it's settled then. Trying new things can be nice! We've added a whole new option to our affordable family lodging choices with the KOA cabins. And as soon as our budget allows, we're more than ready to kick our gas-guzzling old Volvo to the curb and get a hybrid vehicle.