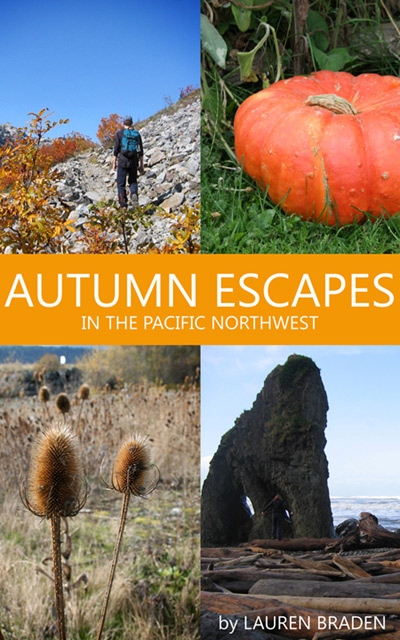 Welcome to fall! If you ask me, this is the best season for Northwest weekend getaways for a number of reasons. That's why I've written a book on it! Autumn offers unique, colorful and delicious opportunities to explore the Pacific Northwest.
Get inspired to spend your fall weekends combing rocky beaches, savoring the harvest, and hiking scenic mountain trails of Washington and Oregon with the new 2015 edition of my travel guidebook:  Autumn Escapes in the Pacific Northwest. 
This inspiring guide includes 15 trips (two of them new for the 2015 edition). Here are the types of trips the book features:
Harvest Vacations
Seaside Getaways
Wine Country Weekends, and
Outdoor Adventures…
… all that celebrate the best of the autumn season.
The book is only available at Amazon.com for Kindle devices and reading apps. It is $3.99.
No Kindle? No problem–you don't need to have a Kindle to purchase and read this book. The Kindle reading app is free for your iPad, iPhone, computer, Android tablet or phone, blackberry or Windows phone. Download it here.
I hope you take the plunge and buy it, because I just know you'll enjoy reading all about exploring the Pacific Northwest in autumn and early winter, and planning some fun trips this fall for yourself.
If you buy the book and love it, I'd be so appreciative if you'd leave a review on Amazon. Thanks!
About the Book
Autumn Escapes in the Pacific Northwest features hand-picked destinations that were carefully chosen with autumn in mind. Each trip is loaded with budget-friendly personal recommendations on restaurants, lodgings and activities based on my own trips.
The trips in this book are fun and diverse; there is truly a trip for everyone. Take a scenic drive through Oregon's Hood River Valley. Watch ocean swells roll in during a fall storm from your cozy beach cabin on the Oregon Coast. Dig for clams on a hidden stretch of Washington's rugged coastline. Visit the Hoh Rain Forest at its most delightfully verdant–during the rainy season. Sample world-class Pinot Noir in the Willamette Valley. Visit family-run cideries and spend the night on a real working farm on the Olympic Peninsula. Hike to spectacular fall color on Mount Baker and around Lake Wenatchee. Chase away the autumn chill with a dip into natural hot springs in the Cascades.  These trips and more are described in this book.
The escapes in this guide will inspire you to travel in the Pacific Northwest this fall, with the personal recommendations and relevant information you need to get out of town. For families and travelers with dogs, I have even noted which lodgings are kid-friendly and accept pets. And as an exclusive bonus, purchase of the book includes access to an interactive map for the featured escapes, making your trip planning even easier.