Taking a camping trip this weekend?  Pack your gear using our handy Car Camping Checklist and you won't forget anything, ever.

UPDATE: August 20, 2016
Going camping? There are campfire restrictions in place (see details below). In fact, 2016 marks the fourth summer in a row that has seen restriction on campfires in the Northwest, though the restrictions are few this year (so far).
To see an updated status of all current wildfires, visit Inciweb for Washington and for Oregon. If there is a wildfire in or near an area you plan to visit, hike or camp in, it may close access roads, campgrounds and trailheads.
Current Campfire Bans and Restrictions
WASHINGTON
Washington State Parks and Department of Natural Resources
In effect through Sept. 30th, 2016: The previous "modified" burn ban is now a FULL burn ban. This means NO campfires, even in approved fire rings and fire pits.
In effect for: all land in Washington state protected by the Department of Natural Resources (this includes WA DNR lands, Washington State Parks, and Washington Dept. of Fish and Wildlife lands). It does not apply to federally operated lands, such as national parks, forests or wildlife refuges.
"After a relatively mild summer, we are entering a period of critical fire weather on both sides of the Cascades," said Commissioner of Public Lands Peter Goldmark in a press release. "The greatest fire danger right now comes from carelessness. It's essential that people understand the risks involved and do not spark any fires."
OREGON
Deschutes River State Recreation Area
In effect June 1 through Sept. 30th, 2016: Campfires are banned at Deschutes State Rec. Area starting June 1, 2016 and ending Sept. 30, 2016 due to high fire danger in Sherman county. Charcoal briquettes allowed in campground fire rings only. Propane cook stoves and propane fireplaces are allowed.
Cottonwood Canyon State Park
In effect Mar 29th through Oct 31, 2016: Campfires are not allowed in the campground; this includes use of any open uncontrolled flame (i.e. Tiki Torch). Campfires are NOT allowed in the back country starting on May 28th until further notice. Campfires outside of the park on BLM property, on the John Day corridor, are banned starting June 1st. Charcoal in fire pits or grills; propane cook stoves and propane fireplaces are allowed in the campground. Propane cook stoves are allowed in the back country.
Know of more restrictions than what we've got here for 2016? Tell us in the comments below!
Does Your Campground Allow Campfires?
Northwest campgrounds are managed by many different public land agencies and scattered throughout many different counties that might have burn bans. If you're headed out for a camping trip this summer and want to know whether or not you can have a campfire, try these steps:
1) Check with the agency that manages the campground to see if any campfire restrictions are currently in place.
2) Check to see if the county the campground is in has enacted a burn ban, and if it extends to recreational fires in campgrounds. Many county burn bans make exceptions for designated fire rings within national parks or forests within the county. Each case is different.
Please note, even if your destination campground is allowing campfires at the moment, conditions can change quickly. Land managers have the discretion to restrict campfires in campgrounds at any time based on their assessment of current conditions. If you plan to cook over a campfire, bring a camp stove and fuel as an alternate for cooking your food just in case you arrive and find out you can't have a campfire after all.
Please follow all campfire rules and ban regulations. Fines just for violating a burn ban range from $100-$5000 and can include jail time, and the personal cost to you could go much, much higher if your campfire sparks a wildfire.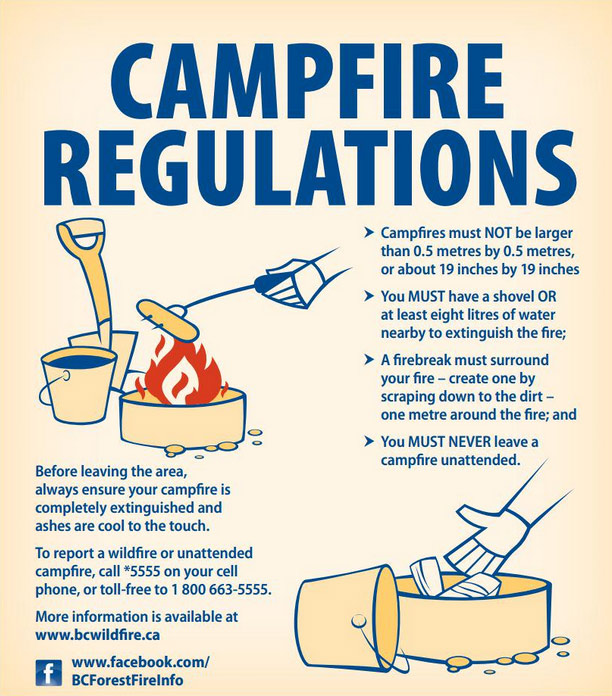 More on Northwest Campfire Bans
To report a wildfire in Washington, call 1 (800) 562-6010.
Wondering how you will make s'mores over a gas grill or bbq? It can be done.