They are coming in droves!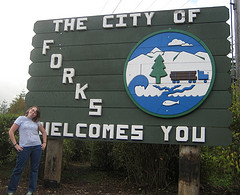 I haven't read the books. Nor have I seen the movies. But if there's one thing about the Twilight saga that makes me really happy, it's that the masses are descending on Forks. This town needed a New Moon, no? Washington state's coastal communities are backdropped by some of the prettiest scenery in the world. But their economies are nowhere near as pretty. Many of these communities have been hurting for decades now, ever since the local timber industry basically folded up and left town. Some folks blame the spotted owl, but with a Dad who has spent his life in the paper industry, I've heard another angle on this story, and it has more to do with free trade than it does a shy, rare owl.
In truth, there are still a good deal of logging trucks barreling down Highway 101, but  tourism holds the cards for this region's economy these days. Olympic National Park and local correctional facilities have kept the job market afloat, but the Twilight books and movies and the local tourism that has followed provides a much-needed shot in the arm to these coastal economies. Get this — Forks has seen a 600% increase in tourism since the books' publication.
I've stayed in this part of Washington's coast many times–sometimes in a tent and sometimes in a cabin–and always in the rain. If you're headed to Forks for your Twilight fix, I can't help you with vampire or werewolf sightings. But I can give you my picks for cheap places to stay.
Near the heart of Forks, Huckleberry Lodge Cabins comprise a handful of cabins set on five quiet acres of forest next to the Calawah River.  Amenities include down comforters, extra pillows, kitchenettes, on site laundry, a hot tub and sauna. If you're lucky, you may even get a visit from a local herd of elk. $60 – $110. Contact: 360-374-4090 or visit the website.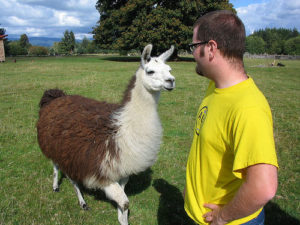 South of Forks on Highway 101 between Ruby Beach and the Hoh Rain Forest is the Hoh Humm Ranch B&B. In truth, I could not write about cheap sleeps in the Forks area without mentioning this working ranch B&B, which offers rooms with shared bath at $35-$50 a night, including a big farm-fresh breakfast served at 8am sharp. I also cannot recommend it to absolutely everyone, because some folks will just be miserable here. This isn't an inn. There are no Victorian antiques or pink quilts or claw-foot soaker tubs. It's not an understatement to say the Hoh Humm is a bit shabby around the edges.  But there are llamas, geese, sheep, cows, deer and ducks. The setting is stunning. The basic guest rooms are clean, and the breakfast is home-cooked and generous. The hosts are friendly and kind and interesting. Read more here, and if it sounds like it's your speed, do give it a try, especially if you have children, who will adore all the animals. Contact: 360-374-5337 or visit the website.
The funky, cheap Rainforest Hostel, also south of Forks, is popular with hikers, cyclists and international backpackers. Shared accommodations are $10 per person and guests are asked to contribute to daily chores. A large communal kitchen is available for guest use, and the common areas are comfortable and clean.  Contact: 360-374-2270 or visit the website.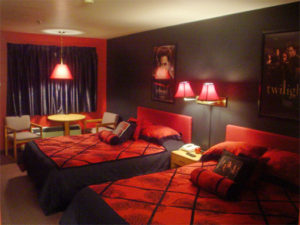 While there isn't much of particular interest to recommend the Pacific Inn Motel in downtown Forks, their standard 2-bed rooms are only $66, and they have free wireless. Someone at the Pacific Inn had the (evidently brilliant) idea of getting some dark paint and a few posters together and packaging a few of the rooms as "Twilight rooms." These will set you back an additional $30 a night. And you know what? They are the first to fill up. Contact: (360)-374-9400 or visit the website.
Forks sign by Apocaknits.Up close with a llama at the Hoh Humm Ranch by MrPants. Photo of the "Twilight Room" from the Pacific Inn Motel.