Sometimes, the accommodation is the destination.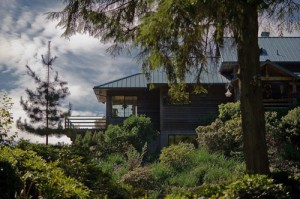 Eagle Aerie, a self-described "occasional lodging," is a continental breakfast B&B that sits perched atop the western cliffs of central Whidbey Island. My co-worker Deb and her husband Bruce spent a relaxing fall weekend there recently and came home to Seattle gushing about it.
"We wanted a private, wooded, comfortable location with a view and hot tub," Deb told me. "Eagle Aerie supremely met our desires."
What is an "occasional lodging," exactly? The home's owner, Al Luneman, hosts visitors in his home some of the time. (Reservations are required, yet reservations made too far in advance will possibly not be accommodated since availability is subject to the whim and travel plans of the proprietor.)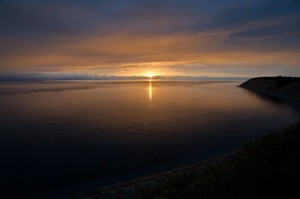 From what Deb tells me, Eagle Aerie is quite a find, and a true bargain at $125 a night. After all, that picture you see to the right of the sunset? That's your view from the house's deck.
"Our 'room' was actually the multi-level house's bottom floor which looks out onto the woods.  It comprises a very large open sitting space, a bed and desk nook, and a private bath," Deb explained. "A separate outdoor entrance and inside stairway provides private access."
"Fortunate to have bright sun during our stay, we were captivated for hours on the deck (both in and out of the hot tub) scanning the bay below and the Strait of Juan de Fuca extending to the western horizon. Had it been rainy, we could've cranked up the woodstove and used the pool table in our room or spent more time perusing the books on several large shelves."
What to do about dinner during your stay? "There's a mini-fridge in the room and great restaurants in Coupeville are only 15 minutes away."
Deb and Bruce are nature lovers, and Bruce is a photographer. Eagle Aerie revealed itself as a fertile spot for wildlife watching and nature photography.  "The local wildlife has no fear of coming to your door ­ even when you're near," Deb said. "There's a trail to the beach far below and gentler, small ones around the property ­ including one that leads to the goats (who appreciate edible offerings). With Fort Ebey State Park and Kettles Trail Park nearby you don't have far to go for longer excursions."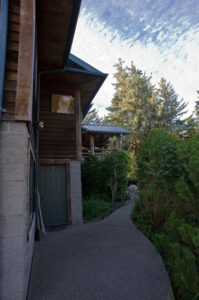 Though it's common for B&B travelers to enjoy talking with their hosts, Deb and Bruce found conversations with Eagle Aerie's owner Al Luneman, who helped build his home, were a real bonus. "Fair warning ­ we do enjoy a bit of the iconoclastic," Deb told me. "Both the unique location and Al's personal collections on display around the home were starting points for discussions that expanded quickly to travel and environmental topics, among others, that made us look forward to continuing them on a return trip."
Check it our for yourself. Eagle Aerie is on the web at www.eagleaerie.net or call for reservations at (360) 678-2217.
Photos by Deb and Bruce Hemingway.