WHY GO
Been to Victoria and think you've done Vancouver Island? Think again. After one day in Nanaimo, you'll be smitten with its lovely scenery and parks, friendly locals and tasty eateries. Two days in, you might just be ready to move there! While a day trip to Nanaimo makes for a nice sidetrip from Vancouver or Victoria,  this beautiful harborside city is a destination all its own.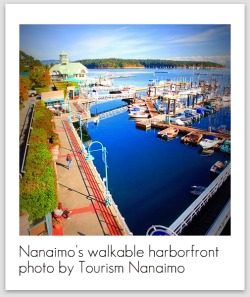 Nanaimo is effectively charming and livable, inside and outside — with emphasis on the outside. We're talking an outdoor recreation lover's paradise, from hiking to paddling to sailing to scuba diving to whale watching to salmon fishing. You can even do a zip line or bungee jump into the Nanaimo River Canyon at WildPlay Elements Parks –not my thing, but maybe yours, and I admit I get plenty of thrill from just watching others take the bungee plunge (and watching is free!). I can think of very few places in the Pacific Northwest and BC that offer the plethora of recreation opportunities that Nanaimo does. It's worth at least a long weekend, though you might smartly consider a longer trip. Make Nanaimo your base for touring around the wine country of Cowichan Valley to the south or extended paddling trips around the nearby islands that shelter its deep water harbor.
Steeped in history, Nanaimo's intrigue begins with its name, derived from the Coast Salish word Snuneymuxw (sne-ny-mo). I'm told this loosely means "people of many names" in reference to this region's past as a gathering place for local tribes who banded together for better protection against incursions from tribal peoples to the north.  Then came the white people. European coal miners settled the area in 1850, and coal was the chief generator of Nanaimo's economy for the following century. Coal mining is an important, if sooty chapter in Nanaimo's history, and you can learn more about those heady days and more at the Nanaimo Museum, located in the Vancouver Island Conference Centre downtown.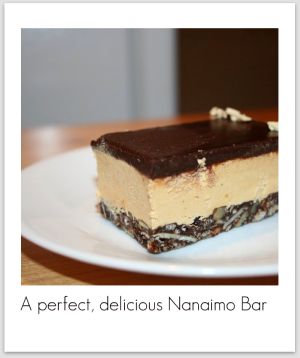 One of the very first things you'll want to do upon your arrival into town  is eat a delicious Nanaimo Bar (preferably at Mon Petit Choux, alongside a latte steamed to perfection.) I swear, this dessert hails from the heavens with its cocoa crumble base, buttercream middle and chocolate top. Well, actually it hails from Nanaimo – maybe.  Debate rages on about the origins of this famous confection, but the story I like best is that homesick miners from Europe were sent these rich bars as comfort food from their mothers back home in the UK. Can you imagine how long it would have taken a buttercream bar to travel by post from England to Vancouver Island in the 19th century? I suppose the more realistic theory of the bar's origin is that a local Nanaimo housewife submitted the recipe to a women's cookbook, and mass popularity ensued. However it came to be, just be glad it's here and sold in nearly every cafe in Nanaimo!
______________________________________________________________________
WHAT TO DO
Explore Local Parks
Newcastle Island Marine Provincial Park
250.754.7893 /
www.newcastleisland.ca
(
www.discovercamping.ca
-camping reservations)  
A provincial park right in town? THIS is why I love Canada! This former site of sandstone and coal quarries was smartly converted to a park in 1961–yep, the whole entire island is protected. Just a short foot ferry or kayak paddle away from Nanaimo's sheltered downtown harbor, Newcastle Island boasts about 15 km of hiking trails that lead you through both shady forest or along the beach.  Camping is a year-round option here, which is totally a mid-winter possibility in Nanaimo's drier microclimate, provided you have yourself a warm sleeping bag. The island park also has public boat moorage, picnic shelters, kayak and bike rentals, and some pretty impressive birdwatching, particularly during shorebird migrations. Come summer, enjoy free interpretive tours and native storytelling. It's one of the best daytrips for families in the whole area.  Map.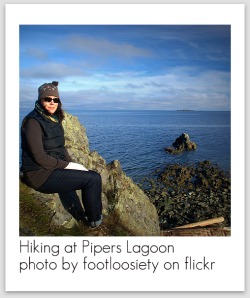 Neck Point Park and Pipers Lagoon
website
In a city with over 200 parks, it's not an easy task narrowing down the best, but these two certainly come close. Plus, they're close together, so your visit can seemlessly include both parks. Hit Pipers Lagoon on a calm spring or summer day for a walk out to the headland that'll knock your hiking boots off. The calm, sheltered lagoon is to your east, the ocean channel to your west, and Garry Oak groves in between attract unique birdlife. Basically, be dazzled by nature.  To the north is Neck Point Park, where you'll discover longer trails for hiking or cycling, and some of the best beachcombing on Vancouver Island. Both parks have wonderful stands of my favorite tree, the coastal Madrone (called Arbutus in Canada.)  Map.
Petroglyph Provincial Park
website
An easy stop off Highway 1 heading south out of Nanaimo, this park has an outdoor collection of hundreds of petroglyphs carved into sandstone outcrops by First Nation peoples some 1000 years ago. The carvings include fish and other animals that were important to these people, as well as human figures. But some of the carvings are of mythological or supernatural creatures like sea wolves. Yep – sea wolves! I love petroglyphs and always stop to see sites like this when I am traveling through the Pacific Northwest and Alaska. This stop is so short and easy, it'd be a shame to miss it.  Map.
__________________________________________________________________________
Paddle a Kayak
Nanaimo's harbor is the definition of sheltered, but is in no way short on dramatic scenery, creating the perfect place for novice kayakers to get out and paddle around a bit. It's true that many locations in the Strait of Georgia are exposed and/or have strong currents and are not appropriate for novice kayakers–that's why it's so wonderful that Nanaimo's waters are. Rent a kayak (see below) or bring your own. Take a guided trip or put in yourself, provided you know the basics. Happy paddling!
Sealegs Kayak Adventures
579 Hillview Ave, Ladysmith (20 minutes south of Nanaimo) 1-877-KAYAK BC /
www.sealegskayaking.com
Rent a boat and take a lesson. What I love about this establishment is that with your boat rental you get a complimentary introductory lesson with a seasoned instructor, safety review, and all the equipment you need — personal flotation device (PFD), paddle, spray skirt, paddle float and throw bag. (Don't know what a paddle float is used for if you capsize? That's why you need the safety lesson!) Rates are reasonable, too – $19/hour single or $27/hour double kayak. I love to paddle boats on my own, but first-times may enjoy their first experience to be in a double kayak with a trusted friend. Sealegs offers a variety of yours, too, including a full moon paddle.
Jim's Kayaking
205-751-5887 /
website
For kayak rentals or tours from nearby Gabriola Island (see below for "Sidetrips") contact Jim Demler. He's a very experienced guide and can customize your trip to your desired length, Gulf Island destination, and skill level.
_________________________________________________________________________
WHERE TO STAY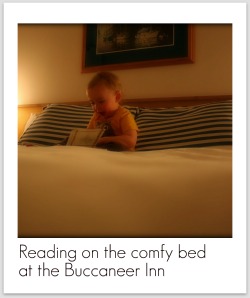 The Buccaneer Inn

1577 Stewart Avenue 250-753-1246 /
website
Best place in town! This delightfully affordable motel is as impeccably clean and comfortable on the inside as a high-end hotel. Fluffy robes, nice sheets, downy comforters, and plenty of room to spread out. The one-bedroom kitchen suites are absolutely perfect for families, with fully-stocked kitchens, a full-size fridge, and a separate bedroom for early slumbers. Even their smallest room, the cozy studio, comes with plenty of extras and a small kitchenette. Free wifi, coffee, tea, local calls and cable TV. Hospitality ranks high in priority here, and hosts Dave and Marlene will be happy to offer local travel advice. And if you're in town to do some scuba diving, you'll want to know that the Buccaneer Inn is where all of the divers stay because they provide gear storage, a rinse station, free dryers and an after-checkout shower room so you can clean off before you drive home. Rates start at $69 Canadian, and even in the summer offer great rooms for under $100/night. Map.
Painted Turtle Guesthouse
(Hostelling International)
121 Bastion Street 250-753-4432 /
website
You know how some hostels are just gross, but some are really terrific? The Painted Turtle Guesthouse is on the terrific end of the spectrum. Clean, friendly, great location, and good amenities. Private rooms available. Run more like a European-style guest house than a North American hostel. Rates are about $25 for a dorm bed or $65-$80 for a private suite. Families are welcome.
__________________________________________________________________________
WHERE TO EAT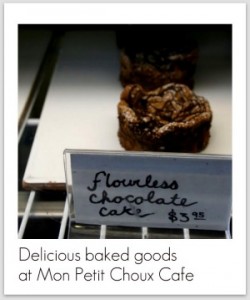 Mon Petit Choux

1101 Commercial St. (250) 753-6002 /
website
Who doesn't adore an authentic French cafe? I love this place, whether its for a flaky croissant and rich latte, or a simple lunch of delicious soup de jour and a baguette.  Plus, their Nanaimo Bars are the best in town, which is saying a lot, as there is no shortage of delicious Nanaimo Bars in Nanaimo. Map.
Tina's Diner
187 Commercial St. (250) 753 5333
Grab a seat at the lunch counter (or a vinyl booth if you're lucky) and start your own game of music trivia. Old 45s adorn the walls here, from ABBA to  Quarterflash. Eggs benny are the hot item on the menu, served alongside house-made potatoes. We're talking Eggs Benedict, of course–Canadian style and oh so delicious first thing in the morning after a night on the town. Tina's is retro-style greasy spoon, and the food is as fab and sincere as the ambiance.  You will be surrounded by locals, from fishermen reading the newspaper to young hipsters. Pretty laid-back, eh? Wonderfully so. Map.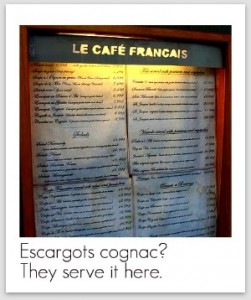 Le Cafe Francais

153 Commercial St. (250) 716-7866  
This place is a sit-down, not counter service. Nothing fancy, but the lack in dining room ambiance doesn't translate into lack of authenticity — Le Cafe Francais is run by a local French family and serves up tasty provincial cuisine for lunch and dinner. Portions are smallish and prices are higher than most places in Nanaimo. Still, if you're in the mood for escargots cognac or coquilles St. Jâcques, you won't be disappointed. And, the servers are delighted to converse with you en francais, if you so desire.
Dinghy Dock Pub
Protection Island, accessible by foot ferry or kayak

250-753-2373 /
website
I haven't eaten here because the ferry was unexpectedly not running the snowy day we planned to go, but I am assured by many who have that it's a must-stop. It's a pub, it floats, and their chowder and fish & chips are legendary.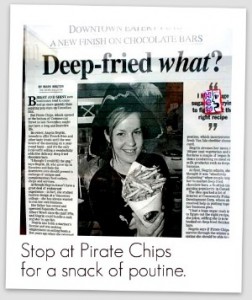 Pirate Chips
1 Commercial Street
Argh! It's amazing all of the delectable things you can create with a deep fryer. Cinnamon-battered, deep-fried Nanaimo Bars, for instance. Fish and chips, of course. A dish known as poutine that hails from Quebec and consists of a pile of hand-cut french fries topped with fresh cheese curds and brown gravy. Angela will also top your fries with curry sauce or vegetarian chili – just ask.  Map.
Bistro Taiyo

321 Wesley St # 2 (250) 716-8861
One of our best meals in Nanaimo, Bistro Taiyo is a chic little storefront in the Old City Quarter. It's somewhat in the style of an izakaya, serving up small plates, kind of like Japanese tapas, alongside a full bar menu. We enjoyed plenty of tuna sashimi, gyoza (Japanese potstickers), potato croquets, unagi over rice, the freshest salmon, seaweed salad, and plenty of green tea. Map.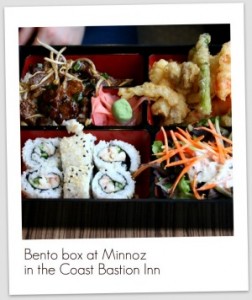 Minnoz Restaurant & Lounge
11 Bastion Street 250-753-2977 /
website
Great hotel restaurant located in the Coast Bastion Nanaimo right downtown. Swanky decor and excellent food make this a go-to spot for a fancier date night (though it's kid-friendly, too.) We loved their beautiful bento box and fabulous smoked salmon quesadilla. Map.
    __________________________________________________________________________  
WHERE TO SHOP
The Old City Quarter

Clustered around Fitzwilliam and Wesley streets –
Map
Website
The Old City Quarter is Nanaimo's heritage district, just a few blocks to the southwest of downtown. Stroll through its unique collection of boutiques, art galleries and some of the best restaurants in the city. It's a great spot for squeezing in a little window shopping and lunch.
For all of your chain store shopping needs, Nanaimo is also home to the biggest mall on Vancouver Island.
__________________________________________________________________________
FOR THE KIDS
Jumping Jiminy's Indoor Play Cafe
2980 Island Highway North 250-729-0999 /
website
Nothing beats an indoor playland on cold or rainy days, so this is a great place to know about. They have a cafe and free wifi for the parents, and a few different elaborate indoor play structures for the kids, including an infant and toddler area. Admission varies according to your child's age; it was about $7 for our 2-year old. Map.
__________________________________________________________________________
SIDETRIPS
Cowichan Valley
South of Nanaimo on Vancouver Island lies the pastoral Cowichan Valley, a rich agricultural area making a name for itself for it's local artisans of cheese, art, wine and more. Locally-produced wines and ciders, particularly, are putting Cowichan Valley on culinary maps.  The region abounds with nature and outdoor recreation. Cowichan Lake draws weekenders in the summertime from Victoria and Nanaimo, and the coastal towns of Cowichan Bay and Maple Bay are picturesque marina havens with great pubs and harborside charm. Don't miss a stop at Merridale Estate Cidery, BC's first estate cidery. I was enthralled with every single one of their eight varieties of handcrafted ciders, which they describe as more refined than beer, and more robust than wine. Taste their ciders in the ciderhouse or alongside an incredible meal at their ciderhouse bistro – cider is meant to be enjoyed with food!
Gabriola Island

The ferry dock to Gabriola Island is right downtown Nanaimo, and ferries leave every hour during daylight hours. It's a 20-minute crossing, and then you'll find yourself, either on foot, bike or car, on the third largest of the BC Gulf Islands, which are geographically part of the same archipelago as the US San Juan Islands. A day trip here will get you some quality time with enchanting sandstone formations and petroglyphs that were carved by natives into bedrock hundreds of years ago.  Make your trip an overnight to squeeze in a picnic at Sandwell Provincial Park or to take in the view at Orlebar Point. You'll find overnight camping at Descanso Bay Regional Park, or you'll find a comfortable room under $100 a night at Casa Blanca by the Sea B&B.
__________________________________________________________________________
GETTING AROUND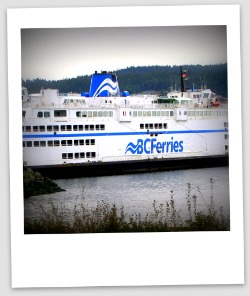 Nanaimo is on the eastern coast of Vancouver Island, about a 100-minute drive from Victoria (longer if you take the scenic route through Sidney). To reach Nanaimo by ferry from the lower BC mainland, you've got two options. The easiest way to reach Nanaimo from the states is to cross the Washington border into British Columbia at Blaine (don't forget your passports) , then drive for forty minutes to the Tsawwassen ferry terminal for the crossing to Duke Point on Vancouver Island. I strongly recommend you make advance reservations in the summer months. This route makes eight crossings on weekdays and six on weekends, and the crossing is about two hours. Pay attention and have your camera ready because marine life sightings are not uncommon on this crossing, including Orca whales! Find a link to this route with complete schedule information and an easy link to online reservations here. Another option is the Horseshoe Bay to Departure Bay crossing, which is a great option if your trip includes a stay in Vancouver first because this route offers a few additional daily sailings, the crossing is a hair shorter in length, and the boat deposits you right downtown Nanaimo. This is also your best choice if you are traveling by foot or bike because you can take public transit from Vancouver (map / timetable for the 257 express, bikes ok) to the Horseshoe Bay ferry terminal, and be car-free for your stay in bike-friendly Nanaimo. See the city's cool bike route brochure here. Public bus transit in the city is adequate, and provided by the Nanaimo Regional Transit System (250.390.4531 / bus riders' guide). For information on arriving in Nanaimo via seaplane or hitchhiking (shhhh!) see this great page on GoNanaimo.
__________________________________________________________________________
MORE TRAVEL TIPS