When we had our precious baby boy a few years back, I knew we were making a trade.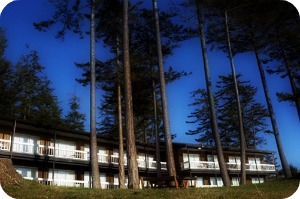 Gone were the last-minute weekend getaways. Goodbye to lushy winery tours and long backpacking hikes. Our concept of "free time" changed dramatically in a few short months, and our priorities shifted more than a bit.
The rewards, of course, are indescribable. Yet sometimes, I  mourn the loss of our footloose travel style bp (before parenthood). Those are the times I remember that kid-friendly travel has its own distinct charms.
You know those family-friendly resorts with the swimming pools brimming with splashing kids and on-site restaurants that have a whole menu devoted to the grilled cheese set? We're easing into those, and loving them. I'm not talking about the mega resorts like at Disney World or the popular water park resort chain called Great Wolf Lodge (though I'm sure these have a place in our future somewhere). The places we're finding are more independent and yes, family-friendly (though not exclusively so). Some host movie nights, others throw in a round of mini-golf with your stay. Pools are the norm, and playgrounds are a bonus.
Our foray into this world happened last spring with our stay at the Village Green Resort south of Eugene, Oregon – read about that here. Acres of whimsical gardens to explore, a swimming pool and a free continental breakfast are the types of amenities that set this place apart from other lodging options in the area — they simply made traveling as a family so much easier and fun. Suddenly, resort lodgings we'd shunned rose above the no-kids-allowed B&Bs and isolated cabins we'd sought out in the good ol' days!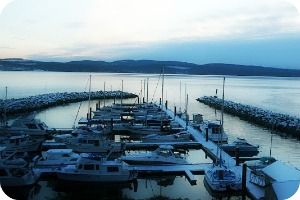 Our most recent find is a family-friendly spot on British Columbia's upper Sunshine Coast called Beach Gardens Resort and Marina. It takes a bit of planning and two ferry rides (or your own sailboat) to reach this area from Vancouver, but the picturesque town of Powell River is a destination worth your trip. When you get there, Beach Gardens Resort will put you up with the best oceanfront view in town (rates range from $90 – $160 a night). And if you're sailing your way up the coast, schedule a stop here for their 45-slip full-service marina.
When you're traveling with kids of any ages, the convenience of on-site amenities and activities makes a world of difference. Our stay here was mid-winter and just after a rare dump of snow, so we weren't able to take advantage of some of the summertime opportunities at Beach Gardens Resort and Marina, which are numerous. There's a full-service diving and kayak shop on-site. If you're new to these activities, you can try out the equipment in their swimming pool – how cool is that? The resort has a fully-equipped gym, a store to buy beer and wine, a restaurant and pub with indoor and outdoor oceanfront dining, and an indoor pool.
Looking for more kid-friendly resorts in British Columbia? Check out this list of a dozen more here – Kid-friendly Resorts of Vancouver Island – over at Cascadia Kids.