Where do you turn for travel inspiration?
I'm an unabashed fan of Sunset magazine, and find many trip ideas while browsing through my archive of dog-eared Sunsets. However, it's not typically the best source for lodgings. While flipping through the new May issue over coffee with my sister the other day, we came across a beautiful spread on Kauai. My sis had just returned from a week-long getaway there herself. Sunset's lodging rec? The St. Regis Princeville Resort. My sister chuckled a bit. "Um… that place is about $600 a night." Beautiful resort? Yep. Out of touch recommendation? Yep.
I am often rolling my eyes when I get to the lodging recommendations. It's my favorite magazine's one little flaw.
Then, just pages later, Sunset redeemed itself (phew!). The May issue has a lengthy piece called "50 Under $150" that highlights 50 high-style, low-cost hotels from Mexico to Washington state. Ten of these are in Washington and Oregon, and one is in Vancouver, B.C. The piece isn't online yet, so I guess I'll just have to tell you what they are!
Oregon
Green Springs Inn near Ashland. Lodge rooms run from $79 – $119, and some have hot tubs. This place looks very rustic and cute – I can't wait to try it.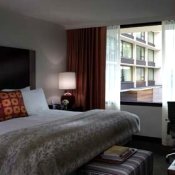 Hotel Modera in Portland.  It's right downtown, the rooms are beautiful and the service is amazing. Rates are around $119.
Hotel Elliott in Astoria. I love Astoria and we're planning a summer trip there, so we'll have to check out this poshed-up historic hotel.
Chehalem Ridge B&B in Newberg. We're always on the lookout for great cheap sleeps in the Willamette Valley, but no kids under 12 allowed here. Just one room under $150, and barely. But their description of the birds on their website sucked me in, as you know I'm a sucker for birds.
Sylvia Beach Hotel in Newport. This is the place on the Oregon Coast for book lovers. I have always wanted to try this place. The attached restaurant, which I have been to for dinner, is delightful. Moving this one to the top of the list, yet again.
McMenamins Hotel Oregon in McMinville. This is one of the few McMenamins I haven't been to, though a good friend stays here all the time. Read about my last McMenamins experience here at the Grand Lodge just outside of Portland.
Mt. Hood B&B in Mount Hood. Another place that's long been on my list of places to try. I have a friend who counts this place among her favorite lodgings in the world. $130 and up.
Washington
West Beach Resort on Orcas Island.Few of their cabins are under $150 a night, but they do look sweet.
Cedarbrook Lodge near SeaTac. I just heard about this place mere weeks ago, and am planning to check it out. Near the airport, their property is evidently an oasis of sorts, with 18 acres of wetlands. Much of this region was wetlands in a prior life, so it's wonderful to know this swath exists. I'll keep you posted.
Marcus Whitman Hotel in Walla Walla. Someday I'll make it out to Walla Walla! I know from much research that cheap sleeps are few and far between, and this hotel isn't one, really. Rooms start at $149,  but Sunset singles it out as being worth the splurge.
British Columbia
The Sylvia Hotel in Vancouver. Set right on English Bay and a stone's throw from Stanley Park, The Sylvia is old world charm at a very nice price.
Traveling beyond the Pacific Northwest? The Sunset article also lists great places for under $150 a night in the Southwest, throughout California, the Rockies and Hawaii.