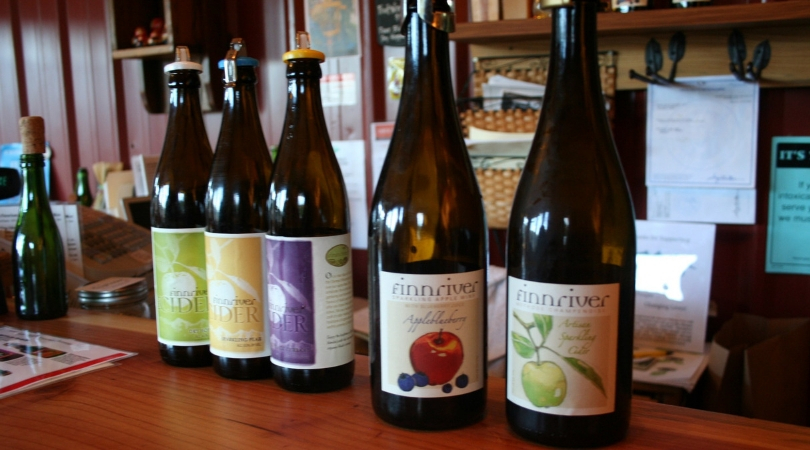 There's a centuries-old tradition of European cidermakers turning tart apples into hard cider, and over the past dozen years or so this craft has experienced a renaissance right here in the Pacific Northwest.
To get a taste, you might find yourself driving down a winding gravel path through some woods, wondering just what you've gotten yourself into. That's where my friend Susan and I found ourselves a few weekends ago. The sign to Eaglemount Cider's tasting room was barely visible from the road, a common trait of signs off the rural roads of the Quimper Peninsula, the swath of land that juts out off the northeast corner of the Olympic Peninsula. Most casual drivers through this area would have no inkling of all the cool things they pass as they scurry up to Port Townsend.
We knew all about the cider houses, though. Had them mapped out, even. We were on a cider-tasting mission.
Eaglemount Cidery looks about exactly how you want a rural cidery to look.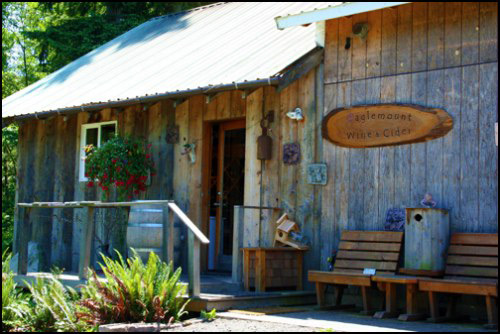 Barely noon, we were the day's first customers. When we pulled onto the farm homestead, Jim Davis was doing some work outside, and he stopped to meet us at the car. "Come on in!" he told us. We followed Jim into the tasting studio.
Eaglemount was the first licensed cidery on the Olympic Peninsula, and is known for excellent standard varieties as well as some unique experiments now and then that turn into local sensations. Quince cider was an instant hit for my palette. Their ginger cider, which I was dying to taste, was down to just two small bottles. I quickly scooped them up with mid-summer picnics in mind.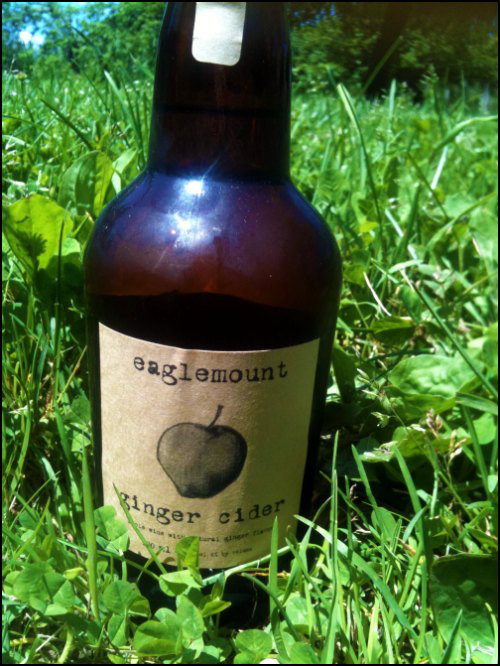 Just the night before, Eaglemount hosted a bottling party of a big batch of their raspberry cider. Neighbors and friends came over to help (and taste!)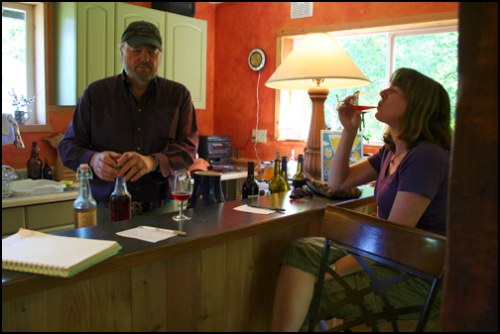 Although raspberries contributed only 20% to this cider (apples, of course, being the other 80% of fruit used), Susan and I were smitten with its intense raspberry flavor and nice effervescence. She added a bottle to her basket. I thought about the deliciousness that would ensue if that raspberry cider were served alongside a piece of flourless chocolate cake.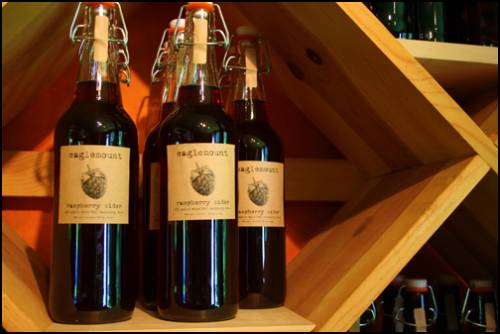 Hard cider makes a nice accompaniment to food; its taste lies somewhere between the robustness of a microbrewed beer and the subtle, dancing notes of a crisp white wine. At the dinner table, I think you could drink Eaglemount's dry homestead cider as you would a sauvignon blanc, and the sweeter variety could stand in for a Washington riesling.
Jim and Trudy Davis know a thing or two about wine, too.  Trudy, a chemist, makes the wine and the cider at Eaglemount. Jim, a retired longshoreman, crafted the buildings that are on the homestead, including the tasting studio.
When our cider tasting concluded, we finished our visit with a few tastes of reds and whites. Now, I'm not a big red wine drinker myself, but the Eaglemount Red is a knock-your-socks-off red. I knew my husband would love it, so into the basket it went.
And with that, we were off.
The Port Townsend area is home to three artisan cider houses. Our next stop was Alpenfire Cider. It, too, was down a wooded lane, marked by a sign you would miss if you blinked. An apple orchard with hundreds of trees sprawled off to our right. The open-air tasting room was to our left, so that's the way we went.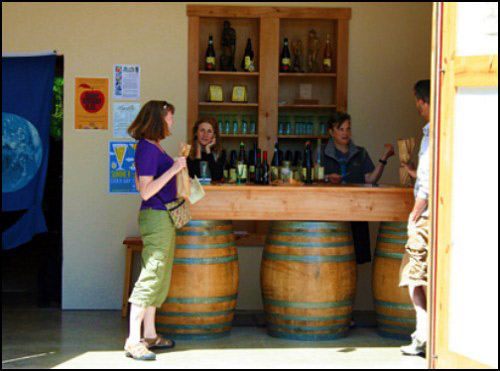 Co-owner and cidermaker Nancy Bishop was pouring. Formerly called Wildfire Cider, Alpenfire Cider serves up some certified organic ciders. My favorite was a semi-sweet cider they call Embers that I think would be perfect to serve alongside grilled veggie kabobs this summer. I also took home a bottle of their organic apple cider vinegar made from apples that were picked, crushed, fermented, aged and bottled on site. Nancy and Bear are longtime cider enthusiasts, and Alpenfire Cider is the fulfillment of a long-held dream for them. Check out their brand new tasting room – it has a whole wall lined with empty cider bottles from all over the world.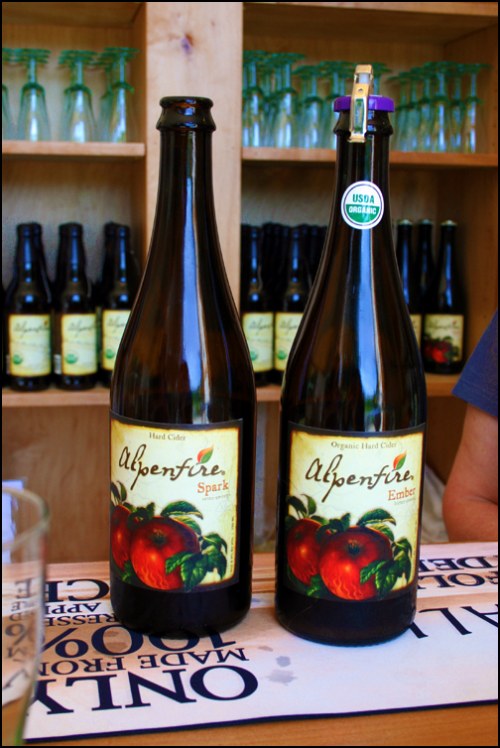 The last cider house on our itinerary was Finnriver, but we'd run out of tasting time. Finnriver is an organic family farm and artisan cidery set along a restored salmon stream in the Chimacum Valley. I was sorry to miss this stop after hearing such wonderful praise of their ciders. But I'll be back.
To never miss a great travel suggestion from Northwest TripFinder: