We've just returned home from our first car camping weekend of the summer. Our home was our Kelty tent perched high above the Ohanapecosh River, swollen with snowmelt off the southeastern flank of Mount Rainier. My ears are still delightfully roaring from the sound of the river, and I may have cedar twigs dangling from my hair as I type this.
I could not have gotten our family out the door on Friday without my trusty car camping checklist, honed to near-perfection after years of trial and error.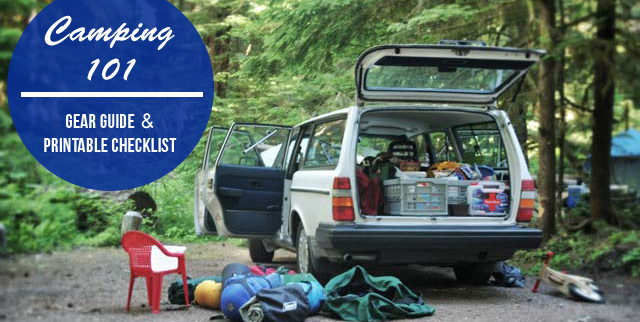 Much of the backcountry experience under my boots is from backpacking, which necessitates decisiveness when it comes to packing. After all, each additional item that goes in means a heavier backpack, schlepped over miles of hiking trail. Not so with car camping. Theoretically, you could pack every comfort from home and bring it along with you. Some campgrounds have electricity in the bathrooms. Imagine, you could even pack your hair dryer!
I promise you, there is no hair dryer on my car camping pack list. The key to a great car camping checklist (and car camping experience) is to trim down to the basics with just a handful of comforts tossed in. This will help you find a near-perfect balance of enjoying the great outdoors while still being quite comfortable.
Below, I share with you my car camping checklist. I use a checklist, always, so that I won't ever find myself in the middle of the Wenatchee National Forest without tent poles again. Keep this checklist with your camping gear so it's always handy when you need it.

Click for a print-friendly PDF of the car camping checklist.
Shelter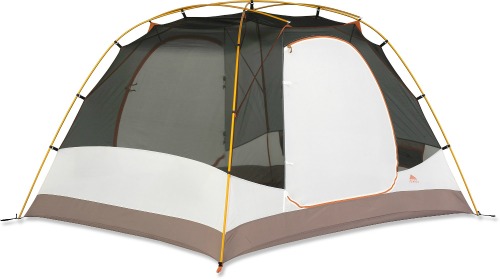 Need a tent? We put together this handy tent finding guide that will help you zero in on some good options for your needs (what size tent is best for you, how much rain protection you need, the best tent on a budget, etc.) Most tents come with a rain fly and ground cloth (also called footprint) but some don't – so check. A regular old blue tarp will work as a ground cloth (or rain fly) in a pinch. (In fact, for car camping I rather prefer a sturdy tarp as a groundcloth). Always try out a new tent in your backyard or city park before heading out into the wilderness so that you are familiar with how to assemble it and know you have all the parts you need. I sometimes skip the extra tarp and rope on this list, but if it's raining, it's so nice to have a tarp hung over your head while you're cooking up dinner.
Tent
Tent poles
Rain fly
Ground cloth or tarp
Extra tarp and rope
Camp chairs to sit on around camp
Sleeping
Car camping affords you the luxury of sleeping in (relative) comfort when compared to backpacking, where every single ounce is counted. I use the same sleeping bag for both. I'm a cold sleeper and being cold can keep me awake for hours, so I love my
15 degree goose down bag by Marmot
 and the price is fantastic. A lighter-weight bag will save you some money. If you only camp late spring – late summer, aim for one that is rated 20-50 degrees F, like this
Coleman Sleeping Bag
that's just $30 and has great ratings. You can always bring along extra blankets when you are car camping, too–I love this
Mambe Classic Outdoor Blanket
). REI has a
sleeping bag finder
on its website to help you find one that suits your needs and budget (use the left-side advanced search boxes to zero in on the perfect bag). For sleeping pads, your car camping options range from a
deluxe-thickness Therm-a-Rest
to a
family-friendly air mattress
. (This past weekend, we opted for the air mattress and it was heavenly).
Sleeping pads, cots or air mattress
Sleeping bags (optional: extra blankets)
Pillows (or pillow cases to stuff clothes in and create a pillow)
Cooking  Meals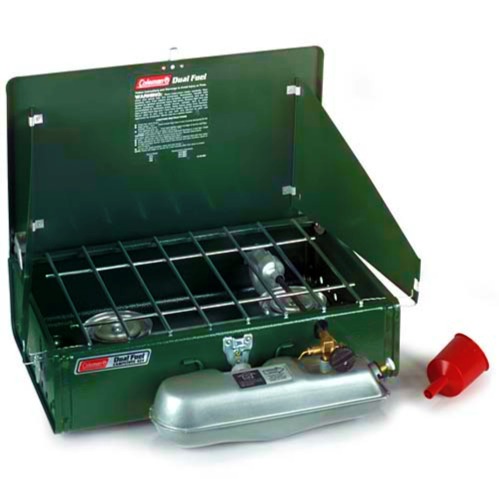 We have two stoves – a basic Coleman propane stove for car camping, and an MSR Pocket Rocket backpacking stove (which is one of my favorite things, like in the world.) In my experience, dual-fuel stoves can be a little tricky, and so we always bring the MSR along on car camps just in case. I've no doubt that our issues with the Coleman have been user-error. It illustrates, though, that you should know how to use your stove really well before you get to camp. Learn how to use it before you leave the store. If you buy your stove online, practice assembling and lighting the stove in your driveway before you go. In fact, you will ideally test your stove each and every time before you go camping. For cookware, I use Seattle-based MSR products and think they're the best – this stainless cookset is all you need.
If you prefer to cook over a campfire (we sometimes do) I recommend investing in this Lodge 5-Piece Pre-Seasoned Cast-Iron Cookware Set (it includes a dutch oven, and often goes on sale for 50% off). Most campgrounds have a grate over the fire pit that you just set the cast iron pots on for cooking, or you can buy your own grate for primitive campsites. If you like cooking a big pot of something in a dutch oven, you'll probably want a campfire tripod to hang it from (most campgrounds do not have a tripod over the fire pit, so bring your own).
Fuel (white gas, propane – different stoves require different fuels)
Firestarter (matches and lighter)
Cookset (pots/pans) and cooking utensils
Eating utensils (plates, bowls, cups, forks, spoons for each person)
Garbage bags
Ziplock bags in various sizes
Aluminum foil and/or saran wrap
Biodegradable soap and a sponge
Bucket or camp sink for washing dishes
Handkerchiefs (we use these as napkins) and dish towels
Paper towel roll
Can opener, bottle opener, knife, cutting board, etc.
Cooler and ice
Tablecloth for picnic table
Jugs of drinking water (if not available)
Empty pitcher or jug for transporting water (if the campground provides potable water)

Food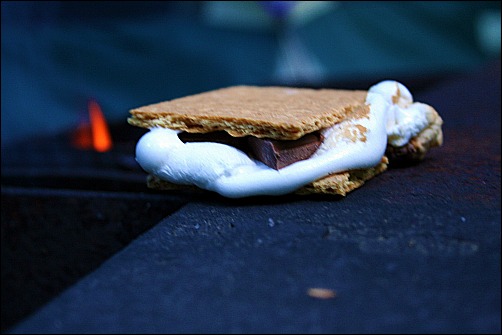 Car camping gear is usually a bit easier to prescribe in a list than car camping food. I have some basic items below, but the key here is to plan out each and every meal in advance and have the complete list of ingredients you will need for the dishes you plan to make. I pre-measure and pack all of my ingredients beforehand, keeping all of the ingredients together that I'll need for each meal in separate gallon-sized ziplocks. Repack bulky items like boxed pasta to leave excess packaging at home. This makes cooking a cinch and helps cut down on camp clutter and trash. Don't forget any utensils you will need, such as a can opener, cutting board or bottle opener. (Many multitools have several useful utensils built into one device. I use this medium-priced Swiss Army Knife).
One of my favorite sources of camp recipes is the Seattle area-based trailcooking.com. Take their recipes with you using their book, Trail Food Made Gourmet.
Ingredients for each meal (and recipes, if needed)
Snacks for energy and high on variety, like bars, trail mix, raisins, jerky, mixed nuts, cheese crackers, m&ms, yogurt pretzels and sesame sticks. Parmesan and cheddar cheese keeps well.
Dried fruit and sturdy fresh fruit like apples
Bread and the makings for PB&J (great to have on hand for extra food if your stove doesn't work!)
Salt, pepper, and other condiments (like cooking oil).
Coffee and cream/sugar or tea
Hot cocoa mix (and insulated mugs!)
Other beverages (milk, pop, juice, koolaid mix)
Popcorn and campfire popper
Makings for s'mores (graham crackers, marshmallows and chocolate. We add cinnamon or peanut butter, too)
Camping Safety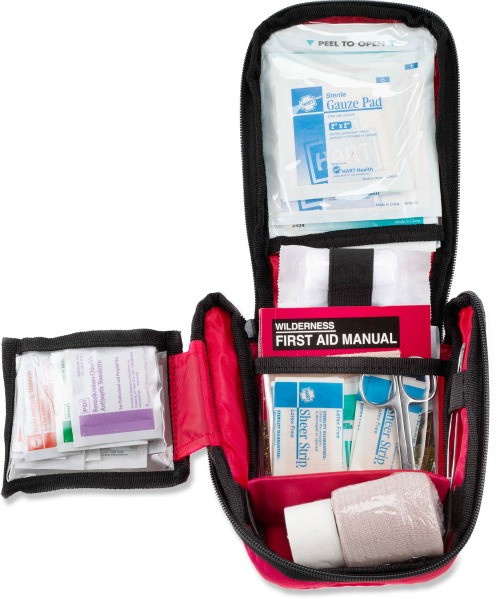 A lot of this stuff is in our car earthquake survival kit already, and may be in yours, too. It's easy to create your own first aid kit from items you already have at home, but here's an affordable first aid kit that is great to grab and go for a day hike or a car camping trip.
Many campgrounds provide safe drinking water (often called potable water in the campground's amenity details), but some primitive ones do not. Pack in your own water in a vessel (like this one from Coleman) or bring a water filter, provided there's a natural water source nearby. I've relied on this Katadyn water filter for twelve years of healthy drinking out of streams and lakes in the Cascades and Olympics and it has never let me down. In the event that you show up to a campground without potable water and you didn't bring a filter, all is not lost. In a pinch, you can always boil stream water to ensure it is safe to drink. Just gather water from a stream and boil it for one minute plus an additional minute for each 1,000 feet of elevation you are at (so if the campground is at 4,000 feet elevation, boil the water for 5 minutes). This method consumes a lot of stove fuel and time, so I don't recommend it unless you're in a pinch.
Call me over prepared, but yes we do pack two-way radios for car camping trips. We might be alone in this oddity, but cell phones aren't reliable in the woods and these are. If my husband takes a walk with our kid while I'm cooking dinner, I can radio him when it's ready. See? I'm going to start a trend here – just wait.

There are a few other products I have found to be indispensable in the backcountry. One is this product called Sting Eze. I get bitten like crazy by mosquitoes, even when the person I'm hiking with is blissfully left alone. If I apply this stuff right after a bite, it is far less bothersome to me. To prevent getting eaten alive, I admit to using deet. I use this Jungle Juice stuff. It works fairly well in all but the buggiest of alpine lakes in late July.
First-aid kit with different bandages, ointments, etc.
Insect repellent (non-toxic for kids) and Sting Eze
Citronella candle to keep bugs away from the picnic table
Sunblock for sensitive skin
Duct tape (good for all kinds of quick repairs)
Moleskin (for those pesky blisters)
100% aloe vera gel for accidental sunburn
Calamine lotion for poison oak
Hydrocortisone for skin reactions
Water filter or purification tablets (just in case)

Headlamps (one for each person)

Flashlight and extra batteries
Whistle (for calling out for help)
Walkie Talkies (two-way radios)

OTC medications like advil and aspirin

Prescription medications for your family members
Allergy medication like benedryl

Directions to the nearest emergency medical facility

Cell phone, and a car charger for it
Toiletries and Personal Items
I use wet wipes for cleaning up all kinds of little messes when car camping. Whenever possible, get your toiletries unscented. I remember spending a paranoid night in a tent in Alaska grizzly country because my deodorant smelled like lavender. 

Washcloths and towels (for swimming or bathing)
Biodegradable soap / shampoo
Toothbrushes/paste
Toilet paper (and a trowel if there is no flush or pit toilet)
Wet wipes (handy for cleaning hands and face)
Hand sanitizer
Deodorant
Clothing
Wear whatever is comfortable when you're camping. I live in leggings at camp. Bring layers like a lightweight fleece or down vest to stay warm at camp when the temperature dips at night. My "camp shoes" of choice are Chaco sandals, which double as hiking sandals. Again, I like to keep things simple. However, I don't skimp on quality, because I hike a lot and wear things hard. Day hiking is almost always on the agenda, so pack accordingly.
Rain gear
Fleece jacket and/or down vest
Hiking shoes or boots
Camp shoes (sandals or crocs)
Socks (avoid cotton, instead try wool socks or polypro)
Long underwear top/bottom (wool or polypro)
Shorts (Patagonia baggies are the best, ever.)
Pants
Shirts (think layers – tank, tshirt, long-sleeved tshirt)
Underwear
PJ's
Swimming suits
Warm hat and gloves
Sunglasses and baseball hat
Miscellaneous
Small broom (good for sweeping off the picnic table or sweeping out the tent)
Your campground reservation info
DeLorme Gazetteer

 for the state we're camping in

Directions to the campground

Cash and quarters (some campgrounds have coin-operated showers)
Hiking guidebook for nearby trails
Binoculars and nature guidebook

Emergency contact numbers for our car and on our person

Digital camera
Water bottles for each person
Daypacks for day hiking
The Ten Essentials for the daypack
Books and games
If you're packing for a family, your car camping checklist will naturally be a little longer. Babies require everything from diapers to a pack 'n play (we're past that stage.) For older kids, remember to bring along some activities like a frisbee, bikes, scooters and fishing poles to keep the kids occupied and happy (and to help keep their minds off the iPad you left back at home.)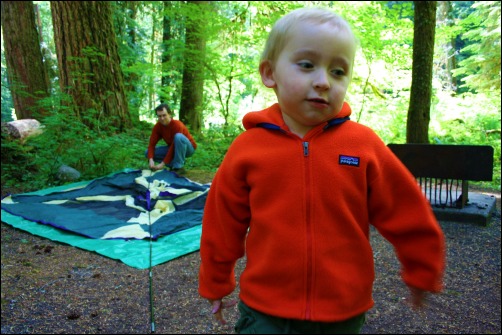 Happy camping!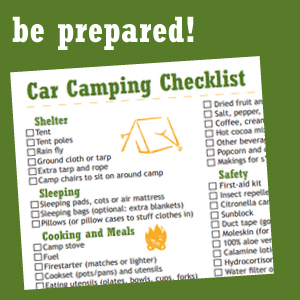 P.S. Don't forget to download the Car Camping Checklist as a PDF here so it'll be a cinch to pack for your next camping trip!