I've been on a bit of a hiatus lately. My goal is to post once a week, and it's been three since I last posted. And although I would love to say it's because I've been chillaxin in some remote corner of the Pacific Northwest with no internet access in site, that would be a lie. I've been at home, just feeling a bit under the weather, which has been hard, because the weather has been pretty awesome.  But it did give me a chance to catch up on some reading. And I've been reading about Lake Chelan.
If you look at a map of Washington state, you will notice a long sliver of water right in the north central part of the state, bordered on its west side by the Wenatchee National Forest. Lake Chelan is actually an eighty mile long glacial valley, and for most of its length lies deeper than the Grand Canyon. This fjord-like lake is fed by more than 100 Cascade glaciers, filling it with water is that crystal clear and deeply blue. Its banks rise steeply towards the glacier-capped, rugged peaks of the North Cascades, resulting in a truly dramatic landscape.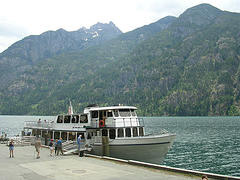 The lake's south end, including the town of Chelan, is more developed. Just a 3-hour drive from both Seattle and Spokane, the lake's south end offers orchards, wineries, golfing, boating, swimming, and hiking. However, a little bit of quiet is hard to find with the roar of a jet ski always in the distance. This post is about the lake's north end, where most of the landscape is wild, and all of it is remote, with the quiet villages of Stehekin and Holden accessible only by boat.
Life slows down the minute you walk onto the Lady of the Lake boat ferry in the town of Chelan to begin your journey north on the water. (Round trip ferry rates are $34 – $39 per person. Click here for the schedule and here for a list of what you can and cannot take with you on board the vessel.)
All who have to do after that is decide where to get off the boat.
Slow down in Stehekin. The remote and picturesque town of Stehekin is reached only by boat, floatplane, horseback or hiking boot–which explains why there are only about 100 full-time residents! Come summer, though, the village is crawling with visitors, including thru-hikers that take a much-needed rest here as they make their way north on the Pacific Crest Trail.  You'll find a few good places to stay in Stehekin, though none as cheap as the tent you could pitch along a nearby trail. My top pick is the Stehekin Mountain Cabin which sleeps seven for $90 a night. It's a screaming deal. The best-known accommodation is the Stehekin Landing Resort, part of the North Cascades National Park complex, where you can get a very basic room in the summer high season for $112 a night. The "resort" has a restaurant and general store. Also run by the Courney Family is the Stehekin Valley Ranch, where a perfectly acceptable tent cabin and all meals runs about $95 a person (an adult person, that is–kids are cheaper).
Retreat to the Wilderness. Holden Village is a year-round Lutheran wilderness retreat center about 11 miles up into the mountains from the Lucerne landing dock. Situated on the edge of the Glacier Peak Wilderness, this retreat village has so much to do regardless of your religious denomination, from art projects to crafts to spiritual renewal to wilderness exploration. It's a day hiker's dream come true, with several stunning trails departing from the village into the Glacier Peak Wilderness. While at Holden, you are invited to find your own pace and pursue your own unique renewal and interests. But don't expect to connect with the outside world – Holden has no phones or television, no cell phone reception, and limited radio. Rates are about $70 per person (cheaper for kids) and all delicious meals are included in your stay.  Holden is not a resort, it's a community. (NOTE: The Holden Village folks also operate Holden Bed and Breakfast, a fabulous deal at $30 per person, but this is separate from the Village and instead accessible by road from the town of Chelan.)
Take a hike.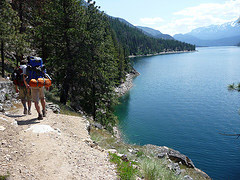 Looking for a totally unique way to experience Lake Chelan? Hike the lakeshore! The Chelan Lakeshore Trail is a 17.5 mile backpack, and perhaps the only trailhead in Washington state that requires a 20-mile boat ride. Begin your backpack adventure at Prince Creek and make it a 2-3 day journey to, pitching your tent at fabulous lake view campsites along the way to Stehekin,  where you will board the Lady of the Lake once again for the return trip to Chelan. It is also possible to take the boat to Moore Point and dayhike 6.8 miles to Stehekin, which some feel is the best part of the trail – you can overnight at the campground in town or stay in the lodge. Make sure to consult the boat schedule carefully! If you are up for a really unique adventure, consider a Volunteer Vacation with Washington Trails Association – they host several working vacation trips in the north Lake Chelan area each year.
Photo of the Lady of the Lake by Kingfox. Photo of hikers along Lake Chelan by Dan..