The Seattle Times last week featured the charming Oregon coast town of Manzanita as a laid-back, "family-friendly" destination. Always being on the lookout for those two words that I'd frankly never even noticed before last September, I decided to look into Manzanita lodging. After all, the article unequivocally states: "Manzanita turns out to be a wonderful place to take a vacation on a budget with a young family." Also, I couldn't help but notice that the reader comments were laden with thinly-vieled attempts to downplay the area's beauty and charm to scare off the scores of visitors that will soon be arriving because of this article. A dead giveaway to an area's appeal if there ever was one!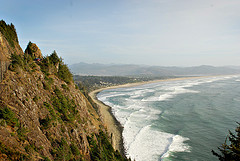 Aside from nearby camping on the low end, and a $170 inn on the high end, the authors recommend renting a vacation home in Manzanita for an affordable family getaway, suggesting  Manzanita Rental Co or Sunset Vacation Rentals. I found some great bargains on these sites, especially Manzanita Rental Co. Remember when comparing prices on vacation rentals, include the cleaning fee that often comes in addition to the nightly rate. There may be other fees as well, so read all the fine print.
91 Idaho Street – This light-filled cottage sleeps two in one bedroom sleeping loft. Very near beach. Open floorplan with fireplace and lots of light. Outdoor patio and pets welcome. Rates: WINTER: $110/night | SUMMER: $140/night. $50 cleaning fee.
37105 Beach Street – This sleeps four, and two couples or a family of four make this a real bargain. A big deck with hot tub and view of the beach make it especially fun! There's a large kitchen and wood stove, too. Rates: WINTER:$140/night | SUMMER: $170/night. $75 cleaning fee.
320 and 340 Edmund Street – A short walk away from the beach are two identical ramblers with open floor plans that sleep six each. Good nightly rates, but note the steep cleaning fee. Rates: WINTER: $90/night | SUMMER: $125/night. $100 cleaning fee.
Photo of Manzanita Beach from Hwy 101 by AlleyesonJenny.