I was probably the last person to know this. But it happens sometimes, even to me.
Here at Northwest TripFinder, we've gone on and on for years now about great yurts at state parks in Oregon and Washington. And all along there have sat six shiny yurts in a King County Park just 30 miles or so from my very own home in Seattle. This adorable cluster of yurts are at Tolt MacDonald Park and Campground in Carnation along the west shore of the Snoqualmie River.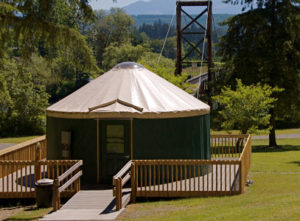 The yurts at Tolt are great for families or small groups because they sleep up to seven people. Each has two double futons, a double/single bunk bed, night stand, heat, electricity, deck, picnic table and fire ring. Two of the Tolt MacDonald yurts have wheelchair accessibility. All yurts are located on the west side of the park across the Snoqualmie River. The park provides wagons to haul your stuff to your yurt across the 500-foot suspension bridge that spans the river.
If you haven't stayed in a yurt, or haven't even heard of a yurt, you're probably scratching your head about now. What the heck is a yurt? Hopefully the photo above, provided by King County parks, will give some clarity. These circular, domed tents are made of extra-heavy, durable canvas. Yurts evidently served as traditional shelters for nomadic people in Asia. Now, they're a comfortable, semi-affordable way to "glam camp." (Yes, I just made that term up. Please forgive me.) In other words–stay in a yurt, rough it a little less.
Affordable? Certainly. The yurts at Told MacDonald Park are $50 a night. And like I said before, I am obviously one of the last people to know about the existence of these domes. Helen from King County Parks tells me that all weekend dates from now until Labor Day weekend are fully booked already. There are weekday slots available, but reserve soon. For reservations call 206-205-5434 or email regional.scheduling@kingcounty.gov.