To many of hikers, a "cheap sleep" is their tent. And in truth, a tent is probably the cheapest sleep of all. But it's not a top choice for everyone, all the time. Sometimes after an exhilarating, sweaty hike I want nothing more than a hot shower, a cold beer and a soft bed. You with me?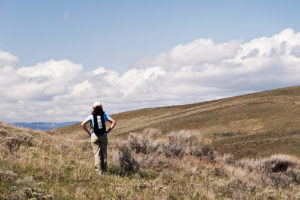 There's perhaps no better way to experience the natural splendor of our incredible outdoor landscapes in the Pacific Northwest than hiking.  And the good news is, even a soft-bed enthusiast can hike a mountain or enjoy a beach stroll without ever setting foot (or head) in a tent. Last month I penned an article for Washington Trails magazine titled Cheap Sleeps and Day Hikes. You can read it here. For three of the state's great hiking regions (Mount Adams, the Methow Valley and the Olympic rainforest) the article divulges spectacular spring day hike suggestions paired alongside good and even great cheap sleeps nearby. Check it out.  And just for you, just right here, I'm adding a fourth region–the state's best springtime hiking destination for wildflowers, wildlife and vistas– desert landscapes of Central Washington.
Both Washington and Oregon have large swaths of desert steppe country east of the Cascades. Colorful in places and intensely stark in others, these canyons and sagelands have lightly-treaded trails that provide much-needed relief for spring fever. This time of year, the steppe is warmer, drier, and under far less snow than the Cascades and Olympics. If you've not experienced the immense beauty of the steppe, you'll be dazzled by the colorful wildflowers, musical migratory birdlife and mild temps. Go from now through mid-May for the best displays of wildflowers.  I particularly like some of the trails south of Ellensburg and north of Yakima. Oh, and an added bonus of hiking in this region? Wine tasting after your hike!
Where to Hike
Black Canyon L.T. Murray Wildlife Area southwest of Ellensburg. 7 miles RT, 1250 feet gain.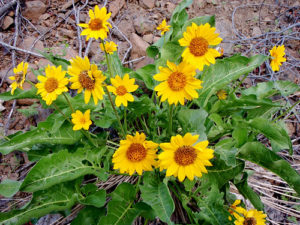 Avid birdwatchers probably wish they could keep this special trail all  to themselves for the nesting Western Bluebirds, Yellow-breasted Chats and occasional Lewis' Woodpecker. But the word has gotten out about this stunning canyon, with its hillsides of colorful flowers and black basalt cliffs. As with all of these desert hikes, tread carefully to protect the vegetation and avoid stepping on a rattlesnake. Oh, and check for ticks when you return to your car. For more information on this hike, visit WTA's online hiking guide.
Umtanum Canyon L.T. Murray Wildlife Area south of Ellensburg. 6 miles RT, 700 feet gain.
A perennial favorite of mine, the trail into Umtanum canyon starts across a huge suspension bridge over the gently rushing Yakima River and slowly winds its way up along Umtanum Creek. Look up the steep hillsides for possible sightings of Prairie Falcons (they nest here) and bighorn sheep. A handful of tent sites make an overnight hike a possibility.  For more information on this hike, visit WTA's online hiking guide.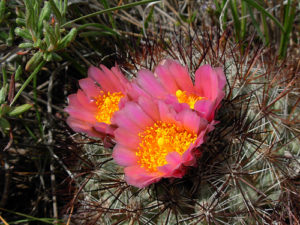 Whiskey Dick Washington Dept Fish & Wildlife land northeast of Ellensburg. 8 miles RT, 1750 feet gain.
If you've never seen the brilliant and fluorescent fuchsia-hued flowers of the hedgehog cactus, this is your next hike. If you hit the blooms at the right time, wildflowers carpet the desert floor before you, from the top of the ridge down to the coulee bottom. Blooms to spot include balsamroot, phlox, lupine, daisies and rock penstamon. For more information on this hike, visit WTA's online hiking guide.
Where to Sleep
Ellensburg makes a great base for exploring these three desert trails. You'll get the most warm hospitality for your money at the quaint Wren's Nest Bed and Breakfast, a 1912 beautiful craftsman home right in the heart of town. Marcia's gourmet breakfasts are legendary and bring visitors back again and again. Rates are $95 – $110 nightly, no kids under 14 and no pets. Contact: www.wrensnest.com or 509.925.9061.
For the more adventurous, choose yourself a uniquely-themed room at the Inn at Goose Creek in Ellensburg. Are you a sports enthusiast? You'll feel right at home in the sports fan room, complete with basketball hoop, tennis balls and trophies. Are you a Christmas fanatic? There's a room for you, too, complete with a decorated tree, Santa and holiday music. Rates are $89 – $129 nightly and your stay includes a continental breakfast. No pets, but children are welcome. Contact: www.innatgoosecreek.com or 509.962.8030.
Near Yakima, check out the Apple Country Bed and Breakfast on the Old Naches Hwy. During harvest season, your delicious breakfast is likely to include a special treat made with one of the several varieties of apples grown on the property. Rates are $79 – $95. Contact: www.applecountryinnbb.com or 509.972.3409.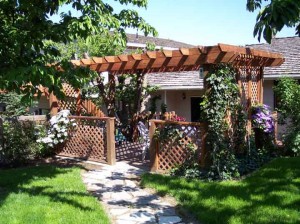 Looking for a kid-friendly B&B? Head to Orchard Inn B&B set in a charming cherry orchard in Yakima, in full bloom in April. Your fabulous breakfast is served in a sunny room overlooking the orchard–enjoy dishes like baked French toast stuffed with apricots from a tree right outside your window. Rates are $109 – $129. Contact: www.orchardinnbb.com or 509.966.1283.
Photo credits: Hiker on Umtanum Ridge by Rik_C. Balsomroot in bloom by Eldan. Hedgehog cactus flowers by brewbooks.