The following Trip Report is a guest post by Brian, my significant other. Thanks, Brian!
I'm a transplant to the Pacific Northwest and I still have quite a bit of exploring to do in this lovely corner of the world. So when I heard from my old Chicago friend, Steve, that he was planning a trip to Portland, I happily invited myself along to experience more of the funky city to the south. (And I admit, enjoy my first "guys' getaway" in a looooong time.)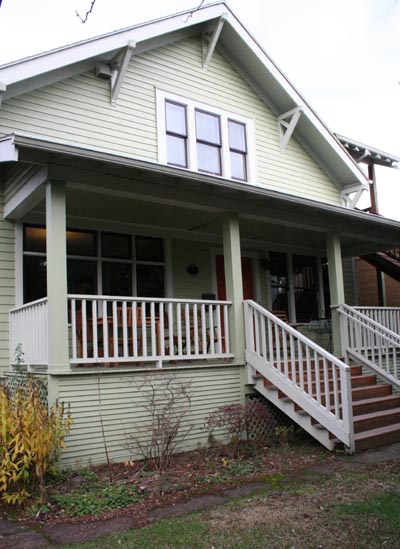 As you probably know, it's my wife Lauren that's the Cheapsleeps Guru, and up to this point we had already made a few visits to Portland together.  Lauren had been hoping for an opportunity to check out the affordable and charming Bluebird Guesthouse, so that's where she recommended we stay. (And I always take Lauren's sage lodging advice – don't you?) The charm of the Bluebird begins the minute you try to book a room and you're forced to choose between the likes of Portland legends Elliott Smith and Beverly Cleary (the Bluebird's guest rooms are all named for famous PDX artists of one kind or another.)
Our ride down to Portland was on Amtrak, which provided us a worn-around-the-edges but perfectly pleasant journey.  It seemed a fitting (and affordable) way to transport ourselves down to Portland; a city that is so transit-oriented, it's entirely possible to get around without a car.  Northwest rain greeted us upon our arrival and proved to be a fairly constant companion throughout our 3-day visit. A bus from the train station took us directly to Division street and the Bluebird Guesthouse, just twenty minutes from downtown.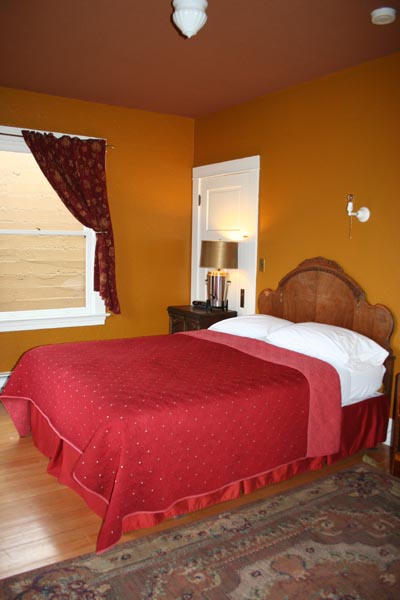 Steve and I had booked the Elliott Smith and Xao Xingjiang rooms for an unbelievable rate of $55 per night each (rate November-April). Both of these rooms are in the daylight basement, but are nicely appointed and adequately sized for a single person or a couple. I don't mind European-style shared baths in the least, but one downside with this particular arrangement is that there are no bathrooms downstairs. Trade that for the convenience of your own private entrance leading directly to the downstairs, not to mention close proximity to the coin-operated laundry machines and ironing station available for use in the basement. (This being Portland, the iron may be free but the irony is on you! Ha!) The floorboard heater in my room kept me perfectly comfortable, and though it may have been because I didn't have to get up three times a night to help feed a baby like I normally do, I slept like a …um… baby on the queen-size bed. And though I didn't spend much time using it, there is also a desk provided in the room. Though the Bluebird provides free WiFi, both my smartphone and Steve's laptop had a little trouble finding the sweetspots downstairs for picking up the signal.  Fortunately, there's a desktop PC just off the kitchen for general use of all guests.
The rest of the spacious 1910 house has beautiful woodwork, fixtures and furnishings with plenty of spaces for socializing or simply planning out the day. The Bluebird's common areas comprise large, welcoming and well-designed rooms, including a formal dining room, living room and music room.  The Bluebird's innkeeper doesn't live onsite (though she's only a phone call away if you need anything) so all these great common spaces are completely available to the guests. The house itself is kept immaculately and a sense of peace pervades. Or pervaded until I discovered the complimentary acoustic guitar and favored the house with a special fifteen-minute extended version of "Beat It".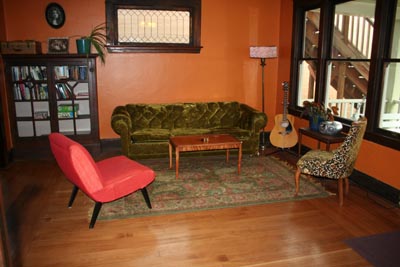 Steve and I ate most of our dinners out, though we definitely took advantage of the well-equipped communal kitchen each morning. There's a complimentary continental breakfast in the form of coffee or tea (first one up presses the start button on the coffeemaker) as well as bagels, muffins, fruit (yes! we do have bananas!) and DIY pancakes. Pantry shelves are stocked with basic spices and you'll find ample refrigerator space for your food purchases or leftovers. Looking for a little extra fortification, we picked up some eggs and veggies for breakfast omelets.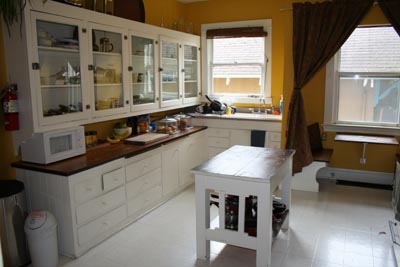 When we weren't at the Bluebird, we were exploring by foot the many neighborhoods of Portland's east side.  Just blocks from the guesthouse on Division are a handful of restaurants (Thai restaurant Pok Pok stands out as a must-eat in Steve's book), bars (we liked the Matchbox Lounge and the Whiskey Soda Lounge) and stores. Out a little further, but still within easy walking distance are the Hawthorne, Clinton and Belmont districts, each filled with funky shops, terrific restaurants and cafes (try the Cup & Saucer on Hawthorne), and nightlife spots (Dot's Cafe on Clinton is a well-known Portland dive).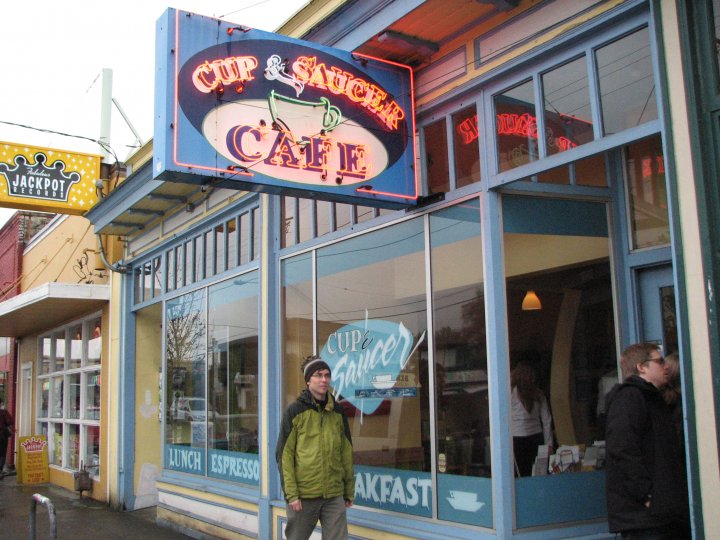 All in all the Bluebird turned out to be an excellent value—comfortable rooms, friendly staff and a great location. The rates are simply unbeatable at $55 – $95. No kids under four, no smoking and no pets. Private baths are available in two of the guestrooms, and the Bluebird provides robes and bath linens for all rooms. Parking is on-street and free. Info: www.bluebirdguesthouse.com or call 503.238.4333.