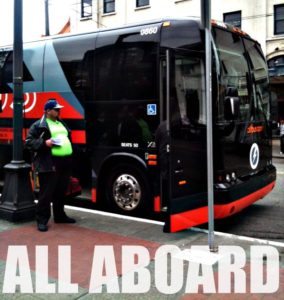 A few weeks ago, I awoke at the crack of dawn on a Sunday morning. I packed a small overnight bag, got a lift to Seattle's International District, and waited on a street corner. In my hand was a bus ticket that cost me a dollar. That's right – $1.00. And then I boarded a shiny black bus and it took me to Portland.
Maybe you've already caught some of the buzz around the new BoltBus connecting Seattle to Portland and now Seattle to Vancouver. Fares range from $1 for a one-way ticket to $13 (the highest I've seen so far). I bought my round-trip ticket from Seattle-Portland online as soon as I heard BoltBus was making its Northwest debut. My fare for the first leg was $1 and my return trip was $6. Yes, I went from Seattle to Portland and back for seven bucks.
My Sunday morning departure time was 8:30 am, and they ask that you be there 15 minutes prior to board. I was, and so was everyone else, though the bus was only at half capacity. The driver was downright cheerful and definitely sober. "Welcome to the BoltBus!" he said with a smile. I stowed my bag in the under-bus storage compartment and boarded, finding myself a seat somewhere in the middle of the bus.
BoltBus is clearly going head to head with Amtrak, offering a comparable experience in comfort and convenience at a much lower price. The Seattle-Portland round-trip on Amtrak usually costs me around $40, so $7 on the BoltBus was a total bargain. As for the comfort and convenience? Pretty darned close.
I had a whole seat to myself, which was grand. The seats are black leather, have arm rests and recline. There are cup holders and foot rests on most of the seats, though I realized too late that the seat I'd chosen for myself had no foot rest. Nor did my seat have an electrical outlet, though most did. When my iPhone needed a charge-up (and iPhones always do) I had to bother the lady across the aisle to use her outlet. She didn't seem to mind.
I'd say the BoltBus seats are roomier than airplane coach but nowhere near first class. My biggest complaint was that there was no tray table. The free wifi was strong enough to get some work done, but my laptop was literally on my lap. The BoltBus could really use some tray tables.
Unlike Greyhound (BoltBus's parent company) the trip is a straight shot. On the Sunday morning of my trip down to PDX, we arrived downtown in just under three hours, and there were no stops along the way. On the return trip, however, the bus made a 15-minute stop midway back to Seattle at a gas station / convenience store. It was nice to buy some sweet-tarts and coffee, though I'm not sure the trip warrants such a long rest stop, especially because there's a bathroom on the bus. That said, using the bathroom while the bus was doing 70 on the interstate was WAY more challenging than going on an airplane, so I suppose a rest stop is worth the time lost to some.
BoltBus says that every ride has $1 fares available. I imagine that the more time you allow when booking your trip, the greater chance you will have getting the cheapest fare.
Would I ride the BoltBus again? Absolutely, especially if I could get a really cheap rate. I hate driving, and gas is well over $4.00 a gallon in the Northwest. But if the BoltBus round-trip fare was within $10 of what it would cost me to take Amtrak, you'd find me on the train. I'm a sucker for scenery.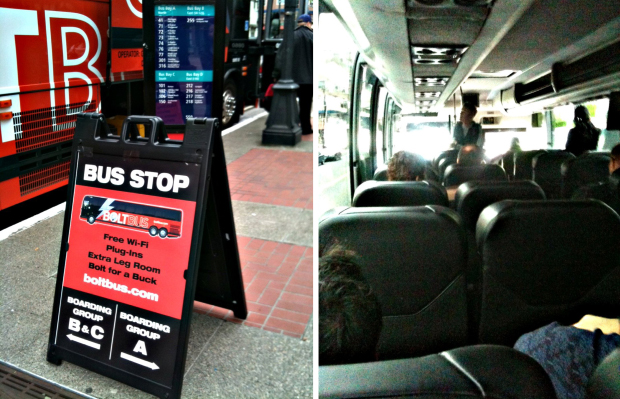 UPDATE: BoltBus launched service from Portland to Eugene and Albany in October 2013.