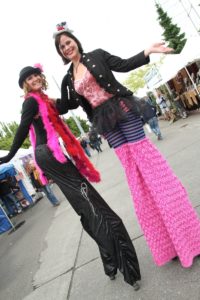 Please note! We've added a festivals and events calendar! Event organizers – you can submit your tourism-related festival or event right here for FREE.
Summer keeps teasing us. For a spell in May, it was so sunny and warm that I was tricked into buying a whole mess of tomato and pepper plants for my garden, and skipped planting spring kale altogether. With our early June temps in Seattle hovering in the low 50s, I feel I've been duped.
At least my June-bearing strawberries look promising. Here's to summer, soon!
Sand Castle Contest and Festival, June 8-10, Cannon Beach, Oregon
Do you love building sand castles? Got a competitive edge? Cannon Beach is a quintessential small beach town, with miles of sandy beaches, great shops, good restaurants and friendly folks. And once a year over 25,000 people show up here and turn its seven miles of beach into an amazing place for three days of sandcastle building, people watching, food, music and fun.
__________________________________________________________________________________


__________________________________________________________________________________
The Fremont Fair, June 16-17, Fremont neighborhood in Seattle, Washington
Perhaps you've heard tales of the naked bicyclists and art cars. Maybe you've seen the photos of elaborate floats and jugglers on stilts. The Fremont Fair is all that and so much more. It is Seattle on the brink of summer, and a must-do for newcomers to the city and long-time residents alike.
B.C. Shellfish Festival, June 16, Comox on Vancouver Island
It's a festival of shellfish, and everyone's invited! Celebrate the bounty of the Salish Sea in Comox at the B.C. Shellfish Festival, the largest shellfish festival on the West Coast of BC. The festival includes live entertainment, chefs' cooking demos, a chowder challenge, oyster shucking contests and tastings. There will also be concession booths and a beer garden. Bring the kids for an interactive kids' zone and face painting. Come hungry!
Clark County Recycled Arts Festival, June 23 – 24, Vancouver, Washington
Is it trash or is it art? Upcycling is all the rage, so come learn all about it at Clark County's Recycled Arts Festival, the hippest, most eco-conscious festival in the Northwest. Come see for yourself how creative people are giving new life to items that were bound for a landfill near you.