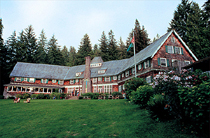 Spring is my favorite season to visit Lake Quinault on the Olympic Peninsula. It's not crowded. You have trails to yourself.  And everything is green, green, green. Spring is also the season to catch specials at the historic Lake Quinault Lodge.You won't find discounts in the summer months here, but off-season rates can be a steal.
I think it is hands-down my favorite National Park Lodge in Washington (and I've stayed at all but one of them). My last trip to this place created many nice memories–hot chocolate by the enormous crackling fireplace in the front lobby, getting in a game of trivial pursuit with some friendly strangers, and a canoe ride on a windy day that cost me my favorite hat.
There's nothing slick or posh about this lodge, at all. But you won't care. It's set in a spectacular emerald rainforest on a large and lovely lake. The gorgeous craftsman-built main lodge is nearly a century old. If the lodge weren't rustic, it just wouldn't be as charming. The first thing to greet you upon arrival is the grand communal lobby. Take note of all of the happy-looking lodge guests nestled in comfy chairs reading a book near the fireplace. The ambiance of this lobby totally sets this lodge apart. Travelers who met as complete strangers talk with each other, play board games with one another, and make plans to meet up for a hike the next morning.  I love this. A stroll around the lobby can also be a short history lesson if you take the time to view the framed photos on the walls and read the story captions.  and steeped in history. When President Franklin D. Roosevelt visited the region in 1937, his stay at Lake Quinault Lodge is credited by some as the tipping point in his decision to support the creation of Olympic National Park nine months later.
I've only stayed in the main lodge, where some of the rooms have fantastic lake views, and period charms like antique furnishings and clawfoot tubs. The main lodge also houses the heated indoor pool and restaurant. Other buildings and wings built off the lodge house fireplace rooms, lakeside rooms and boathouse rooms. Find descriptions of all of these right here.
Bring some extra cash for dinner if you plan to eat at the lodge. It's spendy, but their fish is wild and pretty good. If you are a vegetarian, you might want to just leave your appetite at home, unfortunately. I just can't get excited about a $20 plate of pasta and red sauce. There are other dining options around the lake, too– don't feel like you have to eat at the lodge itself. You can eat somewhere else, then return for a nightcap by the fire.