It's one of the most beautiful places in the Northwest all twelve months of the year, but springtime is our favorite season to visit Washington's Methow Valley. That's before the summer crowds descend and people start to outnumber the ponderosa pine.  The only problem, though, is getting there. Highway 20 (the scenic North Cascades Highway) closes every winter and depending on the speed of the snowmelt, it may remain closed well into April or even May.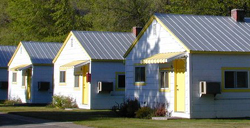 People don't generally go to the Methow to relax; they go there to recreate. Spring and summer recreational activities include hiking (choose from North Cascades National Park, the Paysaten Wilderness, and the Sawtooth Wilderness), birdwatching, plant finding, fly fishing, mountain biking, horseback riding, rock climbing, whitewater kayaking, rafting or just lazily floating down the Methow River. Or, do it all! (Just not all in the same day.)
One of the challenges for the budget traveler in a popular destination like the Methow is finding a cheap sleep at which to comfortably crash at the end of a fun-filled day on the river or trails. You can camp — the Okanogan-Wenatchee National Forest hosts 15 campgrounds within the north part of the Methow Valley Ranger District and 10 within the south. Though keep in mind these open a little late in the season, and be prepared for cool nights until at least July.
One of our fave choices for early-season lodging in the Methow has always been the Idle-A-While Motel in Twisp. These clean motel rooms or cute cottages run $70 to $125. Some have kitchenettes. The bumping Methow River is just a short path away from your bright yellow door. There's a hot tub and sauna for guests to relax weary muscles after a day of horseback riding, and bring your tennis racket – they have a tennis court.
Reservations: online or call (509) 997-3222.