Find fall foliage on one of these scenic drives, subalpine hikes or urban strolls.
Autumn's cooler days, crisp air and fiery hues beckon us out into the great outdoors–while it lasts. Fall is fleeting, so don't rest on your pumpkins! Bundle up (bring rain gear-just in case), pack a thermos of hot cocoa and find some colorful fall foliage.
In the evergreen Pacific Northwest, our pine, cedar, hemlock and fir conifers don't change color or lose their needles, so you won't find much fall foliage in the deep woods, save for an occasional vine maple that will pop like a crimson firework against all that emerald. Instead, look for local city and county parks that have lots of deciduous trees like oak, maple, willow, ash, aspen and birch. Fall color in the lowlands can stretch to the end of October and beyond, weather depending; a big windstorm can bring all that autumn beauty to a halt in a matter of hours. In the backcountry, high country trails through open huckleberry meadows near treeline present the most brilliant hues of lemon yellow, burnt orange and flame red, peaking from late September to mid-October, depending on the snow level.  Some subalpine trails on the eastern slope of the North Cascades offer a special treat in October–golden larches, our only conifer tree that loses its chlorophyll then drops its needles.
The emergence of fall foliage is a wonder of nature. The hue a leaf shows in fall (be it yellow, a bold red, orange, deep purple or toasty brown) was there all along. When a deciduous plant senses fall approaching, it stops photosynthesizing. All the green chlorophyll that was masking the color underneath starts to drain from its leaves. When the leaves tumble to the ground, these vibrant shades fade away.
When you hike in fall, be extra careful of unpredictable weather, cooler temperatures and shorter days. The snow level can drop quickly down to 3000 feet in October, so when hiking in the mountains you'll need to check the
mountain forecast here
for the region you're headed to. Always pack the
Ten Essentials
and follow these
Safe Hiking Tips
. Dress in layers for warmth, check
trip reports
before you go, and let a friend know where you'll be hiking (and when you expect to return).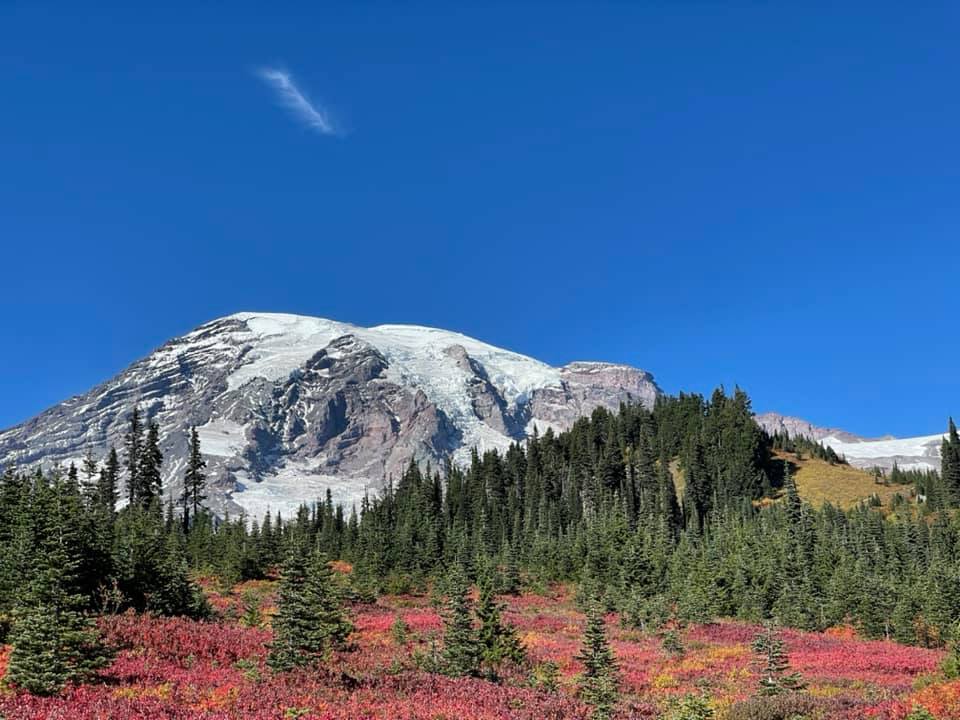 Bring a road atlas to navigate these scenic drives (your cell phone map app won't always work in the mountains) and hit the road to peep some leaves. 
North Cascades Scenic Highway
From the flower fields of Skagit County to the wild west town of Winthrop, The North Cascades Scenic Highway (SR 20) cuts across the rugged North Cascades and delivers an unrivaled variety of scenic beauty, heightened even more by fall color – look for red maple along the lower Skagit River and spot golden larches near Rainy Pass. This highway open in spring (usually May) and closes in winter, usually sometime in November; check the status
here
.
Around Mount Rainier
Drive SR 706 through Ashford and enter via the Nisqually entrance at the southwest corner of Mount Rainier National Park ($30 per vehicle or $55 for an annual pass), making your way up to Paradise. Most of the lower flanks of Rainer are dense evergreen forest, but undergrowth trees like vine maple, red alder, big-leaf maple and birch put on a color show. The Paradise Nature Trails are the spot to stretch your legs among open huckleberry meadows, turned fiery reds and oranges in autumn. Continue on, eventually north on SR 123 the east on SR 410 at Chinook Pass. The best autumn color hike in the park departs here, Naches Peak Loop (NW Forest Pass required at trailhead).  Note: Chinook Pass (SR 410) usually closes for the winter in November.
Hood River Valley
Start in Hood River, Oregon, then drive south along Oregon 35 up to Government Camp, making stops along the way to peep leaves, pick up some pumpkins at Draper Girls Farm, and sip some of the harvest at Wy'East Vineyards. Near Government Camp, Trillium Lake makes a nice, easy hike through subtle fall foliage.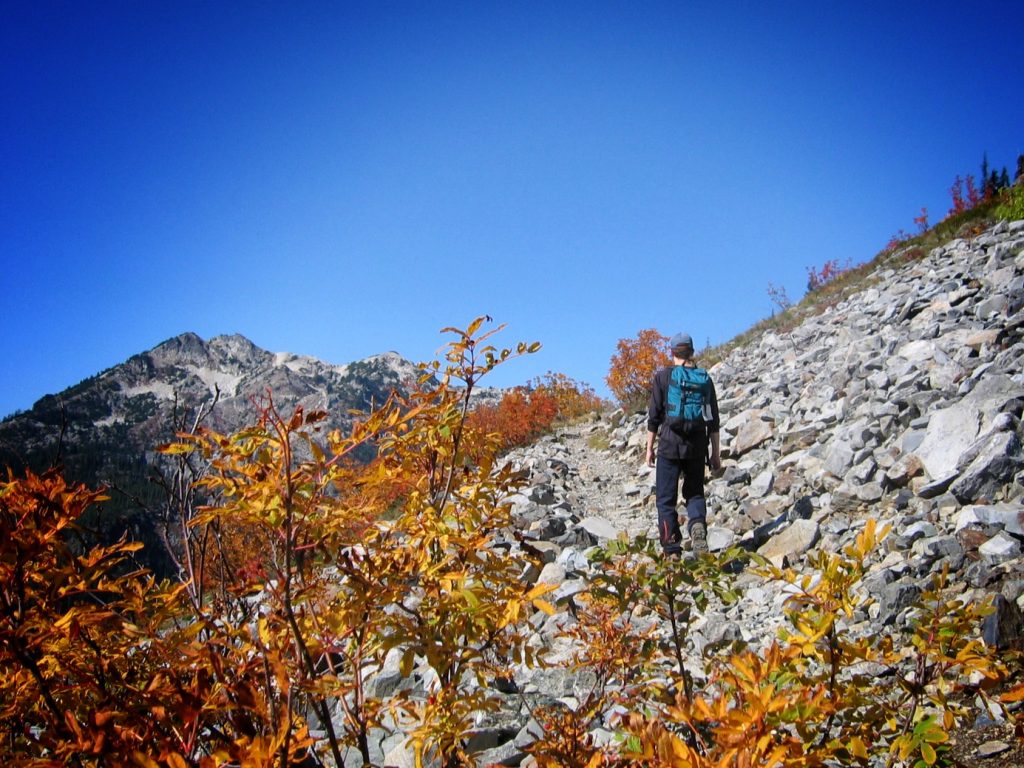 Bagley Lakes, Mt. Baker
SR 542 at Heather Meadows (360) 599-2714,
website
, NW Forest Pass
2 miles RT, 150 ft gain
This is the land of fire and ice – fire in the belly of Mt. Baker, an active volcano, and ice in the glaciers atop its peak. In autumn, the sweet meadows around Bagley Lakes sort of look like they're on fire, too, with multicolored fields of heather and flame-red huckleberry bushes. A longer loop option takes this hike to 8-miles round-trip as the trail ascends and skirts four more azure-colored subalpine lakes named Mazama, Iceberg, Hayes and Arbuthnot. But you'll find the hike just as rewarding with color and views (and less chance of snow) if you hike in to the two lakes, then hike back out. 
Lake Ann, North Cascades
SR 20 (North Cascades Hwy) at Rainy Pass,  (509) 997-2131,
website
, NW Forest Pass
The star attraction of this hike are the flame-yellow of the alpine larch that are usually at their peak early to mid-October. It's one of the easier hikes to see larches turn in fall, so expect plenty of company on weekends. The hike shares the first 1.3 miles with Maple Pass Loop, a longer hike which rises and encircles the glacial cirque that cradles Lake Ann. A side trail will lead you to the lake and back again. Late-season huckleberries cling to blazing red bushes along the trail, and craggy granite scenery reminds you why you live in Washington.
Naches Peak Loop, Mount Rainier 
Hwy 410 at Chinook Pass, (360) 569-2211,
website
, NW Forest Pass 
3.2 miles RT, 600 ft gain 
This lovely loop skirts the eastern boundary of Mt Rainier National Park through subalpine meadows carpeted with berry bushes. In fall, the meadows erupt with  a psychedelic blast of color, looking at times like they're on fire from all the red and orange hues. What could make such a scene even more stunning? The backdrop of "the mountain." Hike the loop in a clockwise for the best views.
Watch the Weather
In the mountains, the snow level can drop quickly and without much warning in October. Be prepared to encounter snow on any high country hike.
Lake Ingalls, Alpine Lakes
North Fork Teanaway River Road, (509) 852-1100,
website
, NW Forest Pass
9 miles RT, 2600 ft gain
Switchbacks, galore! All that huffing and puffing is worth its reward: lots of golden alpine larches and a stunning glacial cirque at the end surrounded by slabs of ice-polished granite. The massive face of Mt. Stuart anchors this hike; at 9415-ft it's the highest peak between two volcanoes–Glacier Peak and Mt. Rainier.
Trip Reports for Lake Ingalls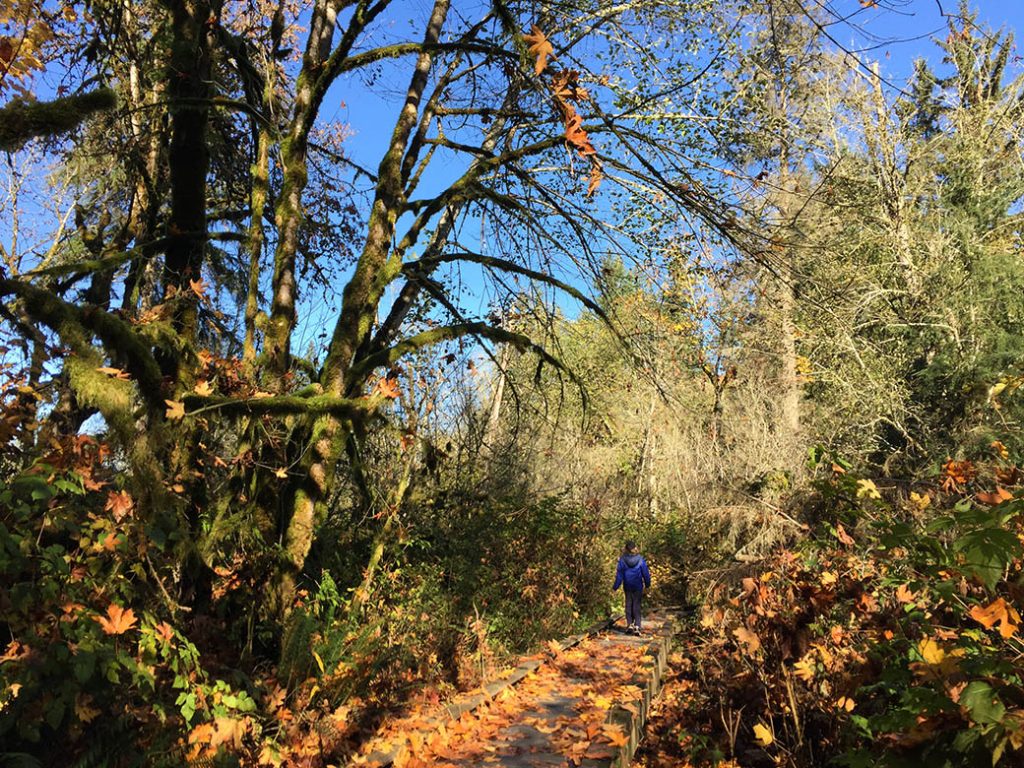 Urban Walks for Autumn Hues
Lower elevations with lots of deciduous trees and understory will show longer and likely boast the most variety of colorful foliage— look for deep auburn and marigold yellow on vine maple, russet and clay hues on garry oak, bronzed-colored willow leaves, and vivid yellow on big-leaf maple and aspen.
Green Lake Park, Seattle WA
7201 East Green Lake Dr N., (206) 684-4075,
website
Walk (or ride) the paved 2.8 mile trail that circumnavigates this urban lake oasis, lined with bright yellow willow and deciduous trees of many kinds. In fall, migrating waterfowl start to arrive to overwinter here–look for bufflehead, grebes, scaups and lots of American wigeon.
Seward Park Loop, Seattle WA
5900 Lake Washington Blvd. S, (206) 684-4396,
website
This flat paved path follows the shore of a peninsula that juts out into Lake Washington, lined with lovely deciduous trees and bushes that turn burnt orange, blazing red and brilliant gold in autumn. 
Mercer Slough Nature Park, Bellevue WA 
2101 118th Ave SE, (425) 452-2565,
website
Two miles of trail loops around the largest wetland complex on Lake Washington, most of it on boardwalk. The stroll circles a real working blueberry farm with bushes that turn a deep auburn in fall, along with mustard0yellow birch leaves and crimson dogwood. 
Evans Creek Preserve, Redmond WA
4001 224th Ave NE, (425) 295-0553,
website
Up to 3.5 miles of mostly-easy trails which can be looped take you through meadows and woods, habitat for birds, frogs and other critters (and perhaps even a black bear). Autumn foliage paints the landscape many colors. 
Snake Lake / Tacoma Nature Center, Tacoma WA
1919 South Tyler St., (253) 404-3930, website
This oasis in the city features a nature loop trail that crosses a footbridge over wildlife-rich wetlands. Look for bright red vine maple, vibrant yellow of Oregon ash, and a whole sunset palette in Sitka alder…just to name a few. 
Interurban Trail, Bellingham WA
Donovan Ave. and 10th St., Fairhaven,
website
This mostly-flat trail meanders for 6.6 miles between Fairhaven and Larrabee State Park along an old railway through mixed forest, carpeted in fall with colorful fallen maple and oak leaves. Hike it, jog it, or ride your bike.
Riverside State Park, Bowl and Pitcher, Spokane WA
4427 N Aubrey L White Pkwy, (509) 625-5553,
website
, Discover Pass required
Beautiful hues of basalt formations frame the vivid yellows and reds of deciduous trees mixed with ponderosa pine along a turbulent river. 
Hoyt Arboretum, Portland OR
4000 SW Fairview Blvd, (503) 865-8733,
website
More than 2,000 species of trees and shrubs have been planted here on this 189-acre arboretum atop a ridge in the Tualatin Mountains just west of downtown, so expect a variety of spectacular foliage here on a walk in October. 
Tualatin River National Wildlife Refuge, Sherwood OR
19255 SW Pacific Hwy, (503) 625-5944,
website
The refuge has 4.5 miles of trails (2 of them open through winter) and several unique wildlife habitats, including wetlands, open water and oak prairie, tinged shades of rusty yellow and orange in fall. The shorter days welcome migrating shorebirds and waterfowl back to the refuge, so bring binoculars.
Deschutes River Walk, Bend OR
1000 Southwest Reed Market Road, 
website
Access the trail via Farewell Bend Park in Bend, the Deschutes River Trail is a cyclist's dream, a paved path that runs along the beautiful waterway that is the heart of the city. Peak fall color along this route will take your breath away.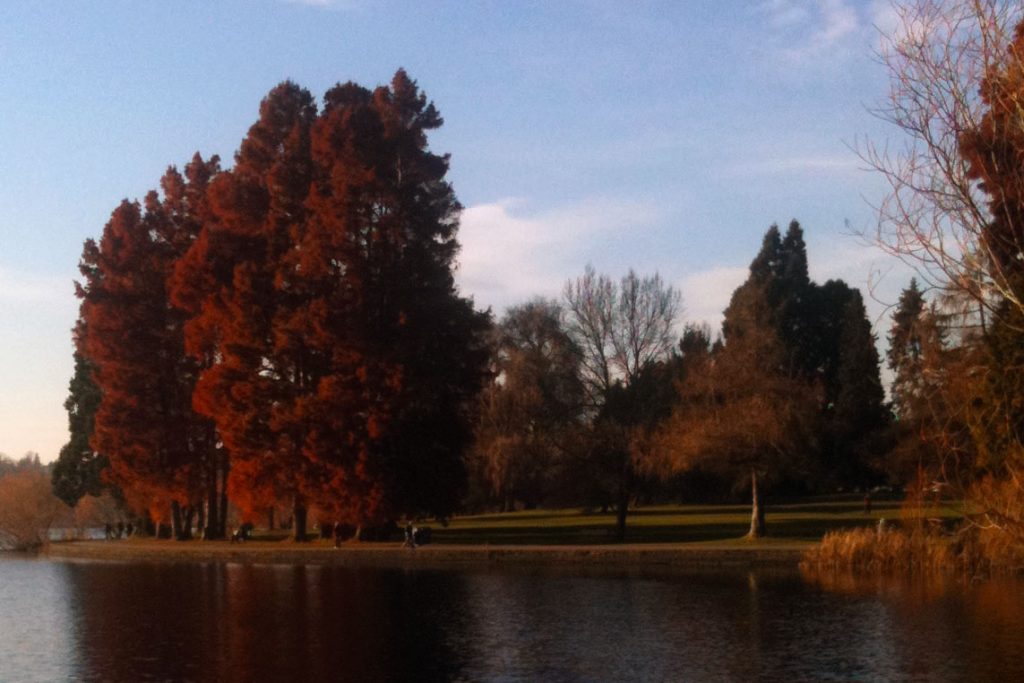 Top Photo: Hiking through larches on the trail to Lake Ingalls. Photo by Kim Brown